Korean dramas have sparked a global fascination with Korean cuisine. From K-drama classics like bibimbap to all-time-famous Korean fried chicken, the delicious dishes showcased on screen have inspired fans to explore the world of Korean food. Looking forward to an ultimate Korean food experience with your friends? Here are our recommended top 5 Best Korean Restaurants in Town to kick-start your food hunt.
1. SBCD Korean Tofu House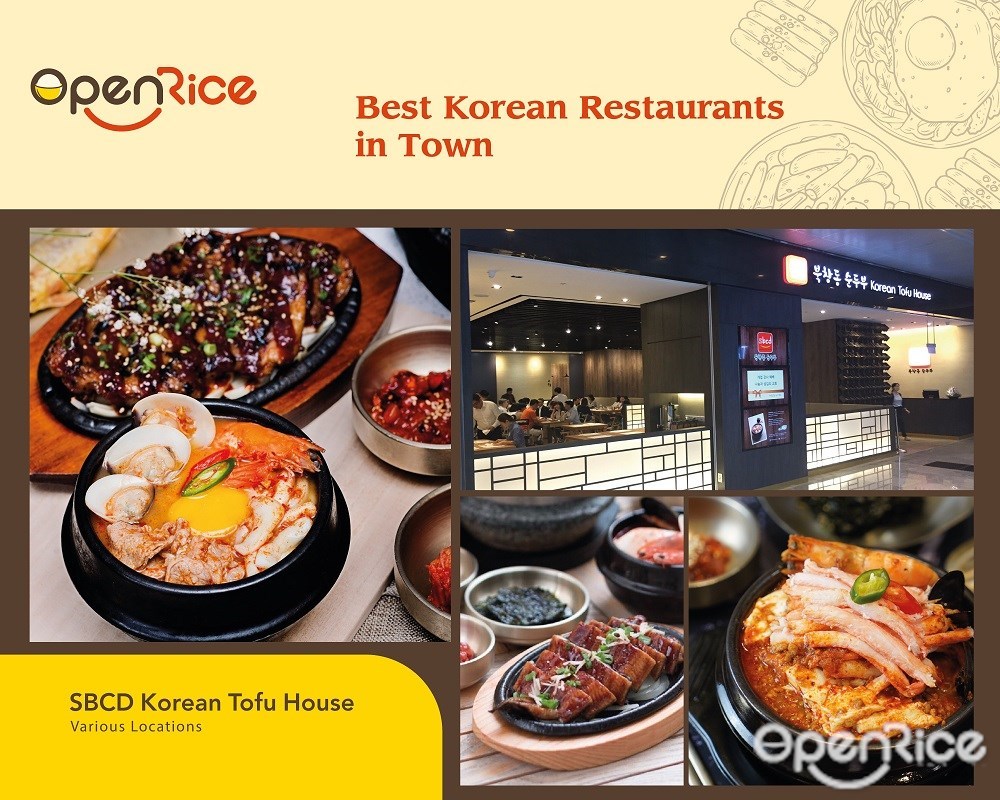 SBCD Korean Tofu House specializes in a variety of Korean soft tofu soups and aims to uphold its kitchen philosophy of serving uplifting and complete meals by presenting the best of its delectable traditional Korean soft tofu stew. Every Soon tofu dish here is created with soft and silken tofu using mature white soybeans specially imported from Paju & hand-made fresh daily in the SBCD kitchen. Available in a choice of 4 different levels of spiciness for the broth – mild, medium, spicy, and crazy hot, the intricately prepared 10-ingredient secret recipe soup paste is what makes SBCD's soup broth so flavoursome and keeps customers coming back for more. Try your Soon tofu soup with selections of unique ingredient pairings such as abalone, oysters, flower crab, or fresh tiger prawns. Other favorite Korean meat dishes are available as well, including L.A. Galbi, Spicy Grilled Chicken and more.
Be sure to make your reservation in advance.
Book your table today:
https://sg.openrice.com/en/singapore/restaurants?chainId=10001160
2. Woorinara Korean Restaurant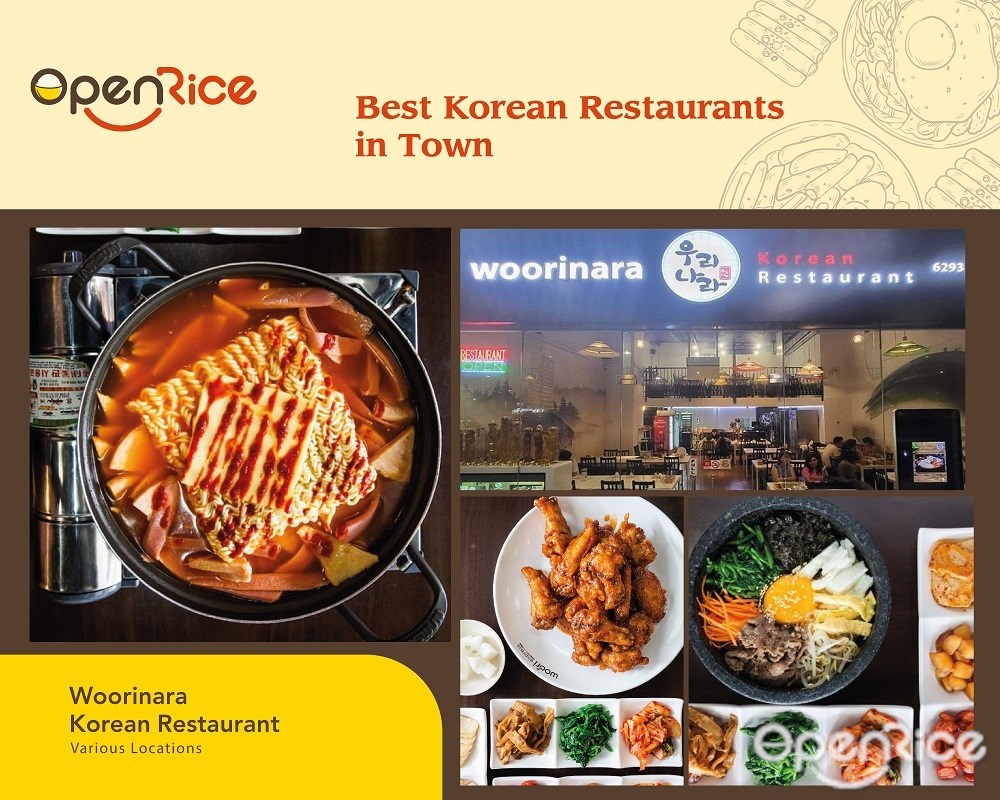 If you are looking forward for some authentic Korean food like fried chicken, bibimbap and traditional Korean stew for sharing, Woorinara Korean Restaurant is the place you should visit. The restaurant used only the freshest and quality ingredients to prepare their food, ensuring that every dish served is bursting with flavour and authenticity. With the Korean countryside rustic theme and ambiance, dining at Woorinara is like walking into the Korean drama scene where table filled with delicious Korean delicacies and ice-cold draft beer are served to cheer things up. One of the signature must-try on the menu is the Sizzling Stone Pot Bibimbap, Beef Tendon Soup and of course the popular Yum Yum Chicken - freshly fried chicken glazed with the signature Yum Yum chili sauce, available in different flavour like soy, garlic or cheese topping on the chicken. For group diners, there's Korean BBQ pork and beef sets available, as well as Korean traditional stew pots such as Army Stew, Stir-Fried Rice Cake with Seafood Stew and Kimchi Hot Pot.

Reservations are strongly recommended.

Book your table today:
https://sg.openrice.com/en/singapore/restaurants?chainId=10001442
3. Dal Bam Korean Restaurant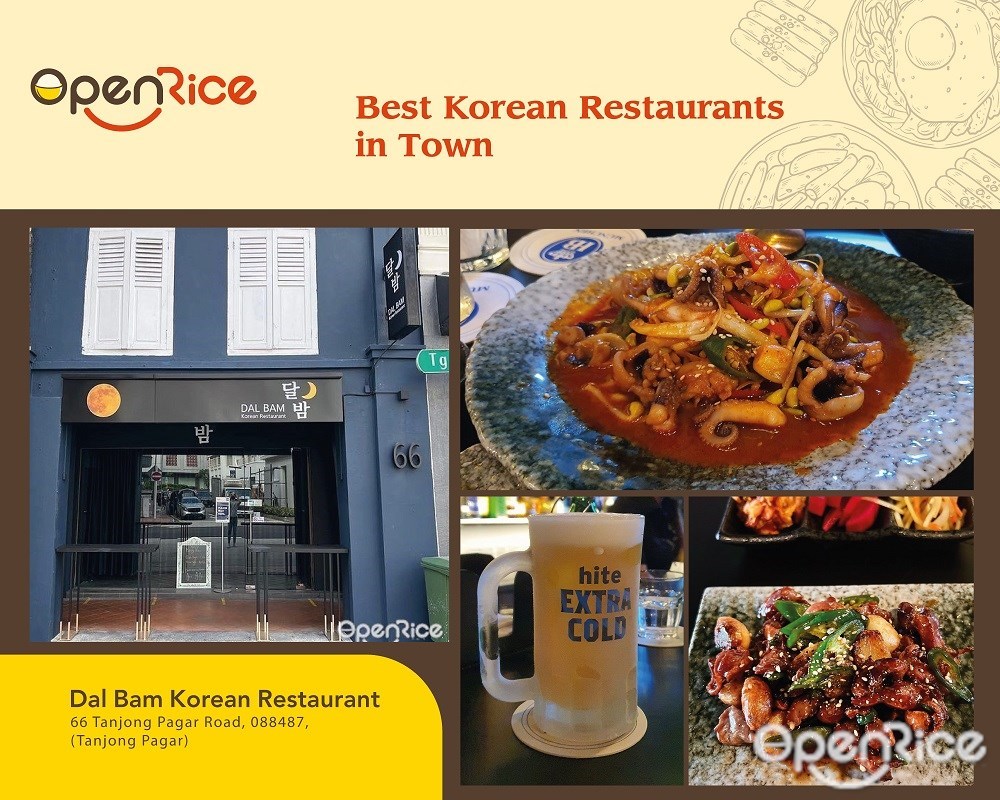 If you are walking along at the Tanjong Pagar Road, be sure to eyes on the beautiful moon on the shop front sign of a modern minimal facade in navy blue, that's where Dal Bam Korean Restaurant nestles at. If you are looking to fix your craving on Korean food with friends while sipping cold brew beers, this restaurant is a must-visit. Serving authentic Korean food in a stylish and contemporary atmosphere, Dal Bam Korean Restaurant serve some of the best and most affordable Korean street food with a twist. Some of the popular signature dishes such as the well-known street food of all - Tteokbokki Rice Cake in Spice Sauce, Seafood Pancake and Fried Dumpling. If you're craving for some meat dish, Steam Pork Belly Bossam and Wagyu Ribeye Steak is a must-try. Finishing off your meal with an ice-cold draught beer or hard liquor of your choice served by the friendly staff at Dal Bam Korean Restaurant.
Reservations are strongly recommended.
Book your table today:
https://s.openrice.com/eKKSB01ykk100~dku58go12
4. Friends Tasty Korea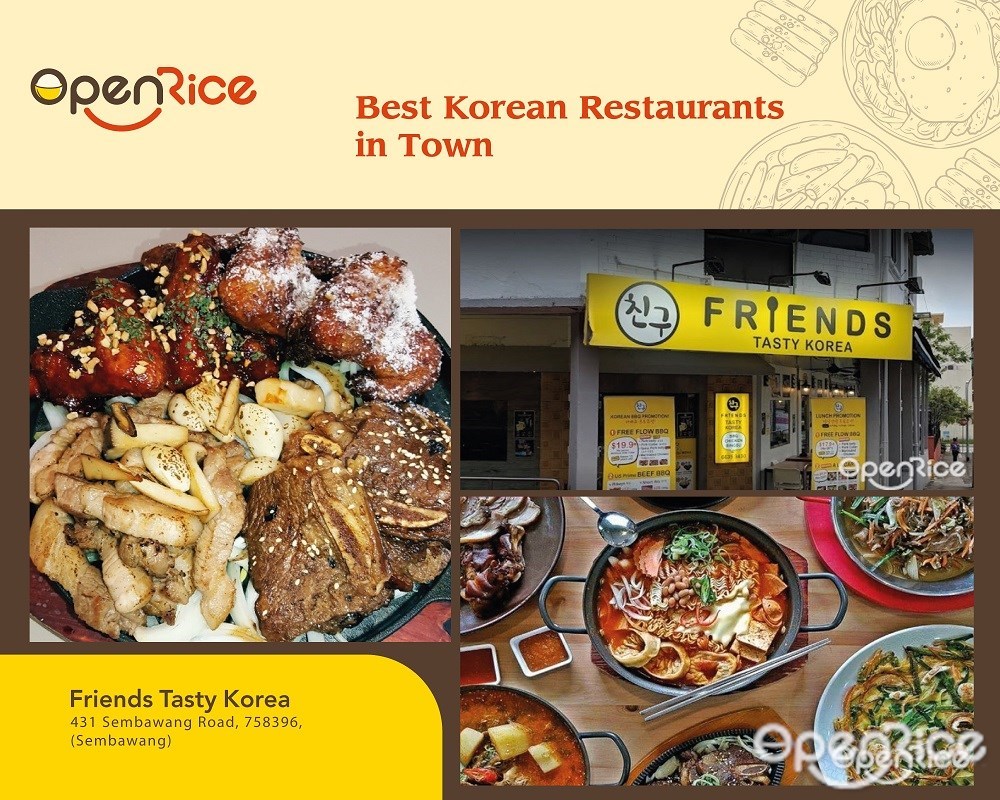 Located at Sembawang Road, Friends Tasty Korea is famous for its variety of menu that offers affordable Korean cuisine in town. From classic Korean dishes such as Bibimbap, Korean Fried Chicken, and Korean BBQ, their menu caters to everyone's tastes and ensures that diners have an enjoyable time dining in a cozy environment. For hotpot lovers, there are various Korean soup options available. The Pork Backbone soup is a popular choice among diners, while the Chicken Ginseng option is perfect if you are looking for non-spicy & healthier options. Seafood enthusiasts can try the Grilled Saba fish, which is a large whole fish grilled to perfection, delivering a smoky and rich flavour. While the meat tastes great on its own, it is recommended to enjoy it with a serving of freshly steamed rice. Overall, this restaurant provides a delightful dining experience for everyone, and its range of flavours ensures that there is something for every palate.
5. K-Chicken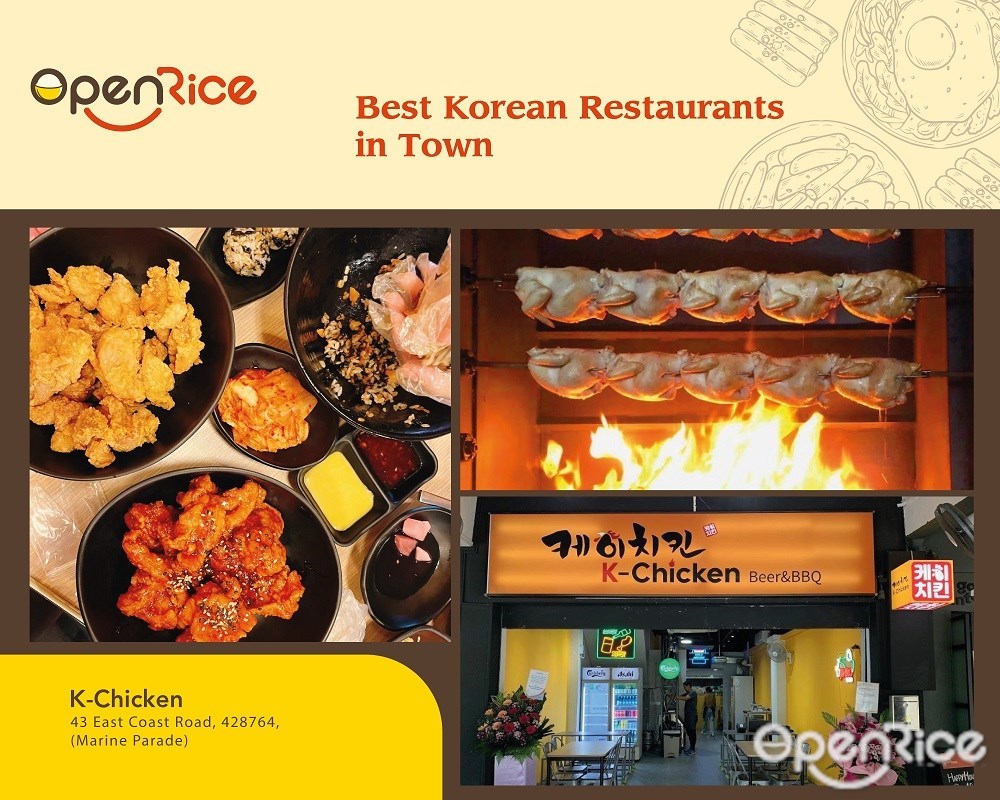 Located at East Coast Road, K-Chicken serves one of the best and most crispy versions of a dish representing modern Korean cuisine that had been enjoyed by people all over the world: the Korean Fried Chicken. K-Chicken are also the first restaurant with Korean firewood chicken place in town, authentic spread of Korean chicken, alongside a variety of fun fusion dishes. One of their signature favourites is the Charcoal BBQ Chicken, which features bite-sized marinated chicken paired with tteokbokki and finished off with a fiery hot and spicy sauce that is sure to bring maximum delight. For those who love spicy food, the Samyang Spicy Hot Chicken Noodles are a must-try. The intense heat is sure to satisfy any cravings for spicy food. For non-spicy options, be sure to go for the Sweet Spicy and Garlic Soy options. For the full Korean dining experience, the restaurant also serves authentic Jeju Beer to pair with your fried chicken. If you are looking for a hearty and filling option, they can try the DIY Rice Ball which is a mixture of rice, tobiko, and chicken meld, mixed and rolls it into an absolutely scrumptious bite-size rice ball to enjoy.