From the iconic nasi goreng to the tantalizing satay and aromatic rendang, Indonesian cuisine offers a delightful journey for the taste buds. Check out our recommended 5 restaurant that serves Authentic Indonesian Food in Town.

1. Taliwang Restaurant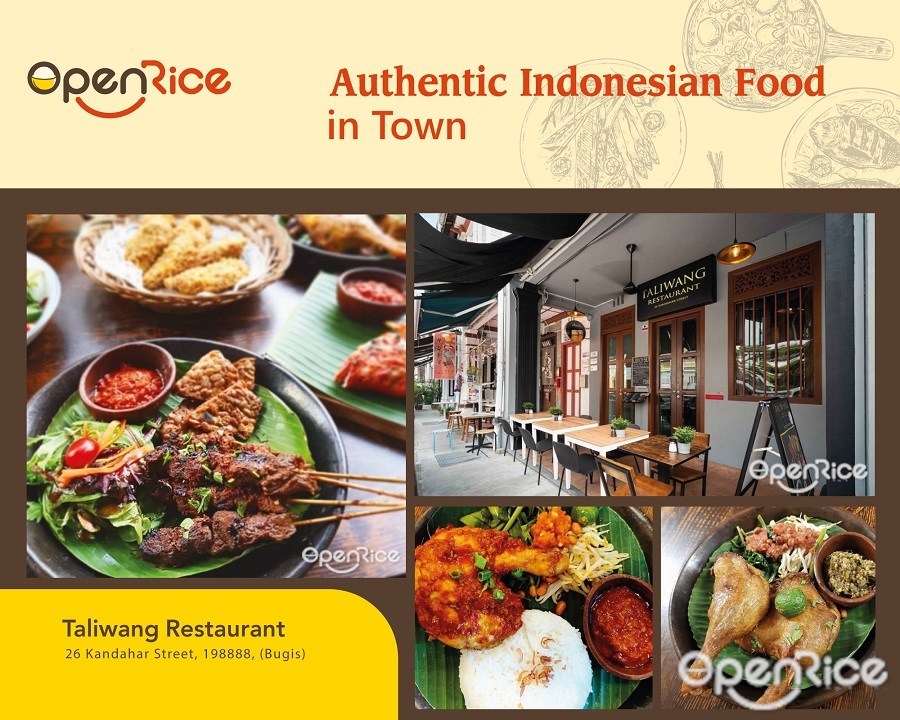 Craving for the vibrant flavours of Indonesian and Lombok cuisine? You'll definitely can fix your craving when you dine in at Taliwang Restaurant. Nestle at 26 Kandahar Street, Taliwang Restaurant has a very welcoming exterior filled with Indonesian wood windows with carving and a cozy inviting space that reflects the warmth of Indonesian hospitality. The team of culinary brings the essence of Indonesian and Lombok culinary excellence into the menu, ensuring a flavour that transports you to the lively streets of Indonesia. if you are here for a gastronomic journey filled with Authentic Indonesian food, be sure to try out their signature dishes like Ayam Bakar Taliwang, Ayam Bakar Sambal Banjar, Bebek Bakar Sambal Kicap dan Iga Bakar (Beef Ribs).
Reservations are strongly recommended. Make your Table Booking Today:
https://s.openrice.com/eKKSB01VrS200~uxhpeNw
2. Kintamani Indonesian Restaurant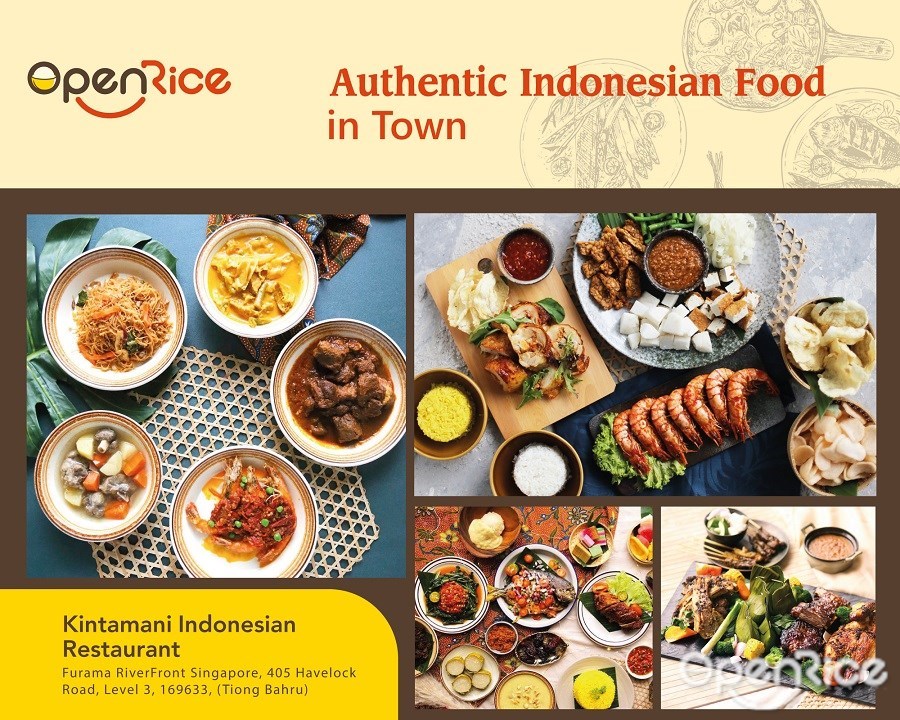 Can't decide between dishes with a taste of sambal heat, tender rendang and all the savoury delicacies? This is the place to be. Located at Furama RiverFront, Kintamani Indonesian Restaurant welcome all diner to Feast on an authentic, all-you-can-eat Indonesian buffet that's big on flavours including a few of the Highlight's signature dishes such as Peha Kaki Kambing - Roasted Lamb Leg with Chef's Homemade Sauces, Ayam Panggang Rica Rica, Rendang Daging Sapi, Udang Goreng Mentega, Remis Sambal and more. Their Ala Carte menu is equally packed with enticing delights, from Kintamani Family Set menu to dishes such as Tahu Telur Surabaya, which is a Javanese Beancurd and Omelette dish, Traditional Seafood Fried Rice, Beef Skewers and more dishes that you don't want to miss out.
Reservations are strongly recommended. Make your Table Booking Today: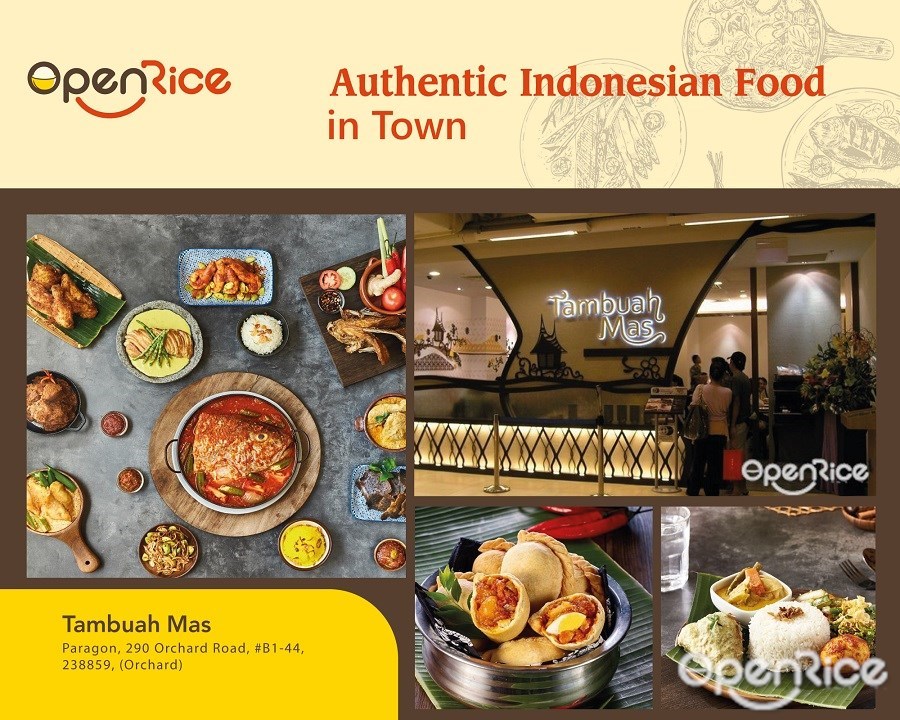 Renowned for its beloved Tahu Telor and Kepala Ikan Istimewa, Tambuah Mas at Orchard Road has built a solid reputation for its down-to-earth Indonesian home-style cooking since 198. Incorporating flavours from Padang, Sulawesi, and Java, The restaurant's irresistible cuisine has become a magnet for locals, expats, and tourists alike. The magic behind Tambuah Mas lies in its carefully crafted blend of spices, herbs, and premium ingredients, resulting in distinct tastes that truly stand out. The secret to their exceptional dishes has been closely guarded within the family, passed down from one generation to the next. if you're craving a warm and satisfying meal that will transport you straight to the heart of Indonesia, Tambuah Mas is the place to be. Don't miss out the chance to indulge in their culinary delights such as Sop Buntut Makassar, Ayam Korma, Ikan Nila Asam and more.

Reservations are strongly recommended. Make your Table Booking Today:
https://s.openrice.com/eKKSB01GHW000~uxhpeNw
4. Nusa Grill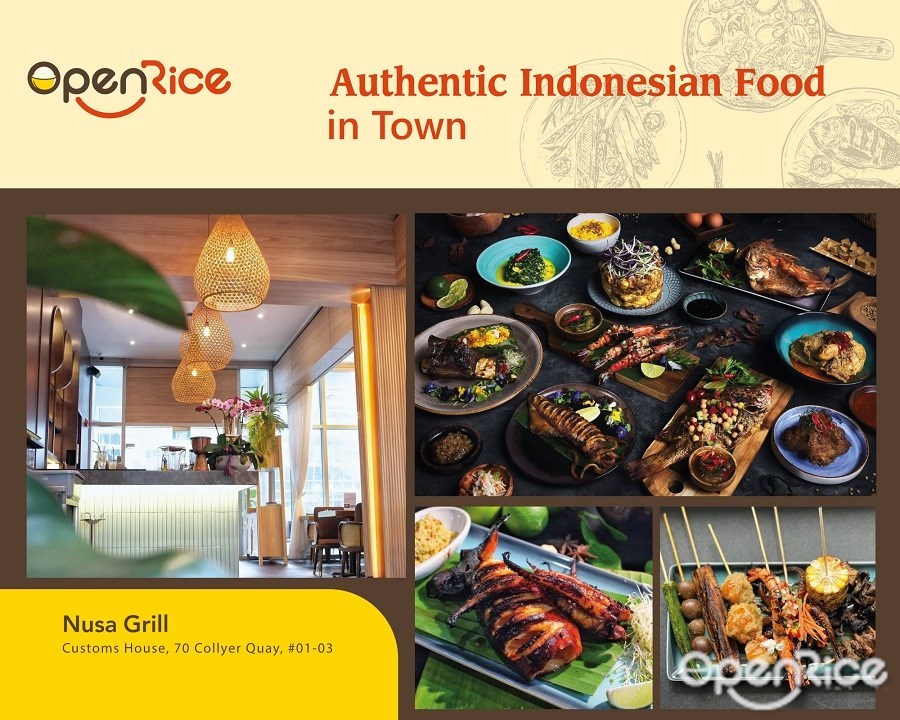 Imagine being transported to a serene island getaway the moment you step into Nusa Grill- the restaurant name is a nod to the Indonesian word for "island," and it perfectly encapsulates their mission to bring you the best-grilled delicacies from all over Indonesia by a team of experienced chef whom pride in grilling expertise, ensuring that each dish is cooked to perfection. Nusa Grill's menu put a unique twist on classic Indonesian dishes, incorporating flavours and influences from different regions, and combining familiar flavours with exciting surprises along the way. Diners can enjoy a flavourful feast accompanied by ordering their favourite brew or a refreshing beer. The menu features a tempting array of condiments and side dishes that perfectly complement the main attractions. Be sure to try out the Ikan Bakar Jimbaran, Nusa's Signature Grilled Platter and Ayam Bakar Taliwang.

Reservations are strongly recommended. Make your Table Booking Today:
https://s.openrice.com/eKKSB01oyk100~uxhpeNw
5. Daun Bistro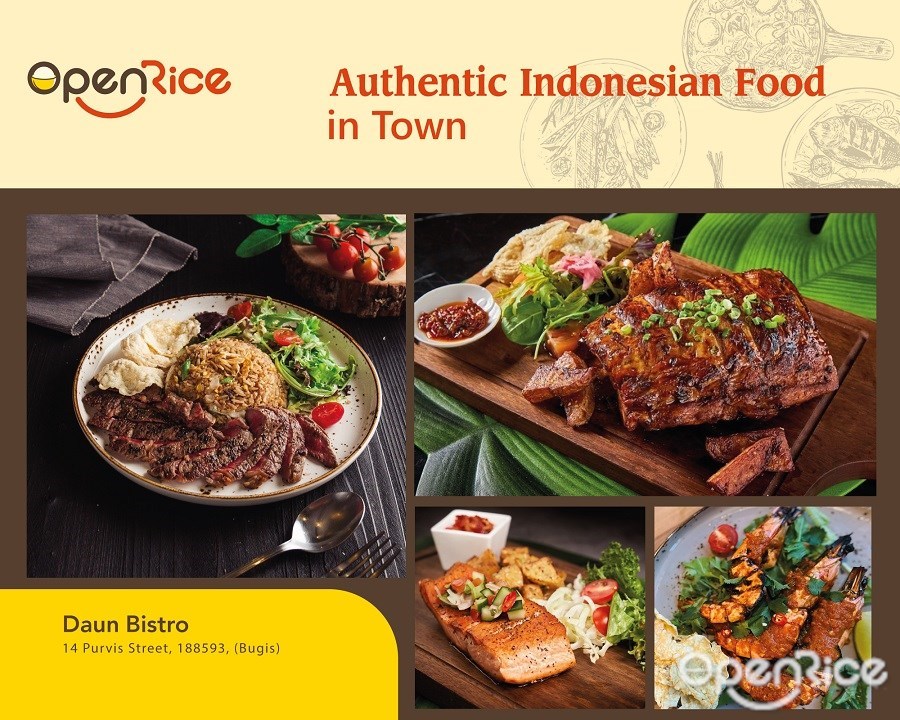 Looking for a chill spot where you can indulge in award-winning menus that will leave you craving for more? Head down to Purvis Street with your friends and family, as Daun Bistro will enrich your taste buds for an incredible culinary adventure with carefully selected menus that with the most essential dishes that truly represent the essence of Indonesian food while taking the Indonesian cuisine to the next level by infusing it with a creative fusion twist. The team of culinary masterfully combines authentic Indonesian herbs and ingredients, transforming them into modern, mouth-watering platters that will delight your senses. Featuring mouthwatering dishes that you must try when you visit the restaurant will be the Oxtail Soup, Ribeye Crazy Fried Rice, Pork Satay with Homemade sambal, and Tahu isi (stuffed tofu).
Reservations are strongly recommended. Make your Table Booking Today: