We all looking forward to a great brunch at an inviting eatery that offers a delectable menu with a range of breakfast and lunch options, especially during the weekends. Be it a simple brunch over coffee and pastry, or an exclusive brunch with premium menus, here are our Top 5 Best Brunch Spots in Town for a leisurely meal with your friends & family.


1. Group Therapy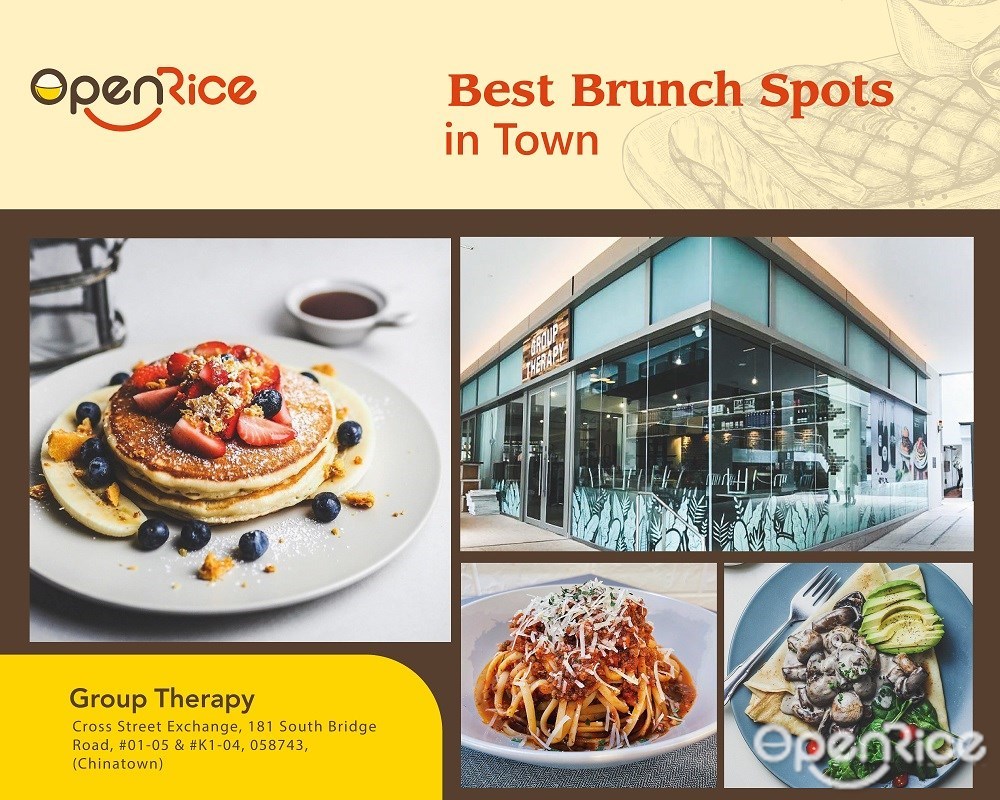 Nestle at Cross Street Exchange, Group Therapy is a cafe that has the simple purpose of producing great food & drink for all who walk through the doors. The space consists of enclosed indoor seating as well as an outdoor veranda; ideal for brunch in big groups or any celebrations. Bread & Cakes are baked freshly on a daily basis, a perfect match with a cup of their homebrew coffee served by the experienced barista. Savoury Crepe & Crispy Parma Ham Egg Ben is a must-try if you are looking for something different for brunch. For a full meal, try out the signature main such as Black Truffle Chicken, Meatball Marinara and Softshell Crab Pasta. For a sweet ending, there's always something from the homemade dessert selections for everyone - Strawberry Nutella Crepe, Old-Fashioned Apple Pie and Sticky Date Pudding is a must-try. You can even bring home their homemade ice cream in pints, available in signature flavours such as Earl Grey, Mint Cookies, Rum & Raisin and more.
Reservations are strongly recommended. Book Your Table Today:
https://s.openrice.com/eKKSB01cLq000~dku58go12
2.Caviar
If you are looking for a luxury brunch experience, this is the place to be. Located at Palais Renaissance, Caviar is Singapore's first caviar-based restaurant showcasing a multitude of different types of caviar from top caviar houses around the globe - the finest caviar from France, Italy, Russia, Uruguay, Japan, China to the seasonal Iranian Caspian Sea, the restaurant is more than their namesake and caviar theme. All the delicacies were prepared by a team of young culinary chefs with fine-dining experience from various Michelin-starred restaurants, where they have each been exposed to excellence. For a full culinary experience, the selection menu of Caviar & Champagne Experience is the best choice - with four different Caviars paired with a glass of Champagne. While there is a major change of menu with each season, each season's menu evolves as different ingredients become available. Guests can request a refreshed menu for the season.
Reservations are strongly recommended. Book Your Table Today:
https://s.openrice.com/eKKSB01tx4200~dku58go12
3.Common Man Coffee Roasters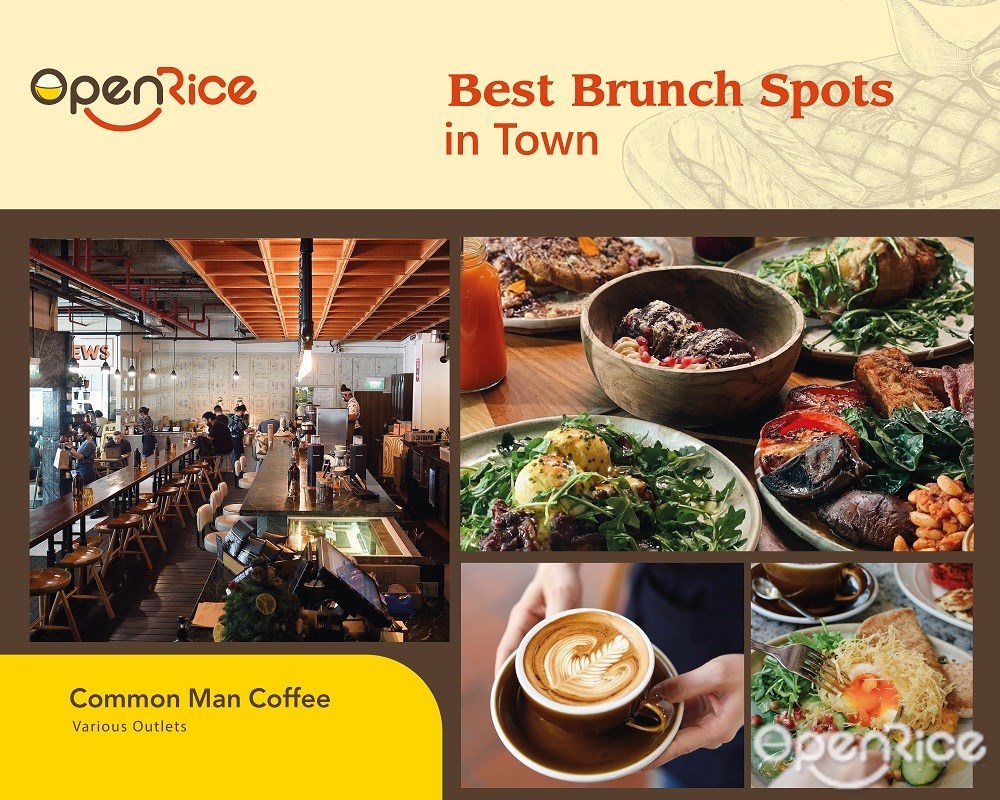 Located in vibrant neighbourhoods across Singapore, Common Man Coffee Roaster are well known and recognized for serving quality, expertly prepared specialty coffee, paired with a world-class brunch experience. The team of culinary use only the best ingredients prioritizing local sources, presenting a classic brunch item with a twist & aim to consistently serve the best brunch in town. Common Man Coffee Roasters strive to create spaces that are unique and a balance of approachable and luxury through a mixture of materials, patterns, and textures, reflecting an elevated cafe experience that draws influence from international and local sources. Coffee lovers should definitely order a cup of their Specialty Grade Arabica Coffee, paired with their signature brunch such as Umami Mushroom Avocado Toast, Sauteed Kale & Creamy Egg White Scramble, and Chilli Chicken.
Reservations are strongly recommended. Book Your Table Today:
https://sg.openrice.com/en/singapore/restaurants?chainId=10001324
4. Kinki Restaurant + Bar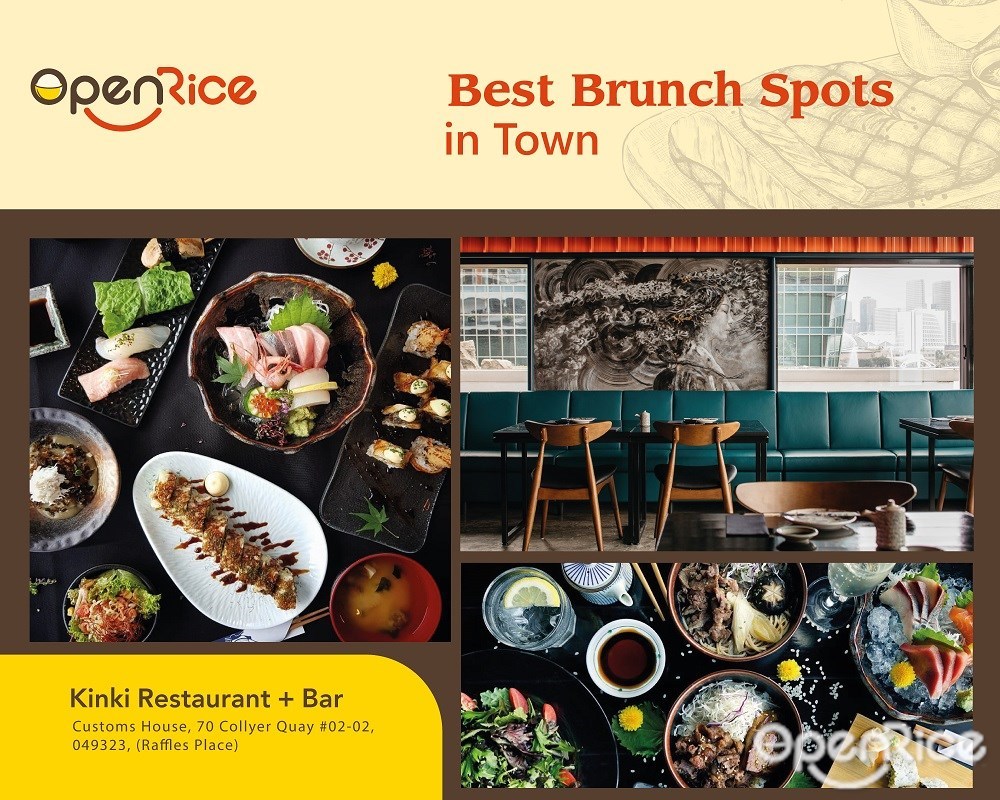 Located at Customs House in Raffles Place, Kinki Restaurant + Bar is definitely one of the places that bring a duo sense to the dining scene - A modern café with a Japanese theme brunch by day and a vibrant bar that serves the best cocktail in town by night. The experienced chef uses only the freshest ingredient to prepare the food, achieving great flavors in every fusion Japanese dish served. For a quick nibs and satisfying brunch, there's a selection of traditional and contemporary Japanese dishes to choose from such as the signature Golden Age Sushi Roll, Foie Gras & Scallop Nigiri, and selections of Sushi. For an Exclusive lunch experience, the Chirashi Don is a must-try as it's specially prepared by the chef using the day's premium seafood to top-on the sushi rice bowl. If you are looking for a free-flow brunch experience, do drop by on Saturday and public holidays where Kinki Restaurant + Bar serves up their classic Bottomless Brunch where premium sushi, sashimi and more Japanese dishes is served in a buffet concept.
Reservations are strongly recommended. Book Your Table Today:
https://s.openrice.com/eKKSB01yoI000~dku58go12
5. SPRMRKT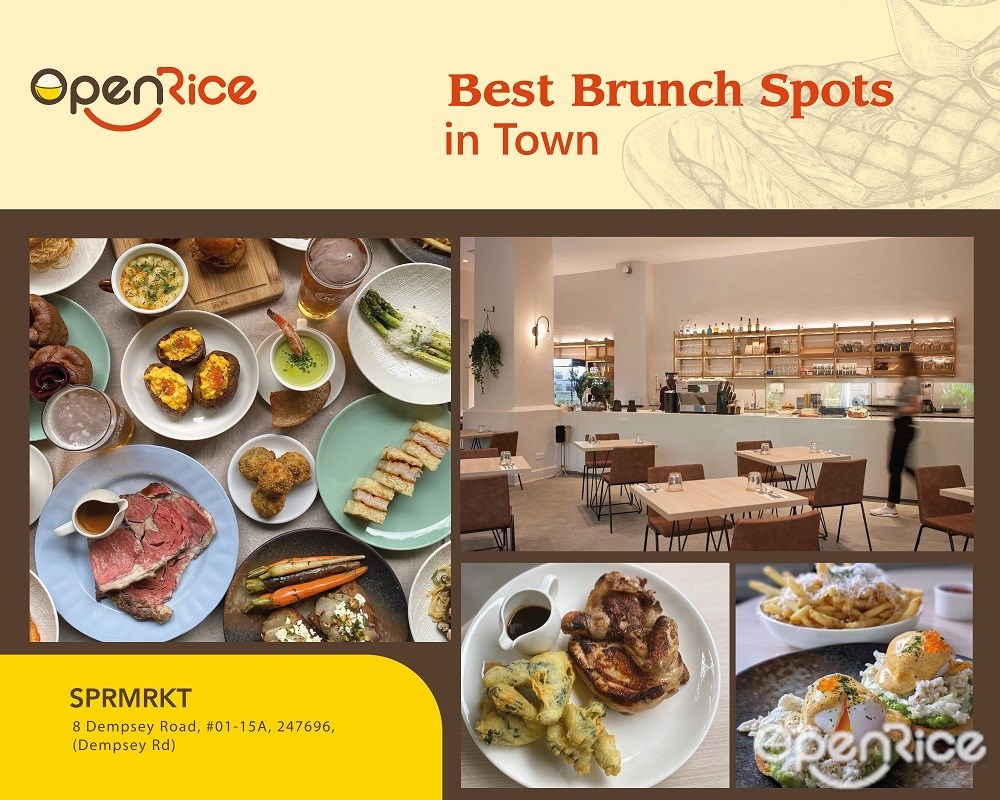 Located at Dempsey Road, SPRMRKT is a cultural-culinary brand focused on the simplicity of everyday living with people at the heart of its location. SPRMRKT is ensconced at the corner of a conserved former British army barrack, amidst lush greenery. The high ceiling, square columns and recessed lounge are true to the original structure, while large windows allow for sunlight to fill the space in the day for casual meals or basking in leisure. Produce-driven cooking, responsible sourcing and conscious dining are values that guide the team of culinary curating menus that inspire and feed everyone better. SPRMRKT also values and supports brands and suppliers who give back to local communities and to the environment. Be sure to try out the SPRMRKT Breakfast Platter, Pesto Penne, Roasted Half Chicken and Hokkaido Pork Katsu Sando.
Reservations are strongly recommended. Book Your Table Today: