The art of fusion cuisine lies in combining the best of both worlds by blending different culinary traditions into something entirely new and delicious. This is why fusion cuisine is popular nowadays as it brings new and exciting culinary experiences. If you are looking forward to spice up your dining experience with something new, here are our top five recommendations for the Best Fusion Restaurants in town:

1. Noosh Noodle Bar & Grill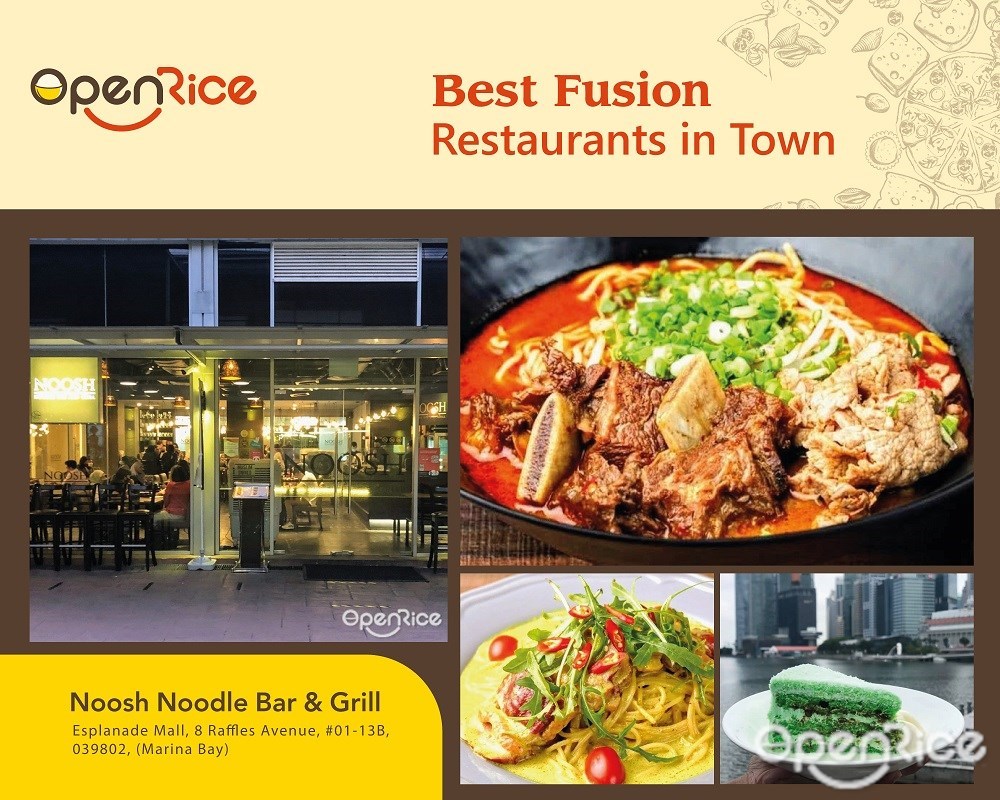 Located at Esplanade Mall, Noosh Noodle Bar and Grill is a Halal fusion restaurant that brings together the best of both Asian and Western cuisine in a stunning ambiance that is perfect for families and special occasions. At Noosh Noodle Bar and Grill, the team of chefs showcases a specially crafted contemporary fusion menu that goes beyond regular dining, challenging boundaries with food concoctions and exciting senses while maintaining unique traditions, bringing sophistication and excitement to everyday comfort food. By introducing and immersing different ingredients, specialty cooking techniques and robust culinary skills, Noosh Noodle Bar and Grill blends modern and traditional flavours into their creation of over 50 noodle and grill dishes. Be sure to try out the Squid Cekodok, Szechuan Beef Ribs Noodle and Smoked Duck Lemak Chili Padi Spaghetti. For desserts & drinks, order don't miss out the chance to try out the Classic Ondeh-Ondeh Butter Cake & Butter Beer.
Reservations are strongly recommended. Book your table today:
https://s.openrice.com/eKKSB01qMG200~d0j22-uHW
2. Tea Villa Cafe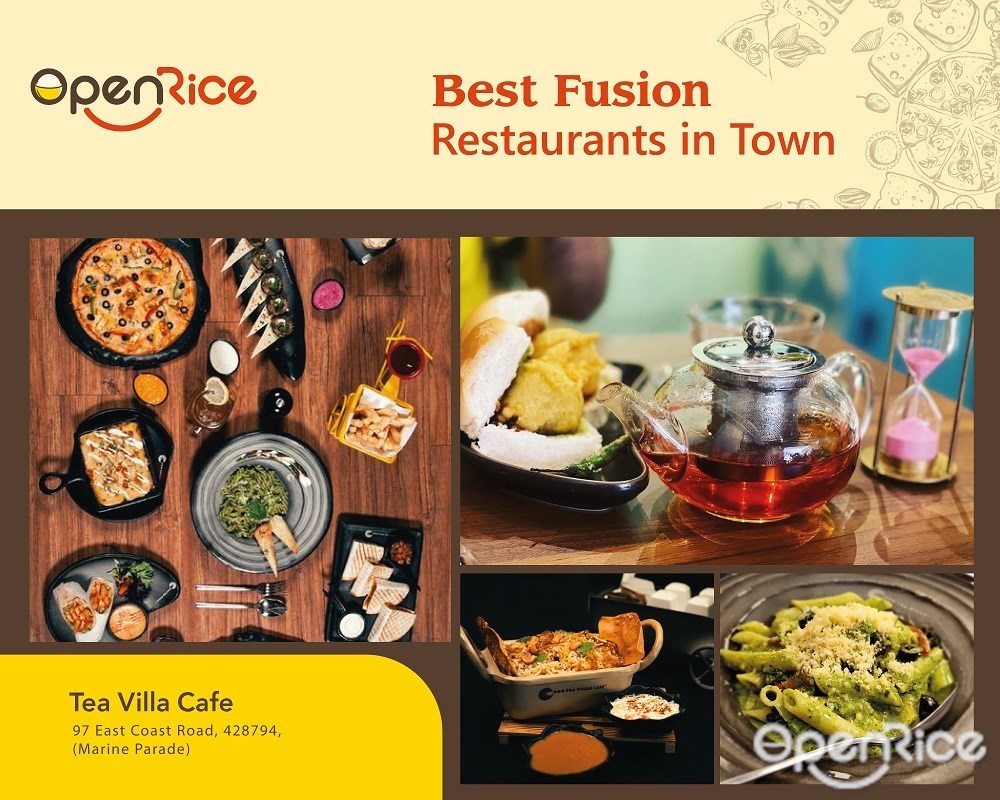 Located at East Coast Road, Tea Villa Café is a warm, inviting café that had a range of mouth-watering food and over 100 tea selections, aiming to entice the coffee culture in Singapore into a tea-appreciating culture. Tea Villa Cafe is also a family Cafe loved by one and all. Using only high-quality ingredients, you can find various appealing sweet and savoury selections in Tea Villa Cafe which makes your dining experience unique. Tea Villa Cafe is one of the first vegetarian café bringing a variety of different cuisines under one roof. Tea Villa Cafe is also famous for all kinds of fine-quality teas. Among the premium tea selections include black teas, green teas, herbal teas (infusions), and flavoured teas (black or green tea plus other flavours). Be sure to try out the Villa Special Hummus Platter, Grilled Shroom Burger and Nutty Buddy Waffle.
Reservations are strongly recommended. Make your booking today:
https://s.openrice.com/eKKSB01Qoy100~d0j22-uHW
3. Tongue Thai'd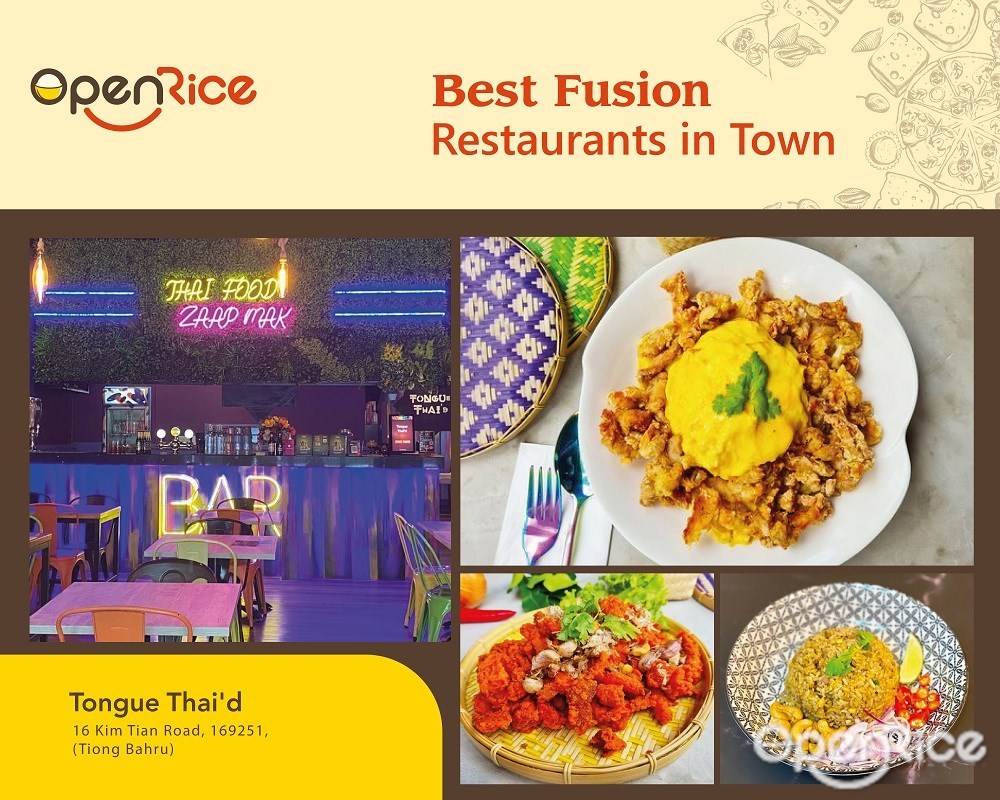 Located In the heart of Tiong Bahru, Tongue Thai'd is a new, hip, and funky Thai restaurant that specializes in serving authentic Thai cuisine. The elaborate designs and vibrant graffiti adorning the walls of the restaurant interior takes you to the bustling and lively ambiance of the neighbourhood of Bangkok while you satisfy your craving for Thai cuisine. If you are coming in a group, you'll discover various menu selections for sharing between two to three people, such as their Signature Tongue Thai'd Hotpot, Signature Seafood Tom Yum Lava Omelette on Rice, Lemongrass Sea Bass with Mango Salad and more. if you're in the mood for something a bit unusual, Tongue Thai'd offer beer selections on tap and bucket as well. Whether you're looking for a casual lunch, a gathering with your co-workers or a romantic dinner, Tongue Thai'd offer a delightful dining experience for all occasions.
Reservations are strongly recommended, Book your table today: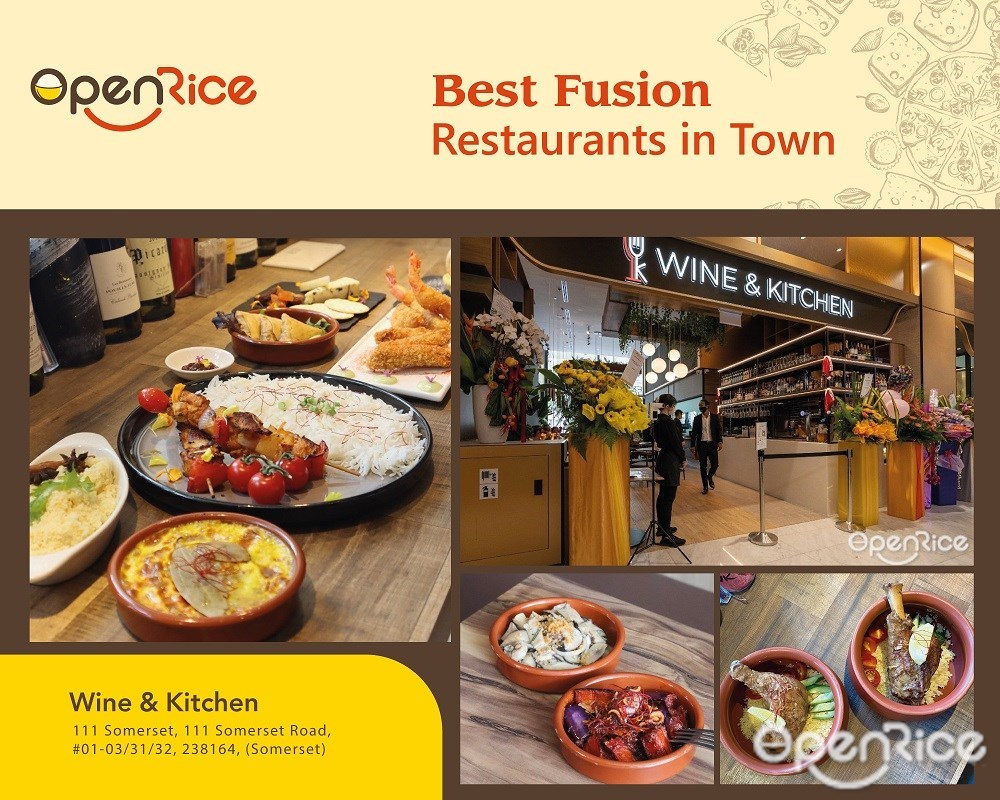 Nestle at Somerset Road, Wine & Kitchen is well-known for creating a palate-pampering gastronomy experience as an Asian wine bistro serving modern Singapore cuisine with European-style elements. Get started with some bites from their Tapas Selections such as the Sambal Eggplant, Mala Spam Fries and Spicy Prawn Gambas. For the main dish, do try out the Australian Grass-Fed Ribeye Steak and Signature Masala Lamb Shank. For Cheese Lovers, you can build your own Cheese and Charcuterie Platter from various selections of cheese and cold cuts. Beyond dining, this is also a place where you can let loose, relax and enjoy the diverse selections of over 350 wines and spirits from over 18 countries in their International Wine Cellar!
Be sure to make your reservation in advance. Book your table today:
https://s.openrice.com/eKKSB01xCG200~d0j22-uHW
5. Xiao Ya Tou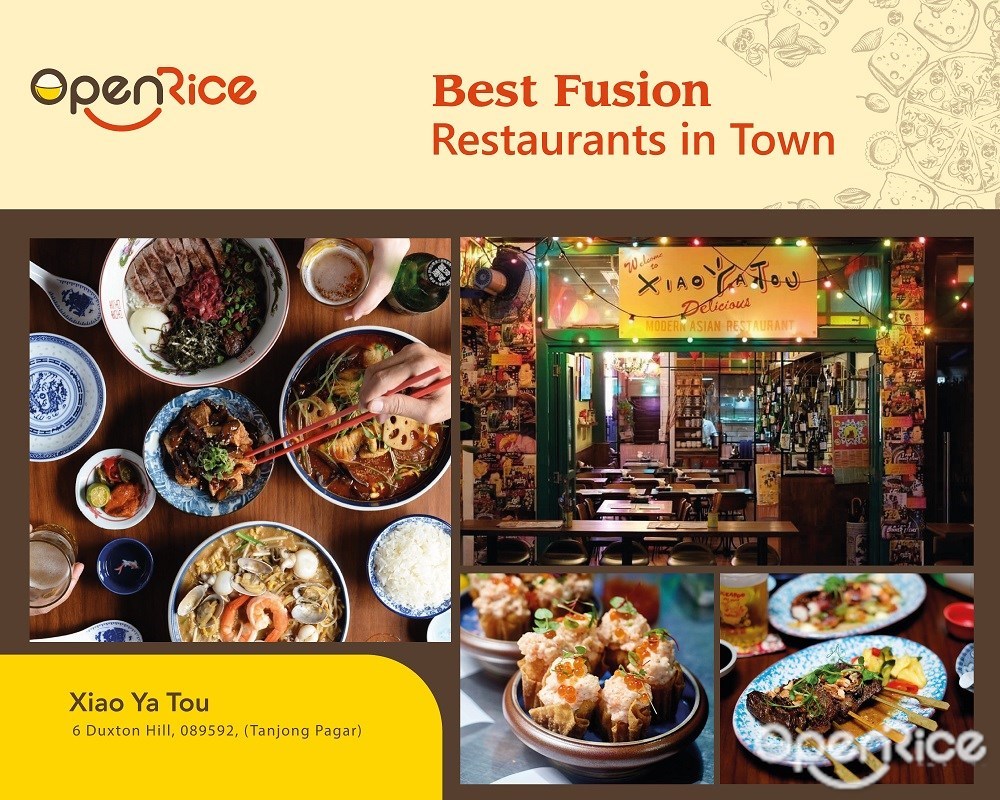 Standing out amongst the bustling nightlife of Duxton Hill, Xiao Ya Tou is a restaurant bar serving up modern Asian cuisine with a naughty touch, as fun and guiltless pleasure are reflected in the experience whenever you visit and dine at Xiao Ya Tou. You will find some of the well-known local flavours transformed into innovative dishes with a twist. Among the must-try dishes are Lobster Kueh Pie Tee, Truffle Roasted Duck, Angus Beef Satay and the Signature Xiao Ya Tou Hokkien Mee. For vegetarian selections, do try out the Spinach Wontons, Zucchini & Mapo Tofu. And last but not least, Vegetarian Mala Bowl to spice up your meal. You can also treat yourself & your friends to a selection of curated cocktails, such as Yuan Yang & Milo Dinosaur, a decadent takes on the local mamak staple. After all, no meal is complete without the warm glow that comes from a drink or two.
Reservation is strongly recommended. Book your table today: