Afternoon Tea culture is popular in modern society as it's a time that people get to take a break from their busy schedules and indulge in delectable treats while socializing with friends and family in a cozy environment. Here are some of our recommendations on the best places to go for an afternoon tea indulgence in town.
1. L'éclair Pâtisserie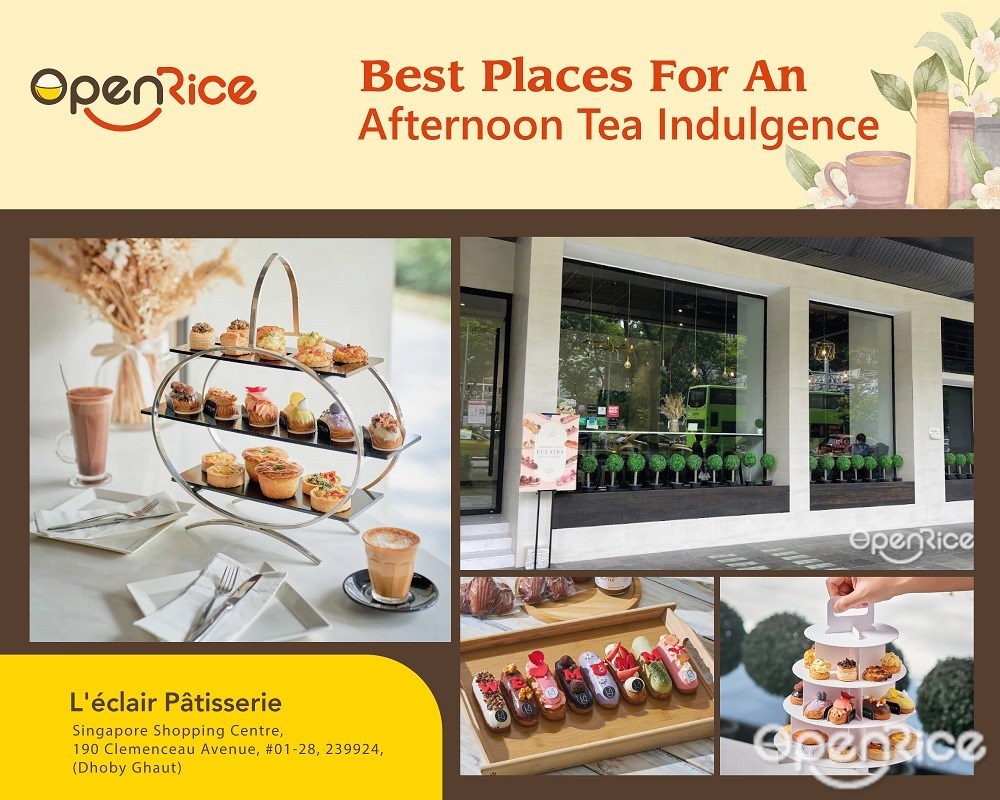 As you step into L'éclair Pâtisserie, you are instantly transported to a high-end patisserie in Paris. Nestle in Clemenceau Avenue, L'ÉCLAIR by Sarah Michelle is Singapore's first éclair specialty store and cafe offering éclairs and desserts that are generously filled and delicately garnished with the utmost precision and patience in order to give you a real taste of Paris. Every éclair is lovingly handcrafted daily using only the finest and freshest ingredients to perfect every bite. The decor of L'ÉCLAIR is a blend of modern clean lines and exquisite furnishings, creating an atmosphere of luxury. Adding to the charm of the place is the presence of beautiful flowers, enhancing the overall ambiance. Indulge in a selection of mini éclairs, savory canapés and more that come with the Signature Afternoon Tea Set. For éclair lover, do try out the Dark Chocolate Éclair, Salted Caramel Éclair, and some of the seasonal Éclair like Earl Grey Éclair which are available in certain time period. Truffle Egg Mayo Croissant and Signature Chicken Bacon Pie will definitely fix your craving if you are looking for some savory choices.
Reservations are strongly recommended. Book your table today:
https://s.openrice.com/eKKSB01nhe100~dku58go12


2. Tea Room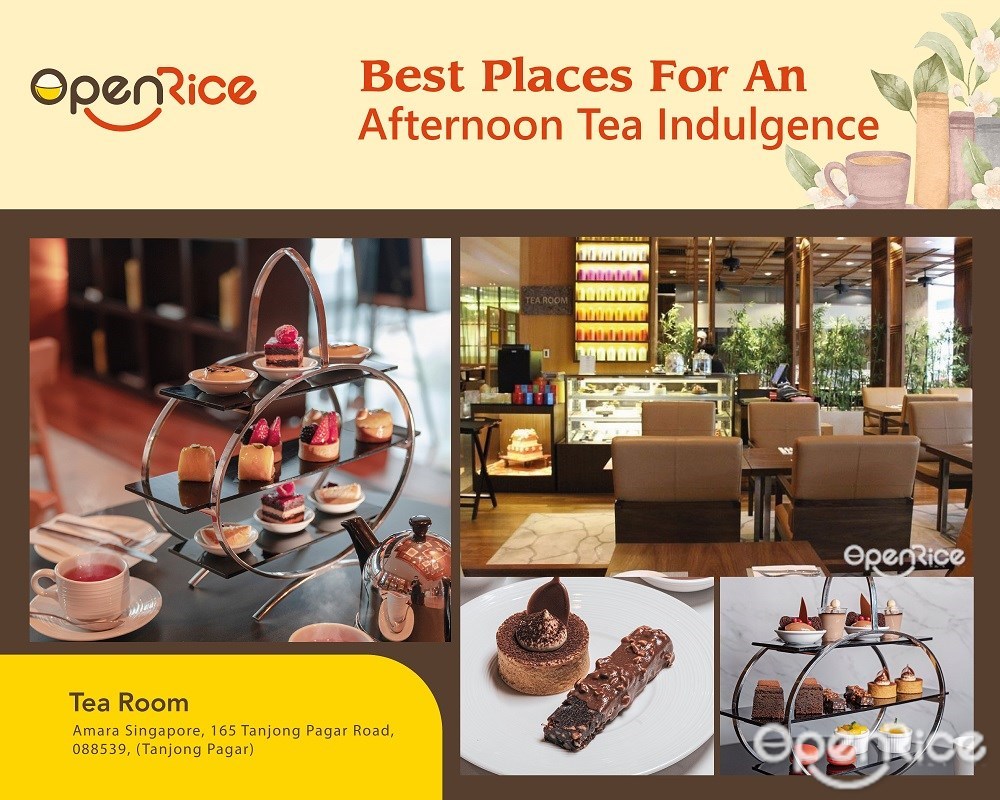 Located in Amara Singapore, Tea Room is an open-concept cafe where you can escape the hustle and bustle of city life and discover a haven of sweet and savory delights under a cozy and inviting space with friends and family. One of the highlights of Tea Room is the three-tiered high tea set, which features a selection of savory bites and delectable sweet treats such as mini cakes, pastries and scones. For Chocolate lovers, you can now satisfy your sweet tooth with the latest seasonal Chocoholic's Delight Afternoon Tea Set that feasts your eyes and taste buds on a delightful array of chocolate desserts from Zesty Yuzu Chocolate Mango Cake to the creamy Chocolate Panna Cotta this May and June. The best compliment for a sweet culinary delight is always tea or coffee. You can select your choice of teas from a range of premium TWG teas which are freshly brewed to order, or go with a hot cup of coffee or chocolate for a sweet ending.

Reservations are strongly recommended. Book your table today:
https://s.openrice.com/eKKSB01NSS200~dku58go12
3. Brasserie Les Saveurs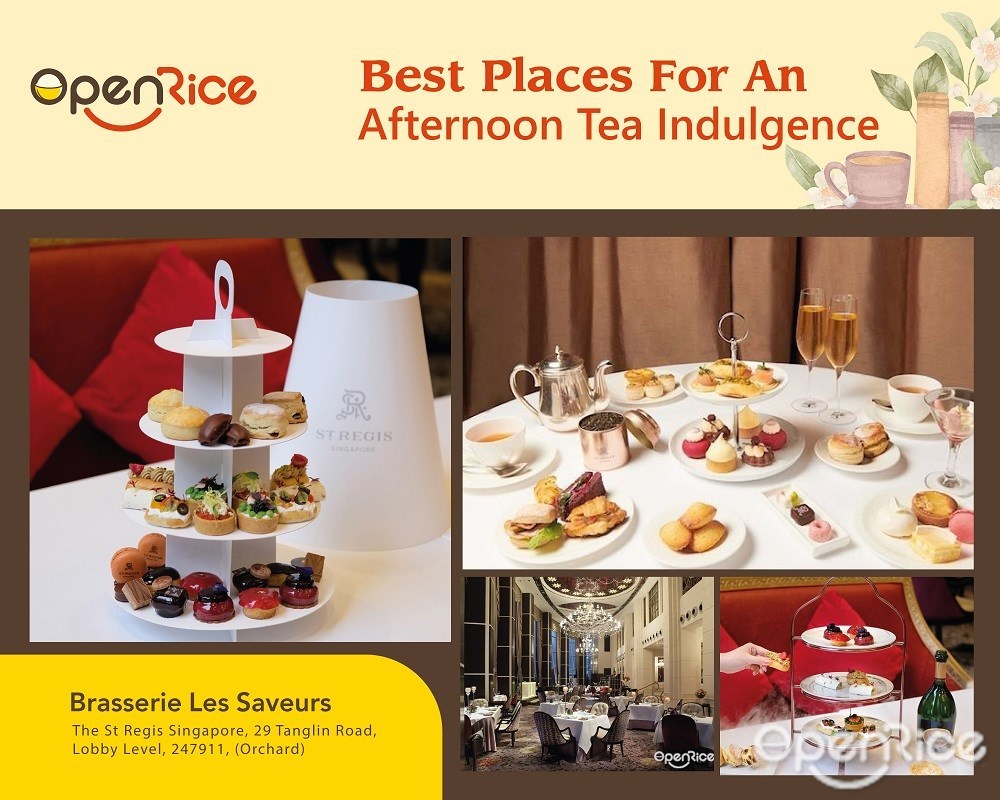 Located at the crossroads of the downtown embassy district near Chinatown, The St. Regis Singapore is among the world's finest hotels. Brasserie Les Saveurs of St. Regis Singapore is a perfect dining room for an extraordinary experience of classic French cuisine and a luxury afternoon tea experience. With its opulent and sophisticated decor, high ceilings, plush seating, and sparkling chandeliers, the restaurant exudes timeless elegance and sophistication. While enjoying the finest of French Cuisine, Brasserie Les Saveurs are also famous with their exquisite Afternoon Tea Set, which includes a delightful selection of savoury canapes, pastries and sweet treats in three-tiers such as the signature St Regis Scone, Gianduja Tea Cake, Foie Gras Mousse & Fig Jam Eclairs, Lobster & Green Peas Tartlet, Strawberry Rhubarb Tart, Petit Chocolate Apricot and more. Each item is carefully crafted using the freshest and finest ingredients, complete with a selection of teas by TWG, ensuring a truly exceptional taste experience.

Reservations are strongly recommended. Book your table today: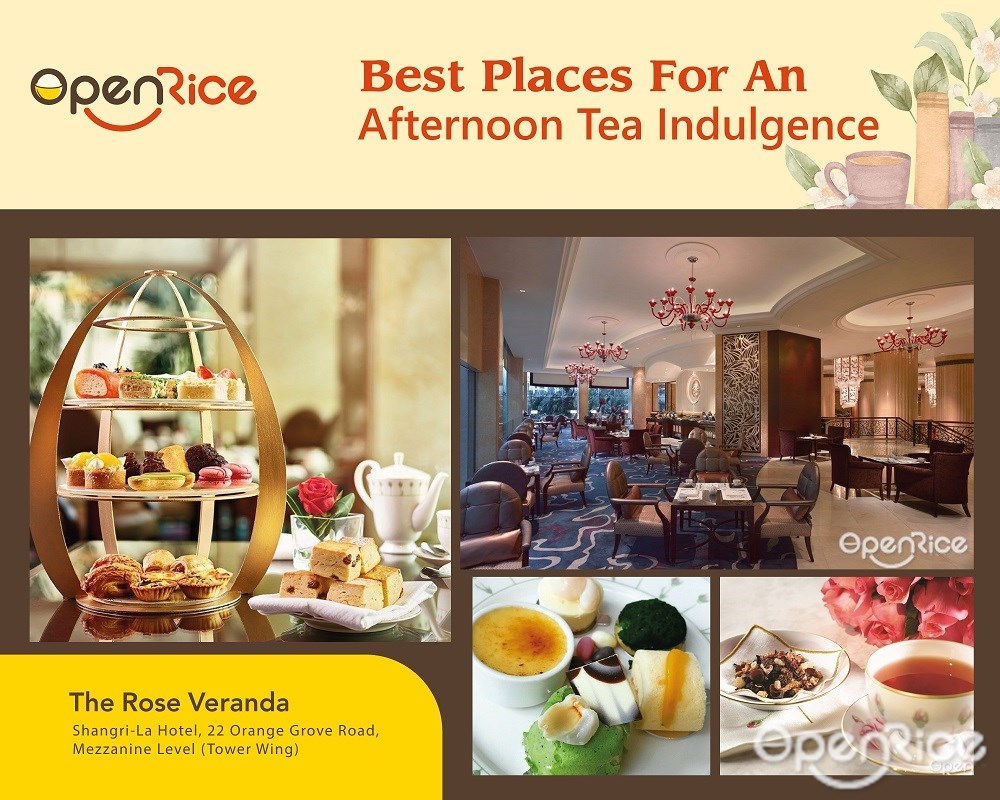 Nestle at Shangri-La Hotel, The Rose Veranda has been an institution for high tea since its inception in 1991, and an epitome of elegance with a serene and soothing ambiance to while away an afternoon in good company. The restaurant serves a 3-course high tea set menu, designed to continue afternoon traditions of luxurious tête-à-têtes over dainty sandwiches, delectable pastries and more. The culinary indulgences within the high tea experience are delivered with a strong commitment to freshness and seasonality, enhanced by the culinary team's creativity. Some of the signature must try savory selections are Smoked Pancetta Roulade with Portobello Mushroom, Pickled Daikon, Classic Cucumber Sandwich with Caviar Pearl, and Slow-Braised Angus Beef Cheek Cruffin. For sweet selections, do try out the Soy Chocolate Swirl, Tropicana Yogurt and their daily freshly baked Signature Raisins Scones served with Clotted Cream, Strawberry Jam and Lemon Curd.

Reservations are strongly recommended. Book your table today:
In 1864, the Tanjong Pagar Dock Company was founded, marking the beginning of the district's evolution from the fishing village of the past to the urban jungle it is today and commemorating this important year with these stylish bar and tea lounge in Sofitel Hotel. Afternoon tea has been wholeheartedly adopted by Singaporeans, who have taken the British tradition to new heights and an even greater sense of indulgence. In 1864 The Bar, you can discover fine blends of tea from around the world served with sumptuous cakes and desserts in a cozy yet elegant environment while observing the comings and goings of the lobby. Among the sweet and savory teatime menu, be sure to try out the Baked Croissant with Truffle Egg, Crispy Seafood with Beancurd Skin and Tomato Salsa, Truffle Mixed Nuts with Brie Cheese and Berries, Caramel Eclairs, Lemon Meringue Pie and more.

Reservations are strongly recommended. Book your table today: