Plant-based eating has become a popular choice for individuals looking to improve their health and reduce their environmental impact. This diet consists of consuming primarily whole, unprocessed plant foods such as fruits, vegetables, grains, legumes, nuts, and seeds. If you are looking for trying out different food than your usual menu, here is a list of our recommendations for the best plant-based restaurants in town.

1. Afterglow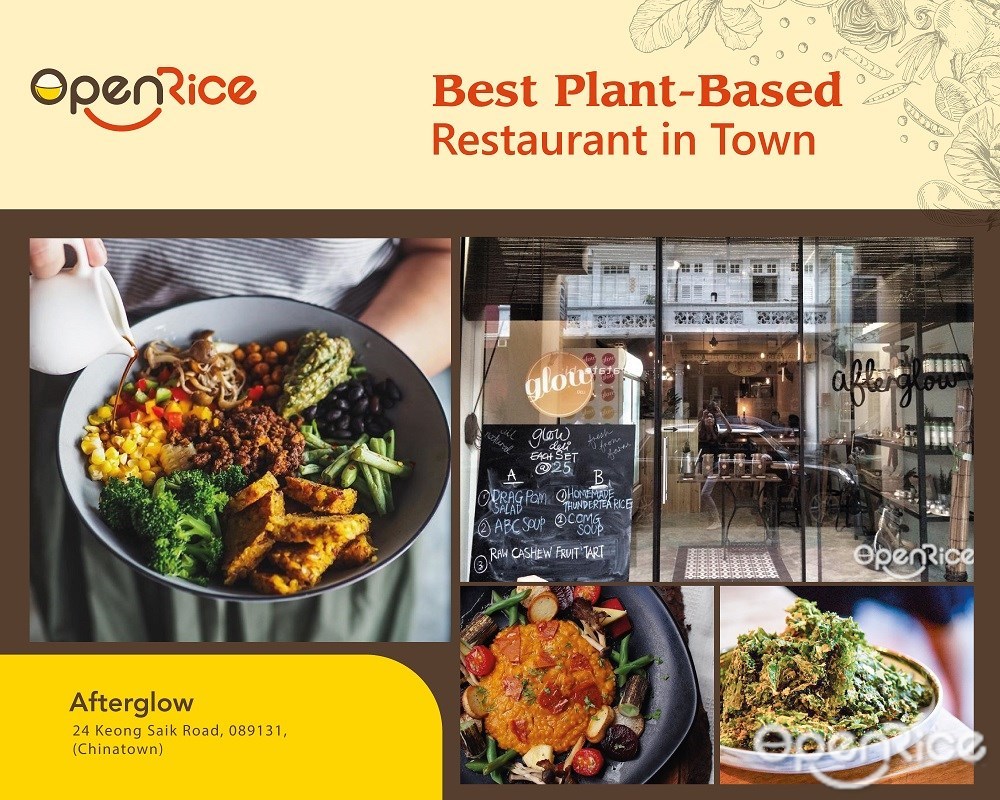 Nestle in Keong Saik Road, Afterglow is a whole foods plant-based restaurant that offers dine-in and takeaway options. They believe that food is made to grow from a seed into a fruit or herb, according to its kind. In order to cultivate, gather and partake of their food as intended at creation, Afterglow preserves the core DNA of every plant species, allowing it to shine through and express itself by various means of preparation. Since the inception of being one of the plant-based restaurant in 2013, Afterglow has championed the community around Farm-to-Table, regionally-sourced whole foods, and are here to learn, educate and feed generations back into the wholeness we are made for. Be sure to try out the Salted Eggless Kale Chips, Lentil Flaxseed Nuggets and their all-time signature Teriyaki 'Meat'ball Tacos.

Reservations are strongly recommended. Make your booking today: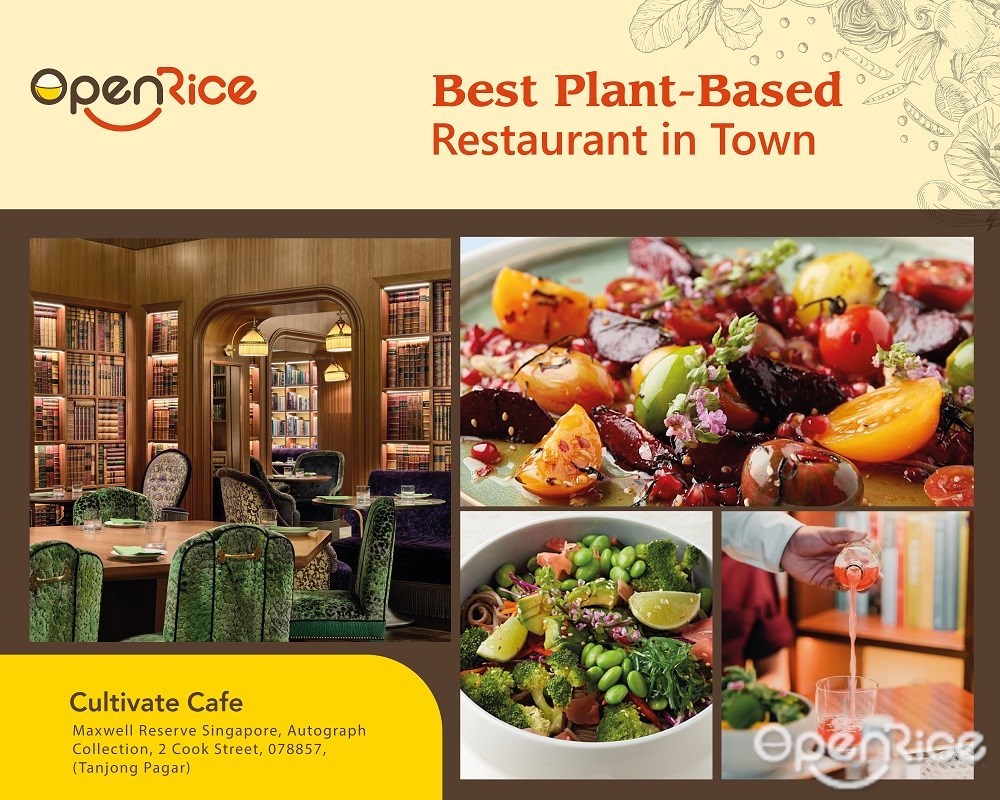 Cultivate Cafe believes that pure food is the key ingredient to nourishing your soul. The restaurant is entirely plant-based, GMO-free, and gluten-free, with a focus on exceptional and flavourful dishes made from the finest organic ingredients sourced from small and family-owned farms, both locally and globally. The goal at Cultivate Cafe is to serve, inform, and inspire a cultural shift towards plant-based intelligence through creativity and deliciousness. Located in the beautiful Maxwell Reserve Hotel, Cultivate Cafe offers a warm and welcoming atmosphere in a library setting. Our menu includes a wide range of items, from freshly pressed organic juices to gluten-free bread and desserts, all designed to showcase the flavor and benefits of plant-based eating. Kick-start your meal with their Signature Cold-Press Juice, followed by a Pear and Leek Soup and Roasted Eggplant with Avocado Sandwich, there you go – a complete healthy meal that nourishes your heart, soul and belly!

Reservations are strongly recommended. Make your booking today:
https://s.openrice.com/eKKSB01via200~d0j22-uHW
3. Love Handle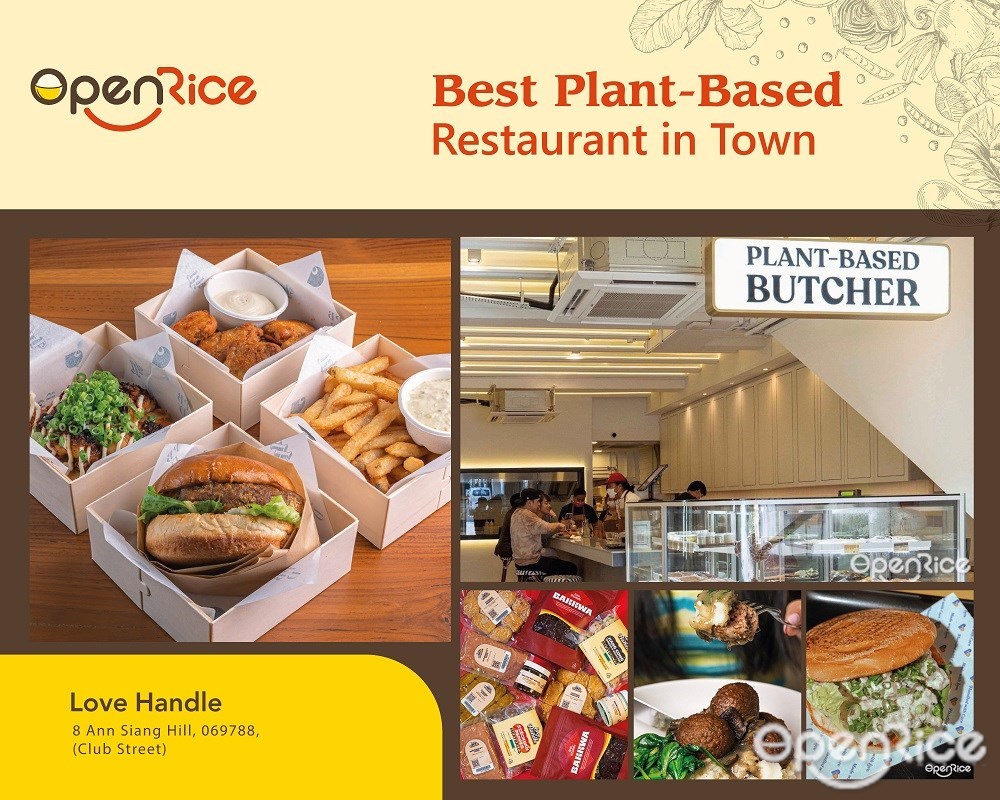 "Like Meat, But Better". This is the slogan of Love Handle, Asia's first plant-based butcher with the largest curation of plant-based meat, dairy and condiments. Love Handle delivers meaty deliciousness while giving you the authentic butcher experience from choosing your cut of meat to getting your minced beef, chicken or pork by your desired grammage, satisfying all your cravings with more healthy plant-based meat. Don't miss out on the Signature Love Handle OG, Mushroom Swiss Burger and Pulled Rendang Burger. If you can't get enough of the good, you can purchase from the marinated and prepped meal, as all the meats are marinated and prepared in perfection, from rolling meatballs to making your own ginger soy chicken, Love Handle got you covered. There is an array of plant-based cheeses, butter, sauces & complementary products for you to choose from too.

Reservations are strongly recommended. Make your booking today:
Vibez Bistro Bar differentiates itself and stands out in the market by taking diners on a healthy Thai culinary journey, exploring ingredients and recipes inspired by different parts of the world. They take on ceviche, ravioli, paneer and more with a Thai twist, bringing all the dishes served to a whole new level while remaining true to the authentic taste of Thai cuisine. The culinary team of Vibez Bistro specially designed the menu to include healthy choices for those on plant-based and keto diets alike. All the fresh ingredients are sourced with the criteria of being sustainable and leaving lesser carbon footprints on Mother Earth. Don't miss out on the signature menu consisting of Thai classics & fusion dishes paired with a curated list of fine liquors, wines and bespoke cocktails to enhance the Thai-centric wine & dine experience. Do try out the signature Thai Keto Bowl, Thai Ceviche and Sesame-encrusted Ahi Tuna.