Don't you love the sizzling sound made the moment the fresh meat touched the surface of the grilling pit? Not to mention the aroma from the finely grilled meat that is juicy and tender – this is the reason why Yakiniku is one of the most popular among foodies. Introducing this 5 restaurants in town for those who have a love affair with yakiniku just like us.

1. Gyu-Kaku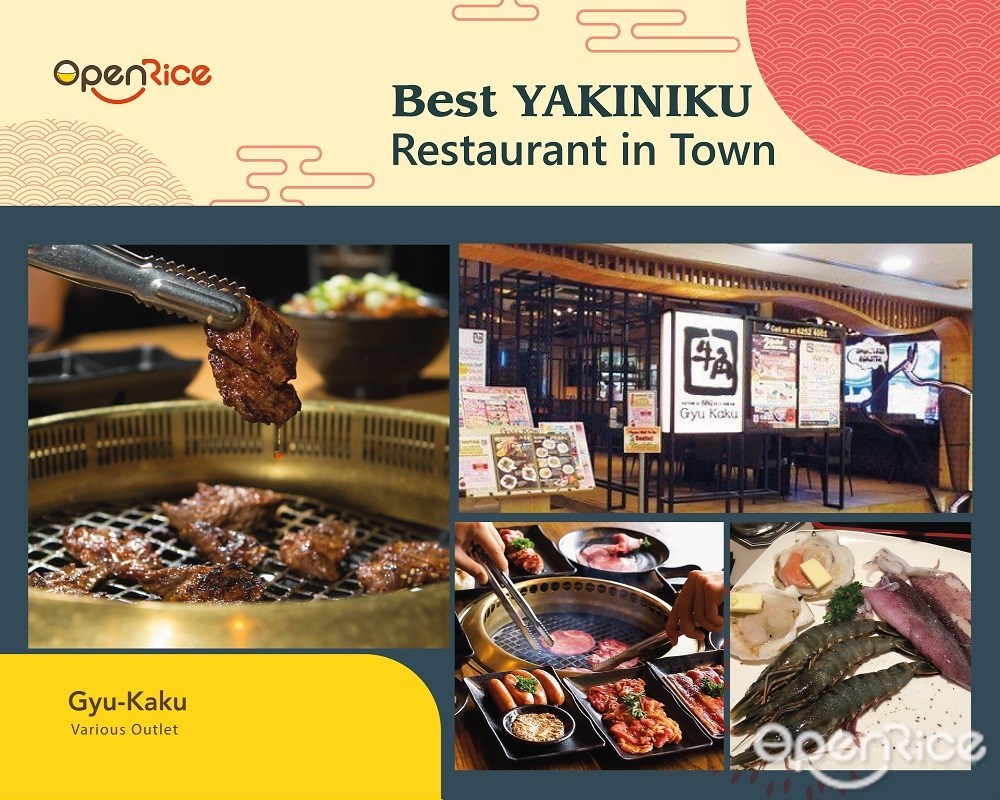 Gyu-Kaku, meaning "Horn of the Bull" in Japanese. There are over 700 Gyu-Kaku restaurants worldwide, where there are also various outlet located in Singapore, with the goal to deliver happiness to all customers through the food & dining experience, Gyu-Kaku provides the authentic Japanese yakiniku (grilled barbecue) dining experience where customers share premium cooked meats over a flaming charcoal grill while sipping on Japanese sake, shochu, and frosty cold beers. Gyu-Kaku offers a wide range of meats including the best-seller Harami Skirt Steak in Miso Marinade and Certified Angus Kalbi Short Rib in Tare Sweet Soy Marinade. Some of our Angus Beef is aged for 21 days to increase tenderness and increase a rich flavor. Be sure to try out their best-selling cut - Harami Miso Skirt Steak.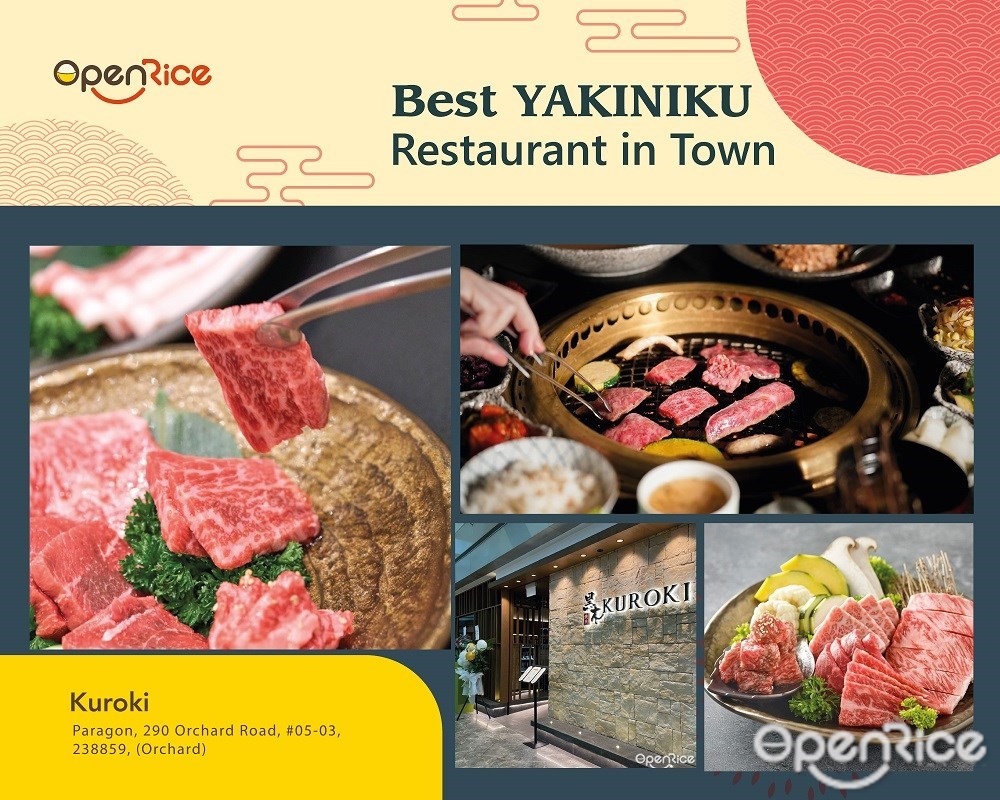 If you are somewhere near Orchard Road and craving Barbeque dishes, be sure to look for Kuroki - A Japanese restaurant offering one of the best Yakiniku dining in the heart of Singapore. with a specially curated selection of premium meats sourced from traceable farms across Japan and Australia, Kuroki is the perfect place to enjoy a delicious meal with friends or family in a relaxing atmosphere.
Be sure to try out their signature Platter which includes 5 cuts of wagyu and assorted vegetables. For other beef selections to add on, be sure to try out the Ox Tongue and Wagyu Prime Karubi. If you're looking for something else other than a beef dish, try out their French Poulet Boneless Chicken Thigh. If you're looking for a place for food and hangout after a long day, you should definitely pay a visit here as they also offer private rooms for private celebrations & events.
Planning for a after-work dinner? Book your table in advance:
3. Tajimaya Yakiniku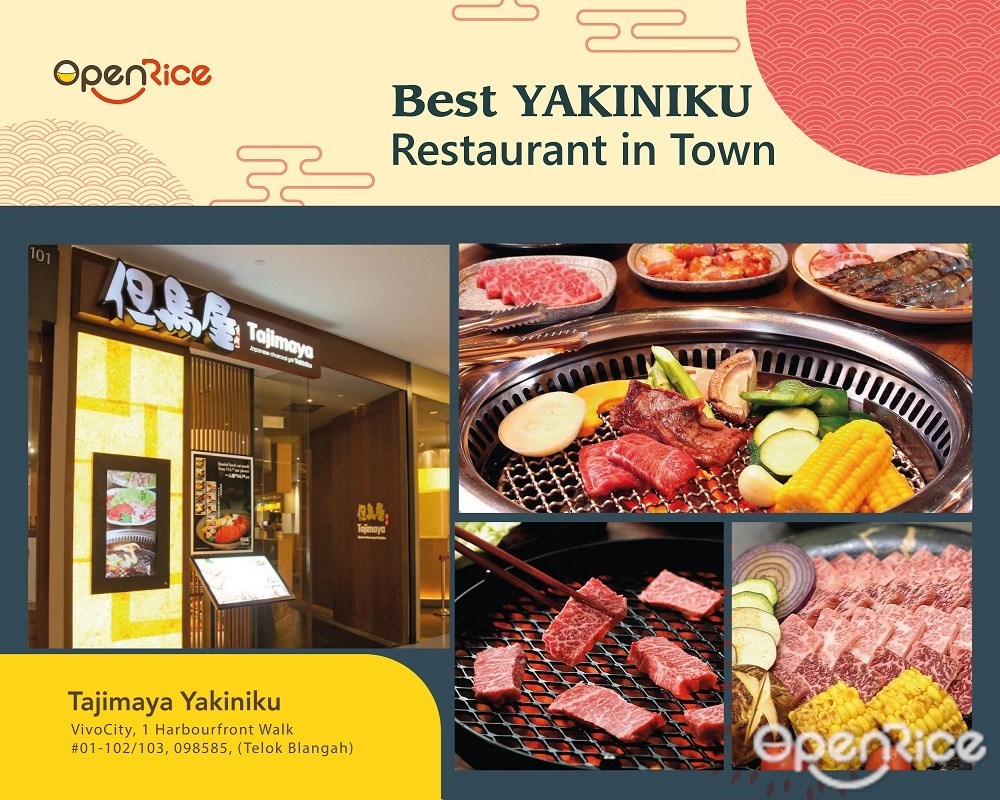 Located at VivoCity, Tajimaya Yakiniku offers an authentic Japanese charcoal grill experience like no other. The restaurant offers a fun and interactive 'hands-on cooking' and dining experience by allowing diner to grill their own delectable meats at their very own table. No Yakiniku experience can be complete without Sake and Soju, and Tajimaya boasts a wide range of Sake and Shochu of the finest quality to complete the meal. Equipped with a high-performance exhaust system that takes care of the smoke, your food adventure at Tajimaya remains comfortable in an air-conditioned environment. Tajimaya Yakiniku is the perfect place to unwind a long day with a relaxing drink from an extensive variety of Japanese Sake, Shochu and Whisky, to complement the flavors of the carefully crafted menu. Recommended to try out the Tajimaya Tasting Platter where you can try out all the finest Beef & poultry selections. If you are dining in a group, go for the Premium Wagyu Buffet, where everyone gets to feast on at a valuable price.
4. The Hitsuji Club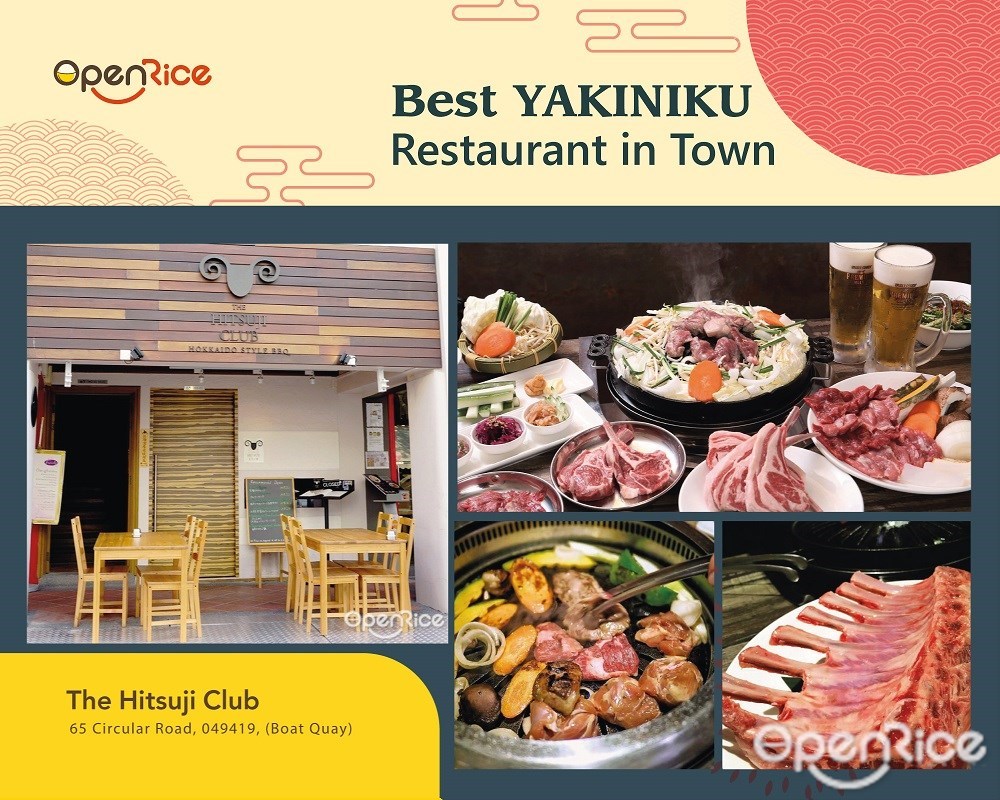 Located at 65 Circular Road, The Hitsuji Club is your one of a kind yakiniku spot as they are the first Jingiskan specialty restaurant in Singapore. Through the cultivated cooking of the restaurant's carefully selected ingredients that promise to bring the best satisfaction to diners, The Hitsuji Club offering luxury cuisine using Lamb as main ingredient like never before, while the amount of the cholesterol in Lamb is lower when compared to other meats, you can enjoy it without feeling guilty. Be sure to try out the Premium Jingiskan with Lamb Chop Set, which included Special Fillet Lamb, Special Loin, Lamb Chops, mushrooms and vegetables. You can always order a rice and top it with the freshly cooked lamb sliced, allowing the juicy meat to sink into the warm rice, there you have it – a mouth full of satisfaction. If the set is not enough for you, order an add-on ala carte sauce on Jingiskan where the finest lamb meat is marinated in their special sauce. You can always order a beer to chill you down after all the hot sizzling feast.
Be sure to make your reservation in advance, Book your table today :
5. Yakiniku Q-WA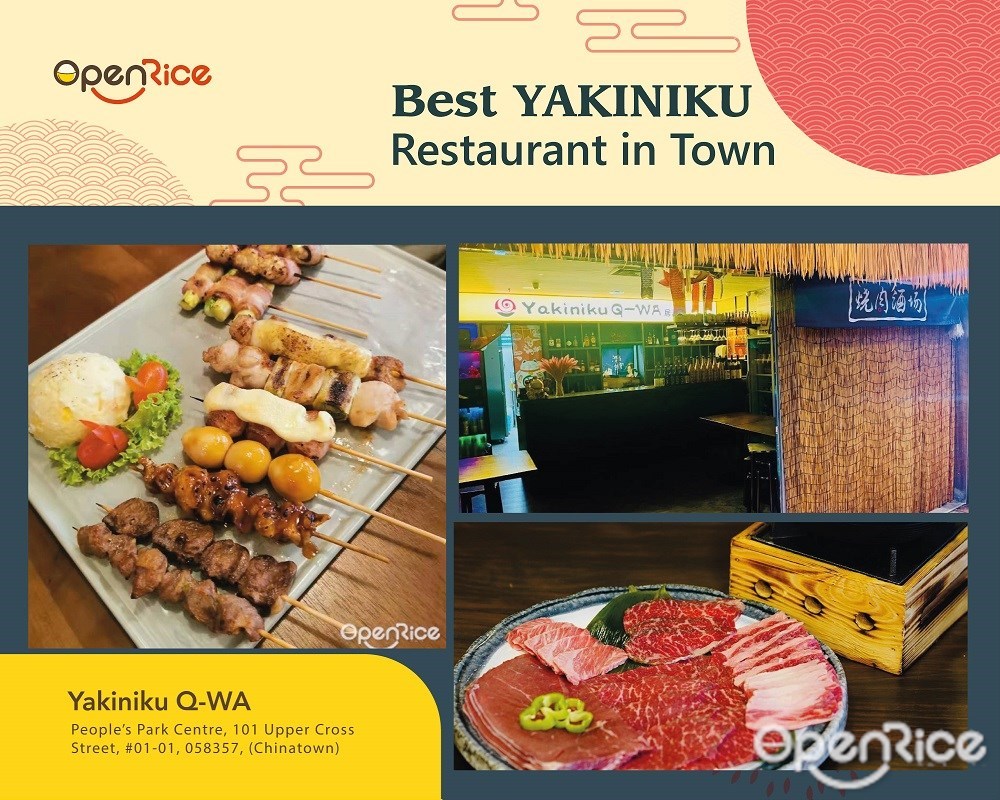 Located at People's Park Centre, Yakiniku Q-WA is a Izakaya place that also well known for bringing a new concept of Japanese Wagyu Yakiniku for those who love the grilled meat in Japanese style. With it's interesting eye-catching shopfront interior, be sure to be surrounded by the aroma of the grilling meat the moment you step into the shop. For Beef lover, be sure to try out the Super Wagyu Beef set for two where you get to try out A5 Japan Wagyu Beef, A4 Japan Wagyu Beef and also others selections of wagyu beef in one valuable set. Aside from beef selections, there are also other selections of meat and poultry such as pork belly, pork jowl, chicken. If you are looking for some seafood grill, you can order tiger prawn, salmon and other seafood selections in the menu as well. Be it a place to hangout for after work dinner or a gathering spot with friend, this is definitely a great spot for all.
Reservation are strongly recommended. Book your table today: