Cantonese cuisine showcases a harmonious blend of seafood, poultry, and vegetables, expertly prepared through the artful utilization of cooking techniques such as stir-frying, steaming, and braising. Among the famous dishes are Dim sum, roasted meats, savory soups and more. In our pursuit of exquisite Cantonese cuisine, we have discovered a list of restaurants that serve the Cantonese Food That We Love.

1. Empire Hotpot & Cantonese Cuisine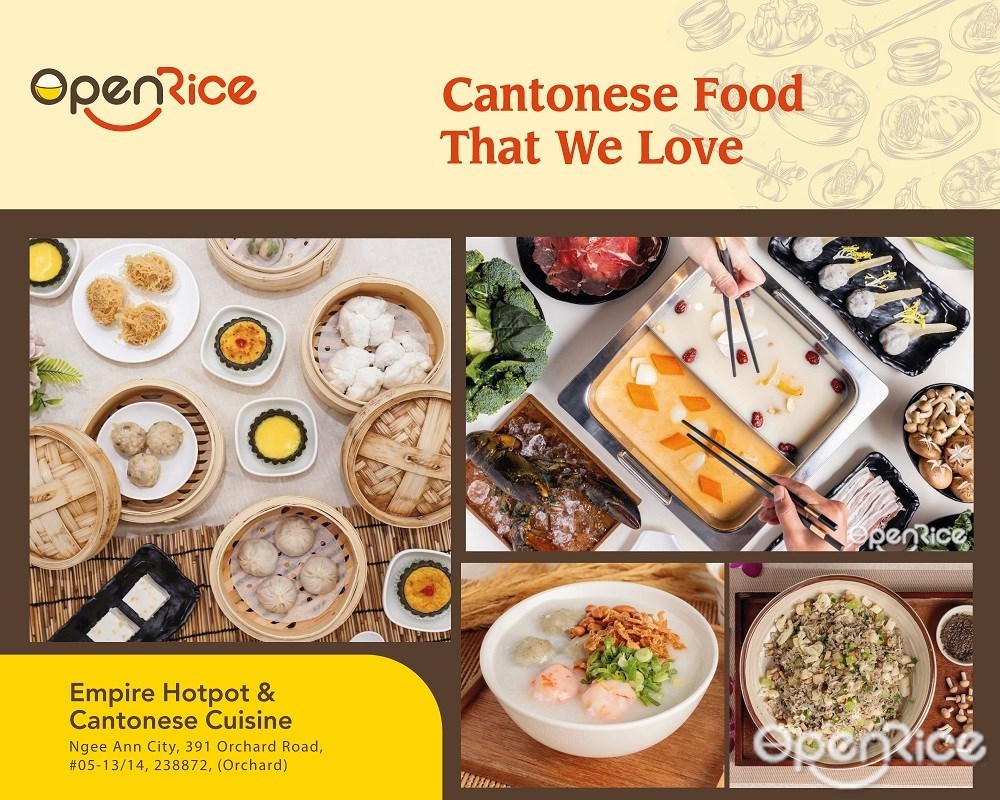 Hotpot are one of the popular Cantonese dish that features a communal pot of simmering broth in which diners cook a variety of ingredients.It is cherished for its interactive dining experience, rich flavors, and ability to cater to diverse tastes and preferences. At Empire Hotpot & Cantonese Cuisine, they strive to do more than serve you a good meal by finding new ways to keep traditional cuisines refreshing with the chef's own design and creations. The proprietary in-house soup bases and meat pastes are sure to provide you with an all-new, exclusive hotpot dining experience. Whether it is the sweet crustacean flavors of the Empire Supreme Lobster Broth or the smooth-tasting and nourishing Fish Maw & Shark's Cartilage Soup, choose from eight different soup bases bound to leave you salivating for more. Dim Sum menu is also available, be sure to try out the Steamed "Siew Mai" with Fish Roe, Deep-Fried Yam Puff with Scallop and Freshly-Made Rice Rolls with Dried Tump.
Reservations are strongly recommended. Book Your Table Today:
https://s.openrice.com/eKKSB01dge200~uxhpeNw
2. Jade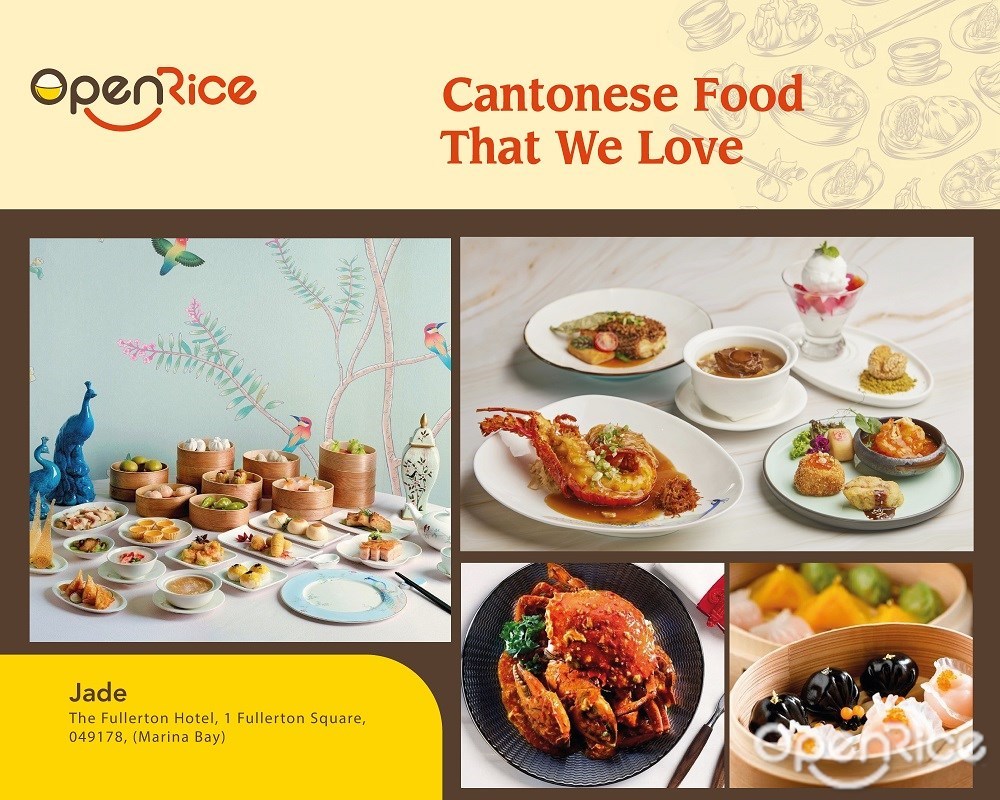 Nestled within the iconic and well-preserved Fullerton Hotel Singapore, Jade restaurant has always been an esteemed dining destination in Singapore for a decade, presenting guests with an unparalleled experience of Cantonese cuisine infused with elegance and top-notch hospitality. Led by Executive Chinese Chef Leong Chee Yeng, the revamped interior showcases a relaxing ambiance, inspired by the lustrous charm of jade. The restaurant's 120-seat space, featuring private rooms and partitioned areas, has been enhanced with specially commissioned wallpaper and captivating lantern lighting. Jade restaurant epitomizes a blend of heritage, design, culture, and extraordinary culinary delights unique to the Singaporean food scene. Among the Signature dishes, never missed out the chance to try the Bak Kut Teh Xiao Long Bao, Roasted Peking Duck and Simmered Egg Noodles with Lobster & Jade's X.O. Sauce. The serene tones and modern decor also make it an ideal setting for exquisite weddings, where Chef Leong and his team create personalized Chinese menus to ensure an unforgettable experience.
Reservations are strongly recommended. Book Your Table Today:
https://s.openrice.com/eKKSB01KIq000~uxhpeNw
3. Xi Yan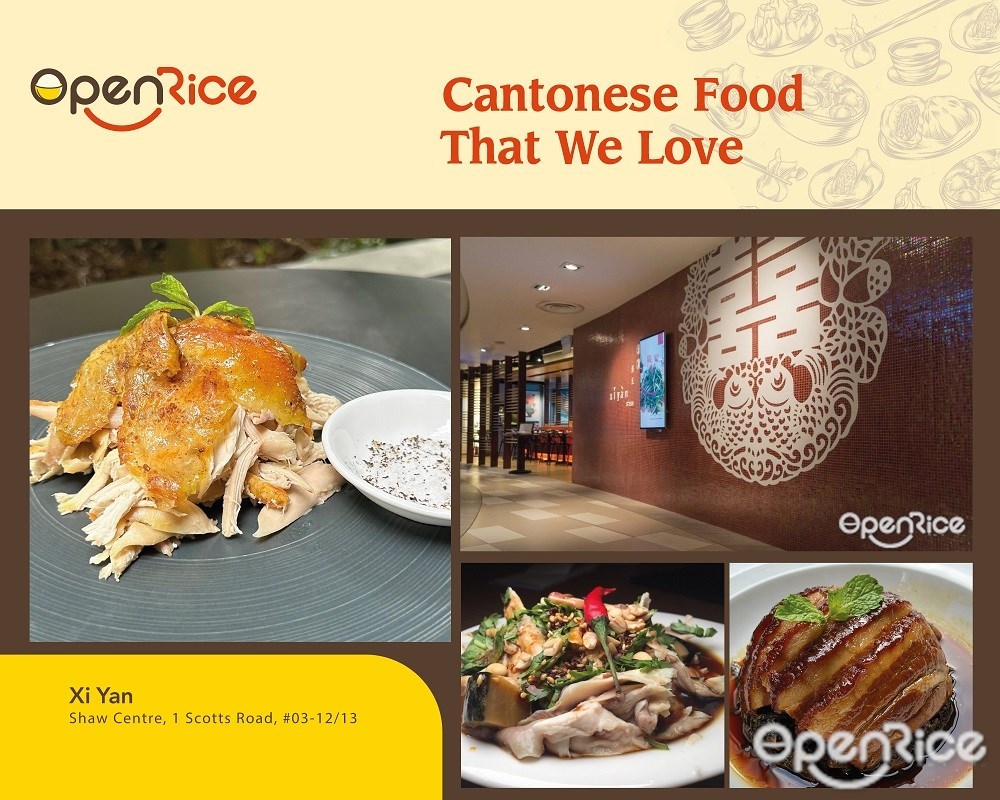 Located at Shaw Centre, Xi Yan is the first casual dining destination by
The award-winning Xi Yan Group in Singapore in October 2014. The menu offers fundamental modern Chinese cuisine, curated by the Founder & celebrity Chef- Jacky Yu with his creative and iconic reinvention of Chinese cuisine while making gourmet cuisine accessible and affordable to diners who care for exquisiteness even in wholesome everyday dining. With a wide spread of over 40 dishes to choose from, diners have flexibility from simple lunches to hearty dinners. Don't miss the chance to try on their contemporary signature dishes such as Xi Yan Salivating Chicken, Roasted Herbal Pepper Chicken, Xi Yan Signature Okinawa Black Sugar Zheng Jiang Vinegar Spare Ribs, and Steamed Whole Fish with Red Chopped Chilli on Rice Noodles. Xi Yan also caters to guests' special advance requests whenever they require an elaborate menu for their dining pleasure or for Wedding Dinner, Private Dining and more.

Reservations are strongly recommended. Book Your Table Today:
4. Char Restaurant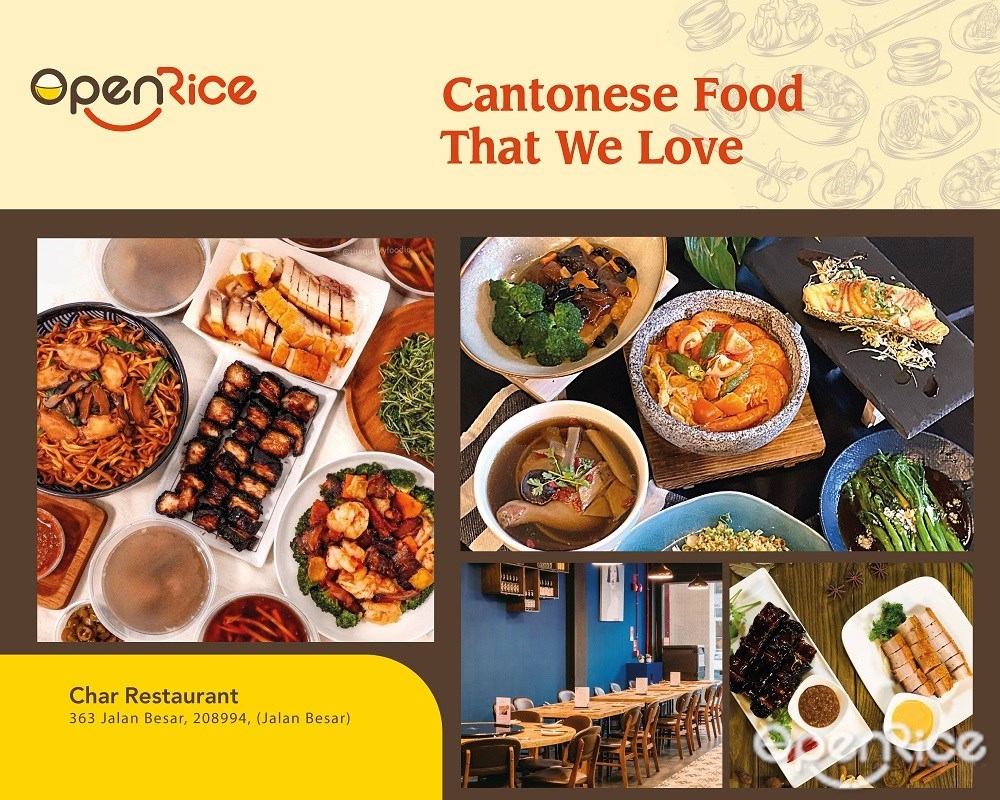 Nestled within a charming 4-story conservation shophouse on Jalan Besar, Char Restaurants is one of the famous restaurants that served up the most juicy and delicious Cantone Roasted Meat in town. Owned by The Lee Clan Association - the dynamic duo of Anthony and Alvin whom originally hailing from the United Kingdom, set out to revolutionize Singapore's Cantonese roast meat scene. Drawing upon Alvin's extensive 30 years of experience in Chinese restaurants in Birmingham, they embarked on a mission to infuse Asian flavors with Western culinary techniques, resulting in a truly unique and tantalizing taste profile for classic dishes like Char Siew, Roast Pork Belly, and Roast Duck. As an added touch to the extraordinary dining experience, British ales and ciders have been thoughtfully curated to complement the succulent roasts, providing a delightful fusion of flavors. From the succulent and perfectly charred meats to the carefully selected beverage pairings, every aspect of the dining experience has been meticulously crafted to tantalize the taste buds and create lasting memories. Whether you're a connoisseur of Cantonese cuisine or simply seeking an innovative culinary journey, Char Restaurants offers a refreshing twist on traditional favourites, all within the charming ambiance of a historic shophouse.
Reservations are strongly recommended. Book Your Table Today: