Food is an important part of any celebration around the globe. The mouthwatering delicacies not only enhance the festive spirit but it bring us all together & bonding over great food and good memories.
Planning family gatherings for the coming festive seasons? we got you covered with 5 of the best festive buffet places in town!
1. Basilico @ Regent Singapore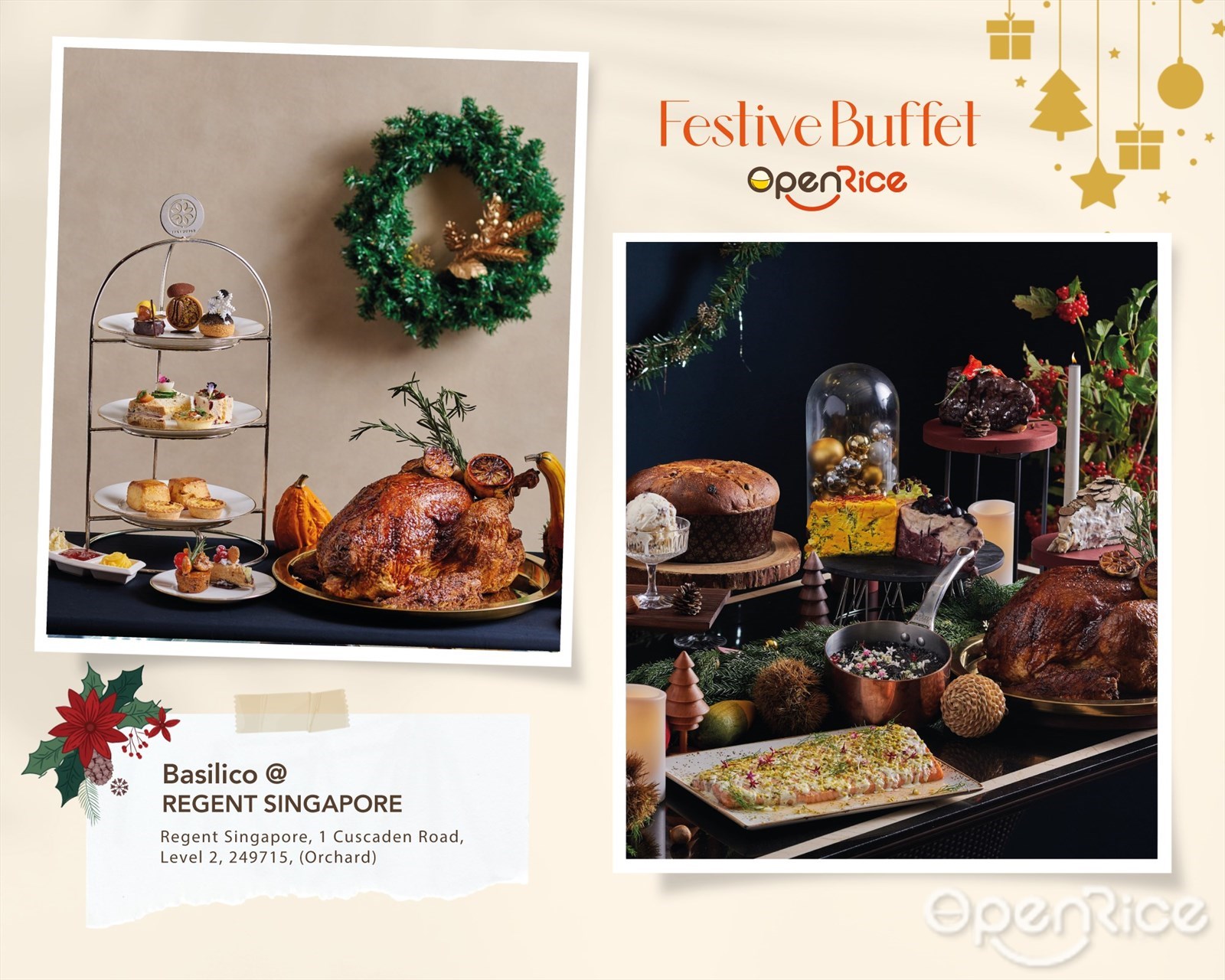 Basilico entices with an emphasis on fresh, seasonal and authentic Italian cuisine. Enjoy a dazzling array of signature dishes and sumptuous spreads of antipasti, mains and desserts. Enlivening the dining experience is the theatre of activity surrounding a rotisserie, espresso bar and walk-in wine cellar, and an al fresco dining area on the terrace overlooking the pooI. This year, Basilico celebrates the season with a grand feast brimming with seasonal delicacies. Indulge in the Christmas Day revelry with a special all-Italian dinner at Basilico. Featuring a live cooking station dishing out Fresh Egg Tagliolini Pasta with Burrata Cream Sauce and special mains such as Baked Salmon Fillet with Yoghurt Dressing and Pistachio Crumble, and Campari and Amalfi Lemon Marinated Whole Roasted Turkey stuffed with Blood Oranges, Fresh Basili, Cerignola Geen Olives and Pecorino Romano.
Not to be missed is the Cheese Room featuring a selection of over 50 artisanal cheeses including some of Basilico's house made Gorgonzola in imaginative flavours such as Saffron and Beer, and White Chocolate and Truffle.
Reservation are highly recomended. Make your booking today: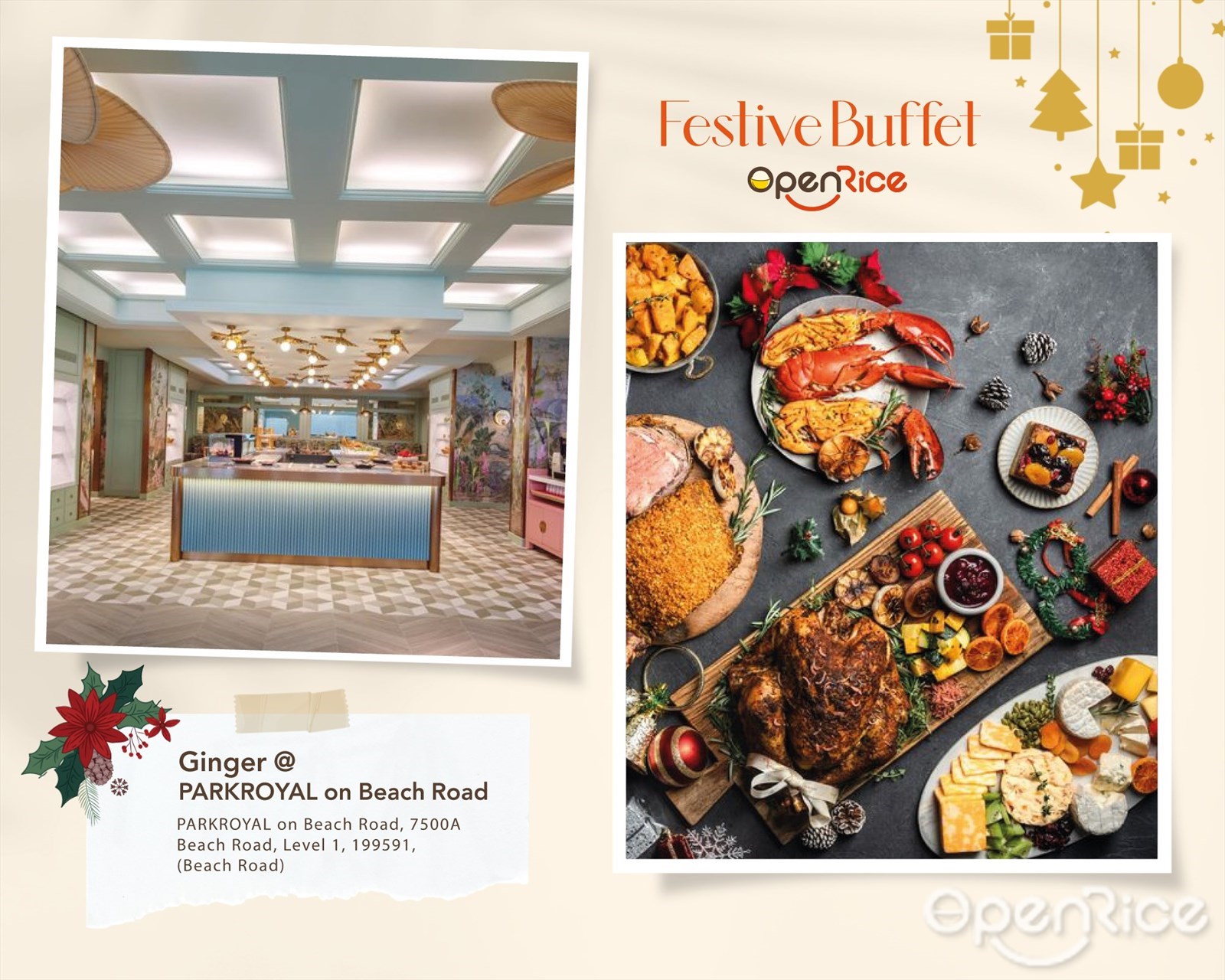 Helmed by resident culinary master Executive Chef Vincent Aw, the spacious 535 square metre restaurant emerged as a winner in the Alfresco & Biophilic (Asia) category at the Restaurant & Bar Design Awards 2021. Featuring an affordable and irresistible á la carte buffet from a halal-certified kitchen, showcasing authentic local flavours, engage your senses with five halal-certified live food stations, as our culinary team brings an epicurean touch to your dining experience! Offering one of the best halal hotel buffets in Singapore, Ginger is also perfect for social events or milestones with private dining rooms.
With the season of Gathering and bonding arond the corner, enjoy a list of festive roasts featuring the traditional roast turkey with ginger flower and cranberry sauce as our classic centrepiece, black Angus prime rib, and more! Nothing feels more marrier with good food and great time spent together!
Planning for a gathering this festive season? Make your booking earlier:
3. Lime Restaurant & Bar @ PARKROYAL COLLECTION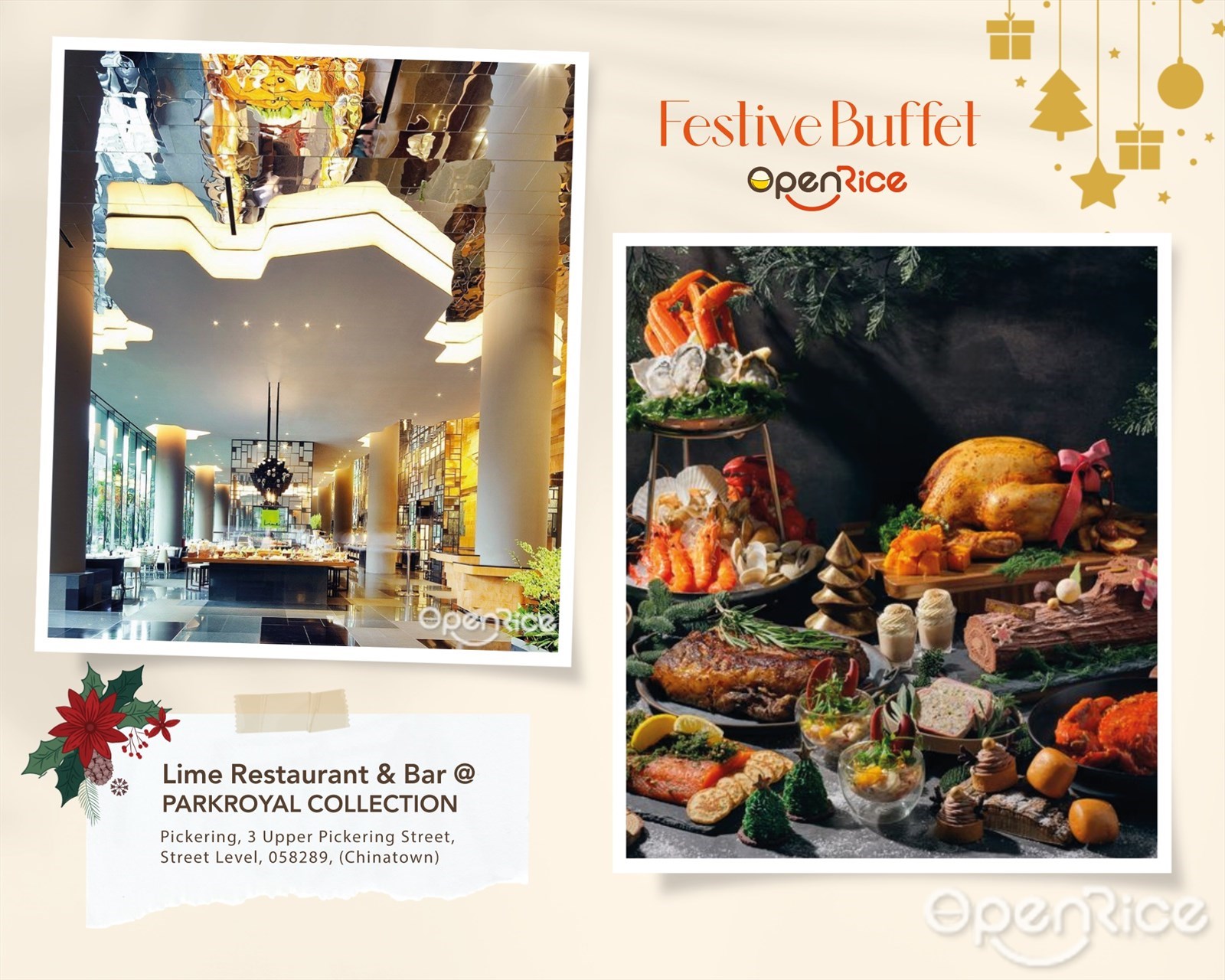 A vibrant, modern restaurant offering the best buffet restaurant in Singapore, with a friendly and welcoming atmosphere, Lime's warm setting is perfect for you to enjoy a wide range of local, Southeast Asian and international culinary delights.Celebrate the most wonderful time of the year with indulgent and great company this festive season in the delightful line-up that is set to satisfy all your cravings. The culinary brigade at Lime Restaurant has curated a medley of festive-themed feasts to get you into the holiday mood. Christmas classics from our sumptuous buffet spread with Crab Louie, Fisherman's Pie, Braised Pork Cheeks with Spice and Cranberries, Pickering Lobster Laksa, and other savory selections and spoilt for choice with the line-up of sweet treats!
Make your Booking in Advance this festive season:
https://s.openrice.com/eKKSB01pDu000~dku58go12
4. The Dining Room @ Sheraton Singapore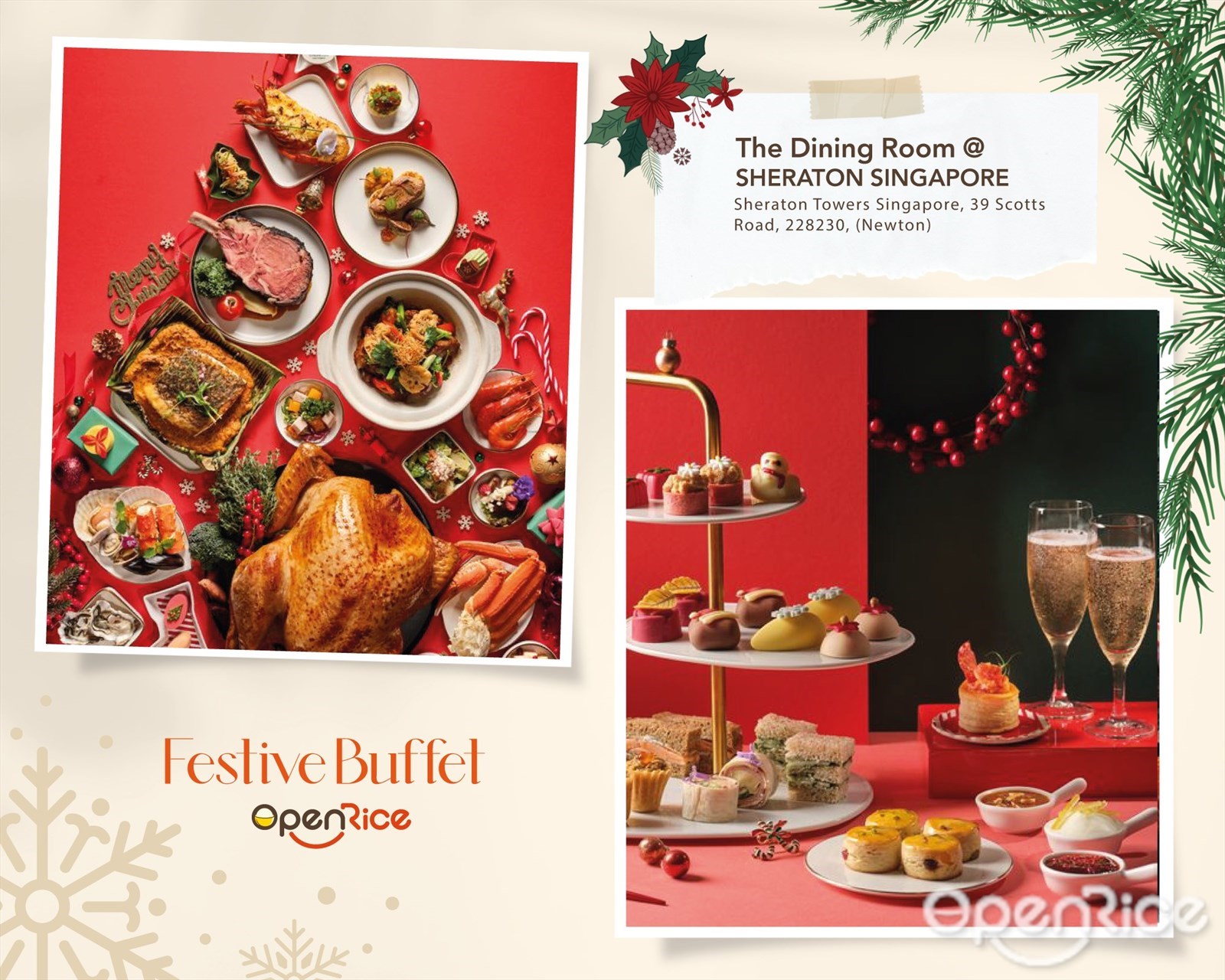 Discover a delectable buffet spread for lunch and dinner, featuring an international selection with Asian delights and authentic local cuisine.
In this Christmas season, bask in the merriment and indulge in a bountiful spread of holiday delights with some of the seasonal scrumptious buffet line-up such as the new Asam Pedas Roasted Turkey and Honey Grenadine Semi Bone-in Gammon Ham to Grass-fed Roasted Black Garlic Ribeye and various selections of Christmas-themed desserts. As for children, the Dining Room planned a host of activities from magic show, popcorn to cotton candy, to keep the little ones occupied.
Plan your family gathering in advance. Make your booking today:
https://s.openrice.com/eKKSB01Voa000~dku58go12
5. The Line@ Shangri-La Singapore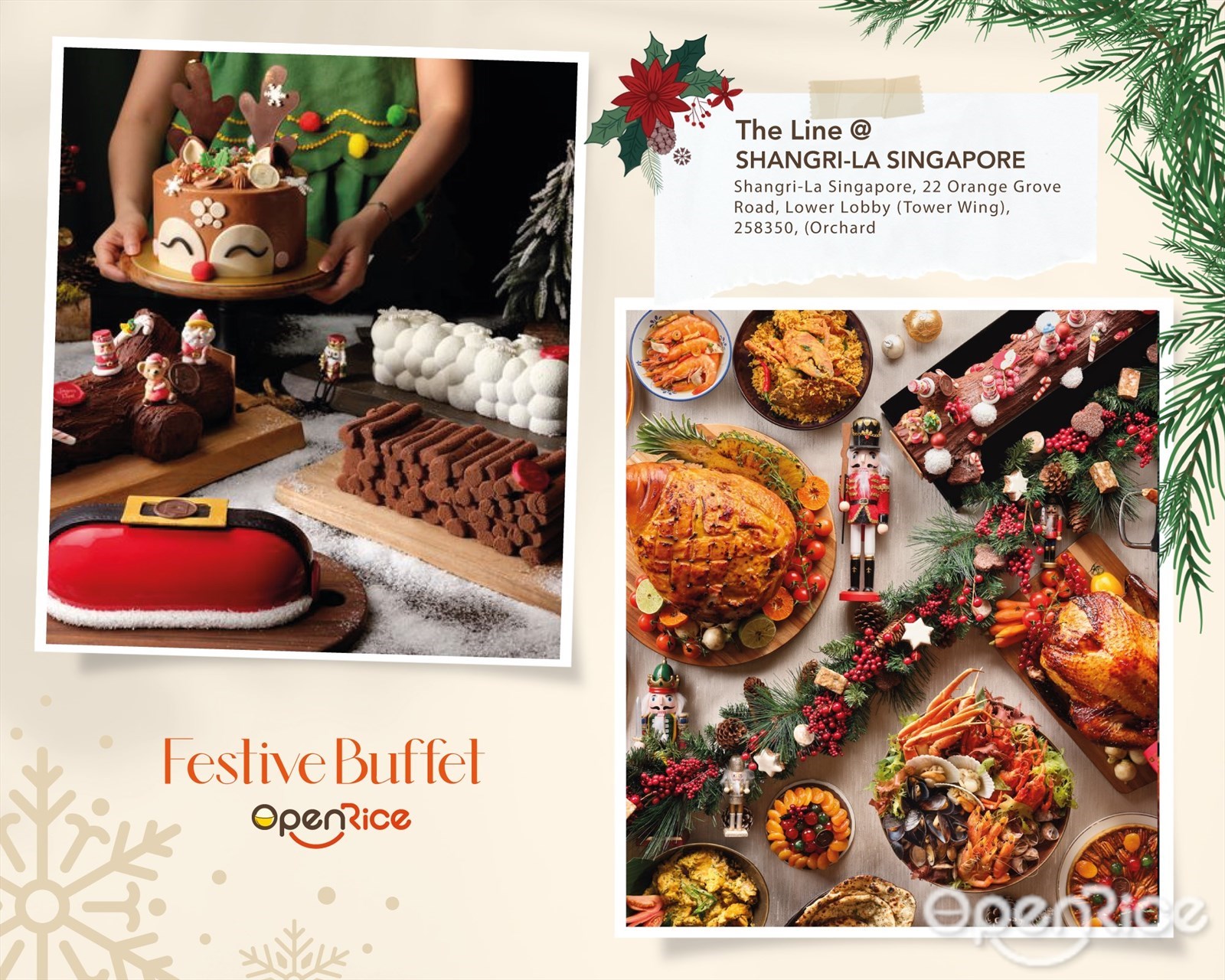 Featuring 16 live kitchens, The Line at Shangri-la Singapore offers a sumptuous international buffet that is feted as one of the best in Singapore. Conclude the year with warm reunions over a medley of gastronomical feasts by satisfying your palates with a variety of cuisines, Feast on an extensive selection of Christmas and international spanning over 10 stations, the sumptuous spread ensure festivity for everyone, with Seafood Paella, Braised Beef Cheek, Oven-roasted Lamb, fresh oyster and Boston lobster, and carving stations dolling out Traditional Roasted Turkey, Manuka Honey glazed Bone-in Gammon Ham, Roasted Wagyu Beef and Salt-crust Norwegian Whole Salmon. End the meal on a sweet note with Christmas Pie, Grandma Chocolate Log cake, English Fruit Cake, Gingerbread Cheesecake and more.
Tables are filling up fast, Make your booking today: