Be it a gathering after work or a socializing & celebrations with friends on weekend, bars are always a great place to visit where everyone enjoys great chats over a pint of beer or mocktails paired with some unique small bites. Check out The Best Bar in Town which offers some of the best craft beers & lively atmosphere in Singapore.

1. Almost Famous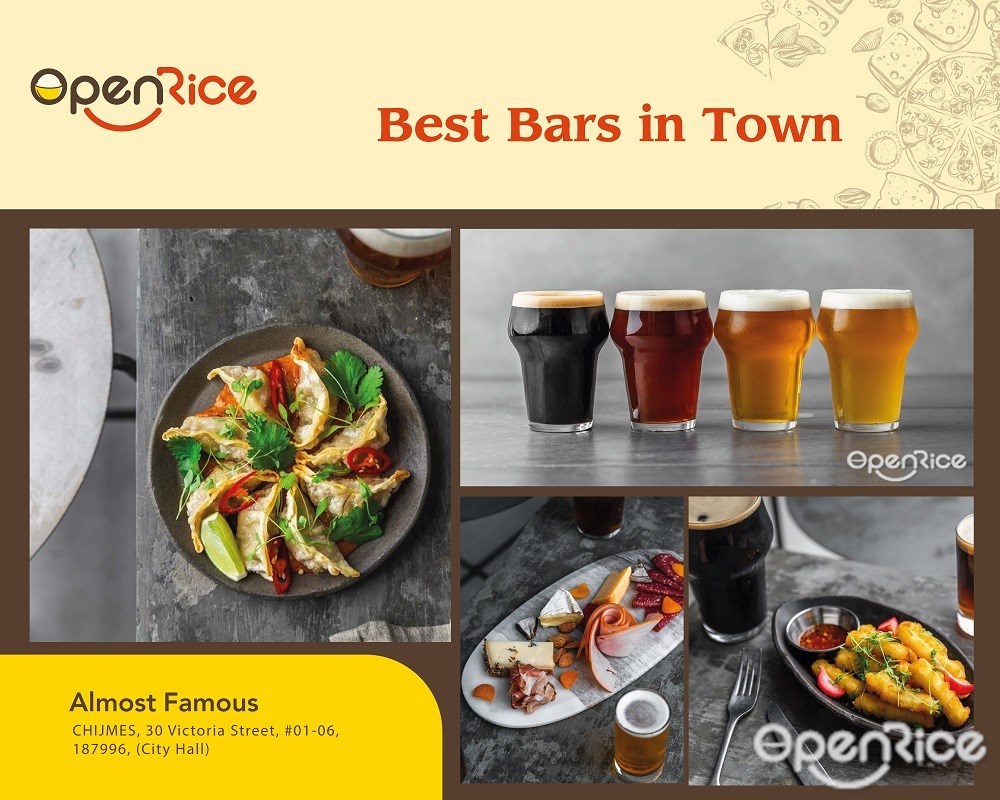 Alluding to the state of emptiness, Almost Famous Craft Beer Bar was conceived to be a space to provide clarity to the experience. Conceptualized with minimalism in mind & further enhanced by the choice of basic shapes and monochromatic palettes in the overall aesthetics of the interiors, Almost Famous is one of the renowned craft beer bars in Singapore that is known for its unique and flavourful brews. The bar boasts an impressive selection of 16 taps that are constantly rotating, ensuring that guests always have access to a wide variety of session-able craft beers. In addition to its core selection, Almost Famous also offers a premium range of seasonal craft beers from some of the most popular breweries around the world. They also offer a delectable range of bar bites that are expertly crafted to enhance the umami flavors of their beers.
Reservations are strongly recommended. Book your table today:
https://s.openrice.com/eKKSB01Fq4200~d0j22-uHW
2. Idle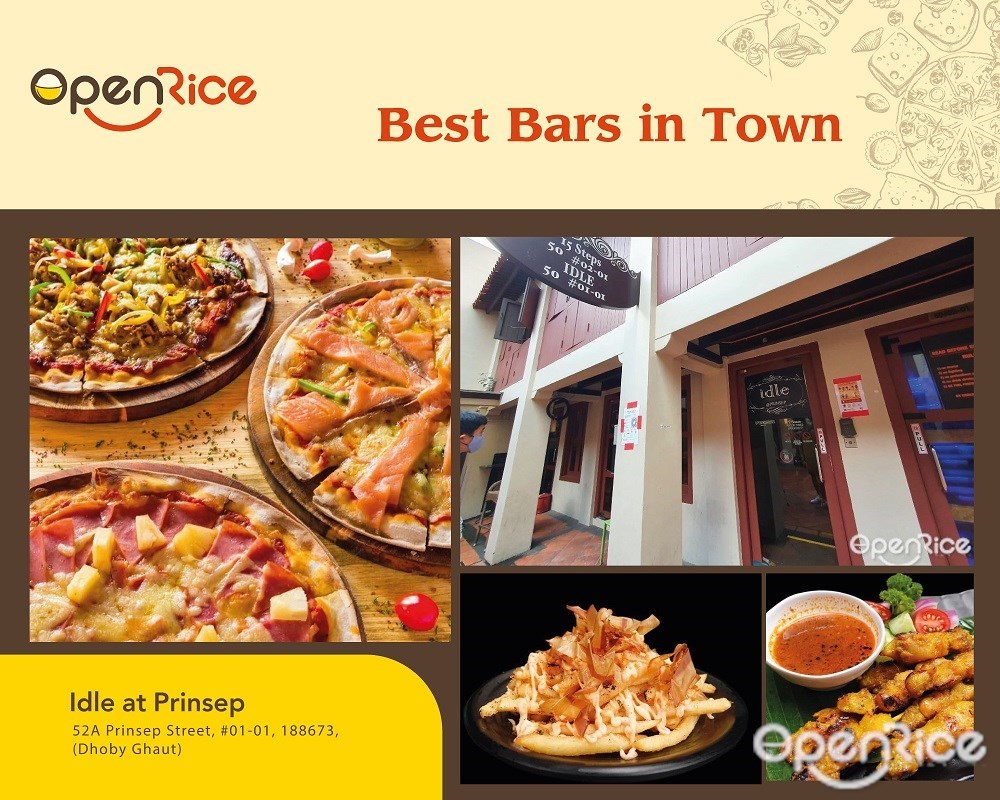 Having grown from their humble first shop set up back in 2008 at Dempsey Hill, Idle at Prinsep was not conceptualized out of idle, but created from the idea to provide people with an affordable drinking spot to relax and unwind without burning a hole in their pockets. Being the pioneer of Singapore's liquid buffet concept, Idle at Prinsep is still one of the hot spots of people's choices to go for a date night or a gathering with friends. Proud to be the industry innovator, they offer fixed price Drink-All-You-Can selections of gin, vodka, rum, bourbon, whisky, beer and various range of cocktails selections, party drinks & shooters. This is why Idle at Prinsep is a great place to go for pre-drinks. Their free-flow drinks change each month and prices vary each day. What's more relaxed and layback having free-flow drinks while enjoying live band music?
3. Overworked Gastrobar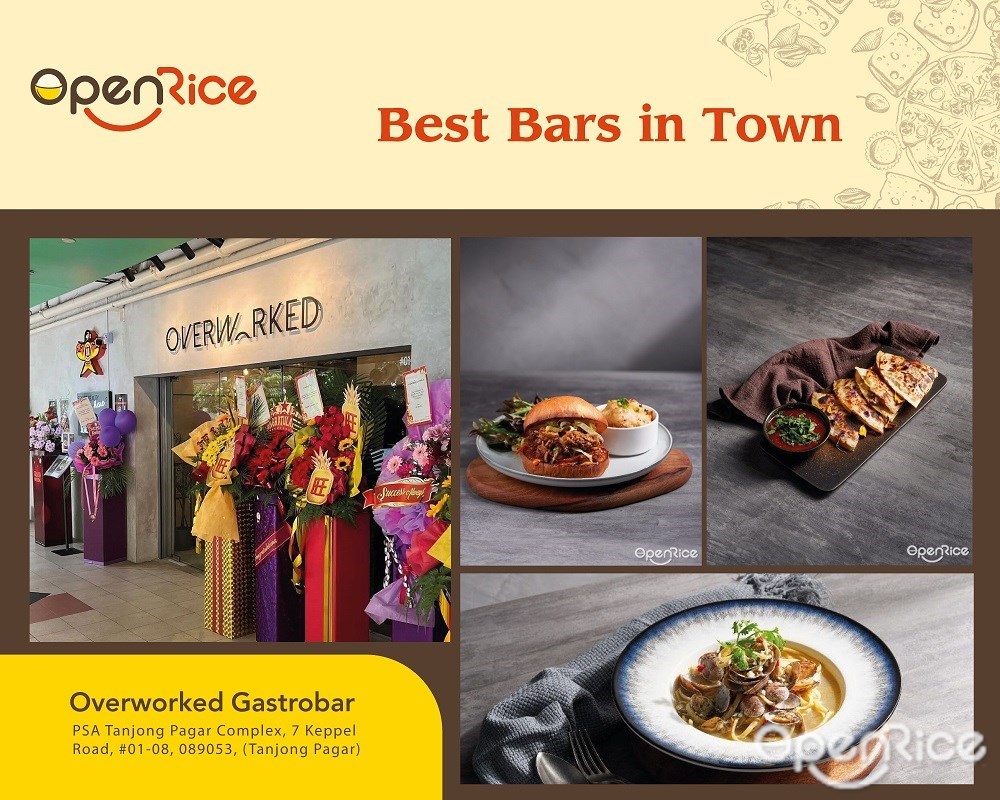 We all tend to be overworked a little sometimes, and great food and fresh pints are one of the ways for us to reward ourselves – this is what Overworked Gastrobar wants you to remember. Nestle in PSA Tanjong Pagar Complex, Overworked Gastrobar is a Western & Asian fusion bar with a cozy modern ambiance, serving you the best food from both sides with comfort booze & happy hour promotion pints. If you are looking for some Asian cuisine, don't miss out on the Moo-Ping – one of the famous Thai-style grilled pork skewers, or a healthier dish such as the Protein Poke Bowls, Soy Garlic Shrimp Bowl, or Honey Mustard Smoked Duck Bowl. For Western food lovers, Kombu Wagyu Burger is a must-try on the list if you are looking for a beef dish. For chicken lovers, try out the Lemon Coke Chicken Burger over a pint of their happy hour beer selections. For non-alcohol drinks, they serve alcohol-free wine & floral tea range as well. If you and your friends enjoy the happening ambiance, mark your calendar every Wednesday & Friday as they have live band performances to hype up the night!
Looking for a place to hang out after work? Book your table in advance today:
https://s.openrice.com/eKKSB01SjC200~d0j22-uHW
4. RedTail Bar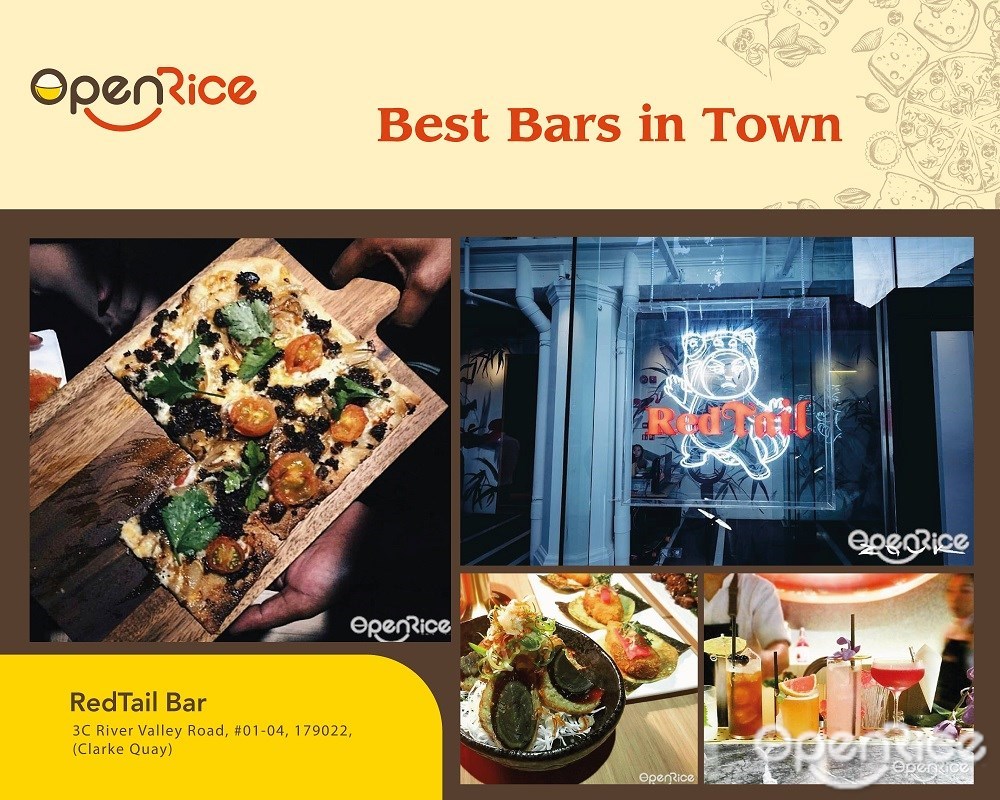 Situated along 3C River Valley Road, RedTail Bar, named after the nocturnal Asian species- the red tail panda, is Zouk Singapore's new pre-game playground with a modern oriental design theme, creating that fashionable lively space for a great hangout & gathering. RedTail serves up dynamic craft cocktails with the finest and freshest ingredients, great wines and craft beers, as well as plating up fun sharing bites perfect to drink with. Blue Spin & Velvet Rope is one of their signature cocktails to try on. Do try out their Yun Cheong Thin Crust Pizza & Menchi Katsu Burger. For sharing & small bites, Scotch Century Egg, Coffee Pork Collar & Shoe String Fries is always the best choice. Riding on the concept of being 'The Drama Before The Party', RedTail Bar boasts a DJ deck of its own, all intended to bring forth a convivial setting for post-work hangouts and pre-drink sessions to kick off the weekend party nights.
Planning your weekend party in advance? Book your table today:
5. SG Taps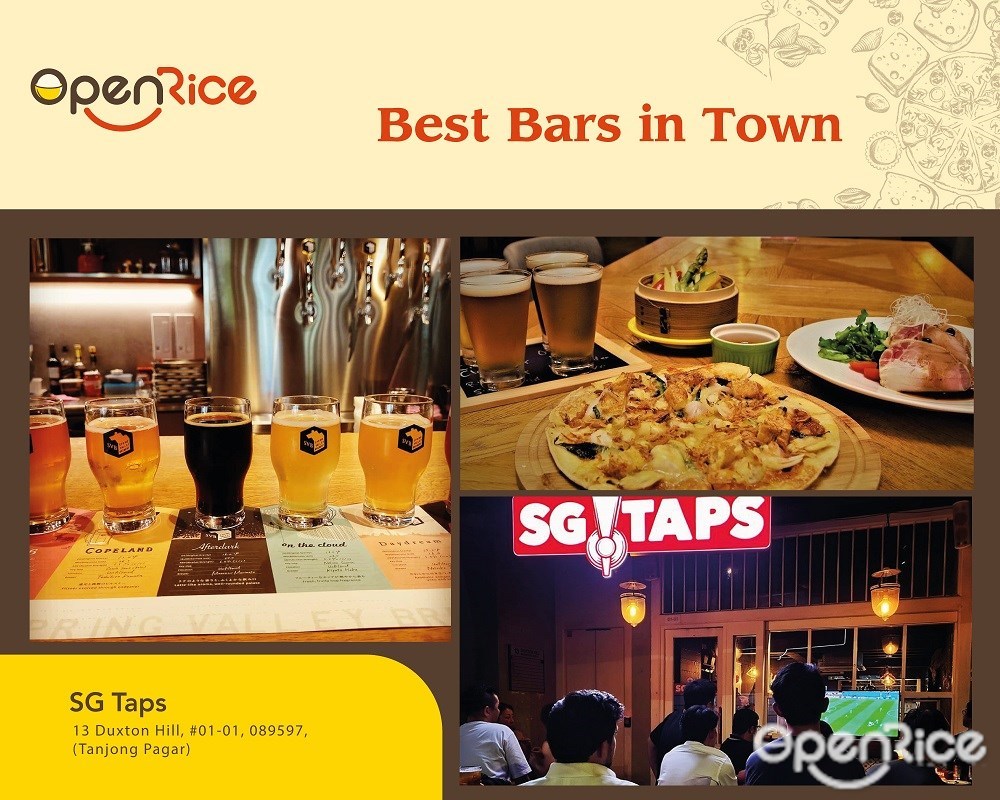 Being enthusiasts of craft beer, we've always taken pleasure in discovering the top-quality craft products available in the market. It dawned on us that Singapore needed a place for beer lovers. Nestle in the historical building at 13 Duxton Hill, SG Taps is a popular bar that has gained a reputation for serving great drinks and offering a fun and lively atmosphere. Having over 20 taps and growing with different variety of beers to offer, SG Taps goal is to revolutionize Singapore's food with a fusion twist and beverage scene by offering the most draft beer taps. Some of their must-try food on the list are Wild-Agri-Next-Innovation - a comprises of deep-fried crocodile meat, prawn and cauliflower tossed with wild spice, Laksa Pizza for sharing, and a Raindrop Cake as dessert.