Chilli crab is a Southeast Asian seafood dish that originated in Singapore in the 1960s. It is widely associated as one of our national cuisines that is enjoyed by the locals & well-known as a "must-try" local dish by tourists who travel to Singapore.
We've discovered 5 of the hidden gems serving the best Signature Crab in town. Be prepared to get your hands dirty for a finger-licking good Crab feast!
1. House Of Seafood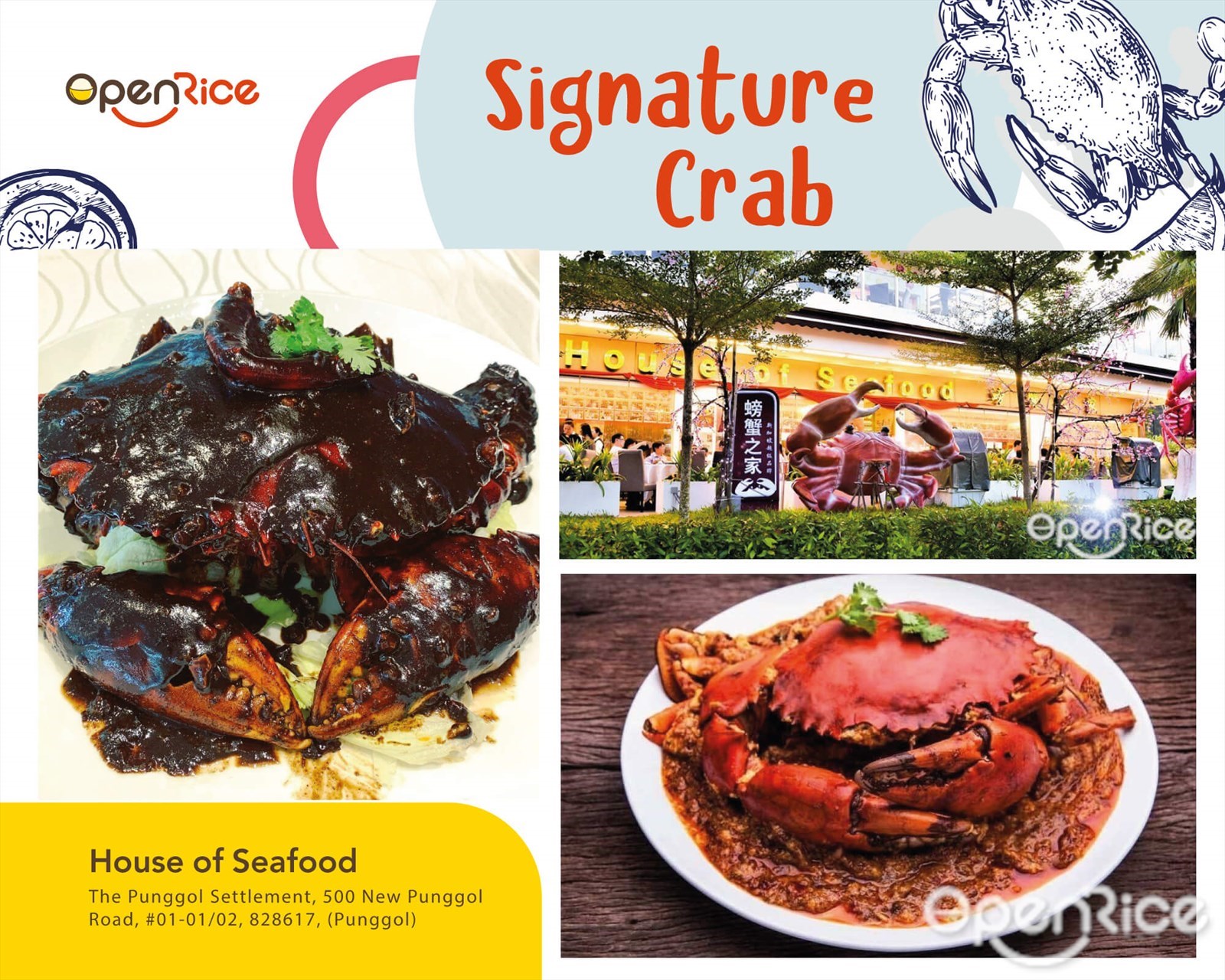 When you hear about House of Seafood, you hear of "Big! Juicy! Fresh!" ocean catches and mouth-watering crab dishes! From its humble origins since 2008, started in a small restaurant located at 180 Yio Chu Kang Road. Due to popular demand, the famous crab has made its way to Changi at Cosford Road, 36 Yio Chu Kang Road and 1Joo Chiat Place. In 2014, The Restaurant won the Singapore's BEST VOTED BLACK PEPPER CRAB in 2015, and also awarded with BEST SALTED EGG YOLK crab! House of Seafood grew steadily from a small but ambitious seafood restaurant to where it belongs now, a Singapore food icon. Recommended to try their Award-Winning Black Pepper Crab & Award-Winning Chilli Crab as well as one fo their all-time favourite : Signature Salted Egg Crab
Book Your table in Advance with us. 📱✨Click the link below for booking:
https://s.openrice.com/eKKSB01ncS100~dJBV8_7bC
2. Jumbo Seafood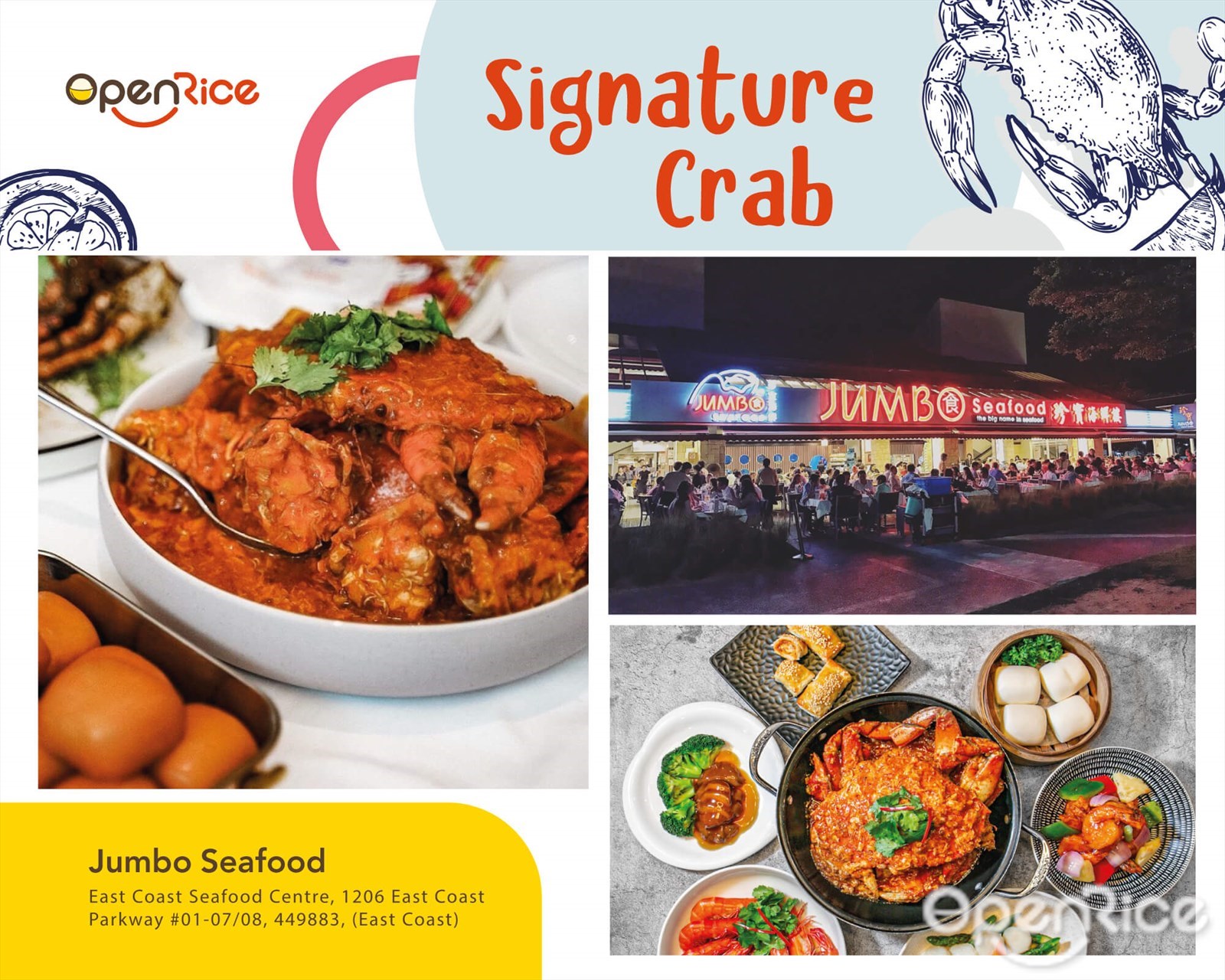 Jumbo Seafood is the most prominent brand that humble beginnings in 1987, operating from a single outlet in East Coast Seafood Centre which are their flagship restaurant. The restaurant soon gained a loyal following, garnering a reputation for serving only the freshest seafood cooked to perfection, with iconic dishes such as the Singapore Chilli Crab and Black Pepper Crab capturing the hearts of local and overseas gastronomes. As its reputation grew, so did the number of outlets. Jumbo Seafood are one of the popular seafood paradise for locals and tourists alike. Be sure to order extra deep-fried Mantau to dip in the flavourful chili crab sauce while enjoying the dish.
Booking are strongly recommended. click the link below for booking:
https://s.openrice.com/eKKSB01QI0000~dku58go12
3. Kelly Jie Seafood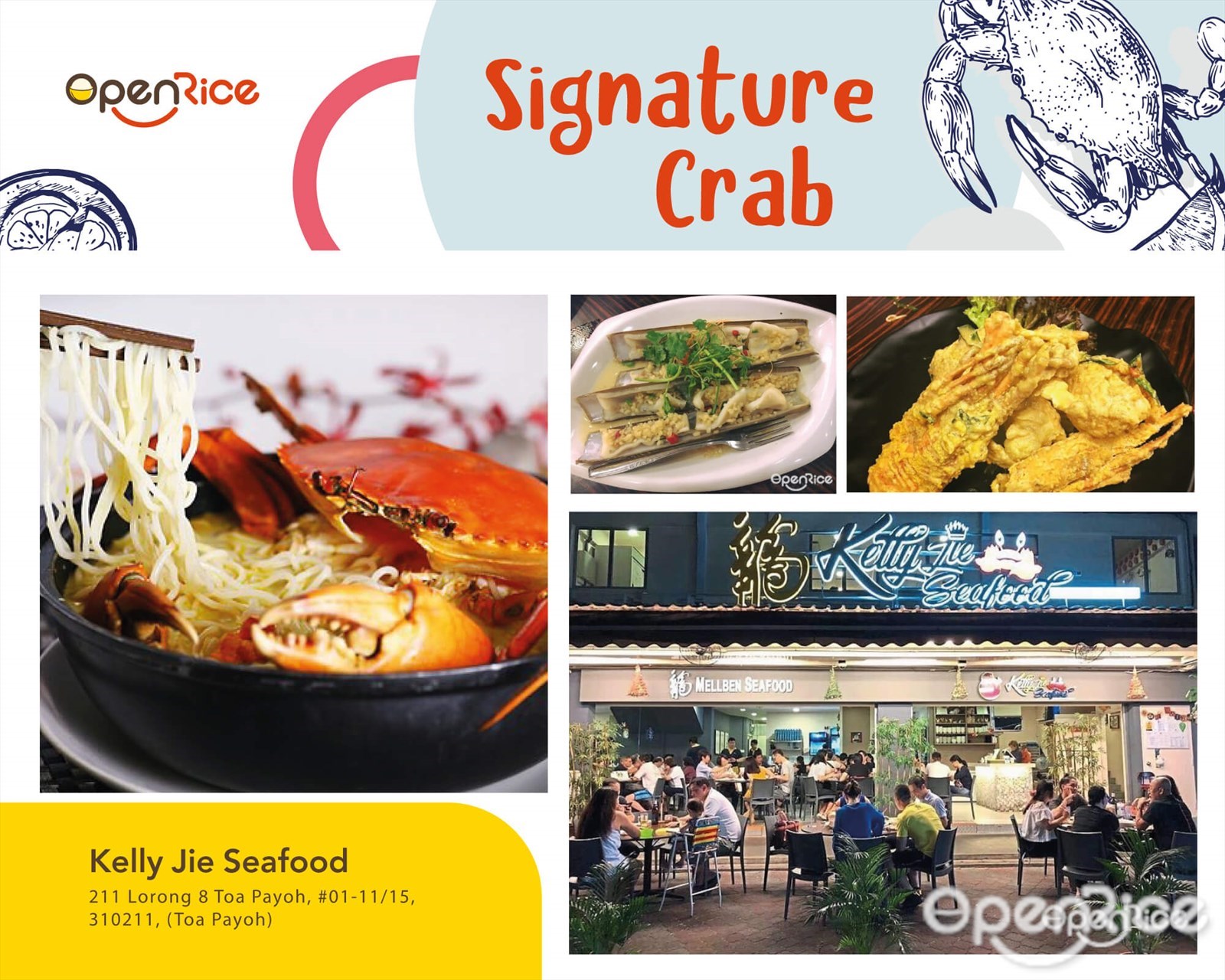 Formally known as Mellben Seafood founded in year 1998, started from a humble little stall, serving mouth-watering seafood dishes where rebrend to Kelly Jie Seafood and has expended to various outlets Incorporating Singapore-Identity into Singapore's home-grown recipes. Various selections of their renowned signature dishes from fresh seafood, local dishes to premium dishes such as abalones and shark's fin; one of which, is the inaugural "Claypot Crab Vermicelli Soup"- which is vermicelli served in a luscious, savoury thick milky broth with pure natural essence of crab.Kelly Jie Seafood is a recognition of the dedication and perseverance extended by a group of admirable team - promise you a truly gastronomic & unique dining experience!
Makesure to make your booking before you visit:
https://s.openrice.com/eKKSB01dZa200~dku58go12
4. Long Beach Seafood Restaurant
Long Beach Seafood Restaurant's story began in 1982 with the creation of the Original and Best Black Pepper Crab, a dish that garnered the attention of both locals and international guests alike.True to the name, LONG BEACH Seafood was situated along the beach and was one of the few restaurants that served decadent local cuisines. As a local restaurant that was frequently patronised by the British Army and locals who dined out during celebratory occasions such as Weddings, the restaurant soon became a popular go-to lively destination.
As the Creator of the Original and the Best Black Pepper Crab of Singapore, Long Beach is also the first restaurant to bring in seafood where initially was never served but has now become popular favorite.While Enjoying the best Black pepper Crabs do try out their renowned dishes such as Drunken Prawns with VSOP Brandy, BBQ Golden Phoenix fish.
Make your table booking here in advance:
https://s.openrice.com/eKKSB01a24000~dku58go12
5. Majestic Bay Seafood Restaurant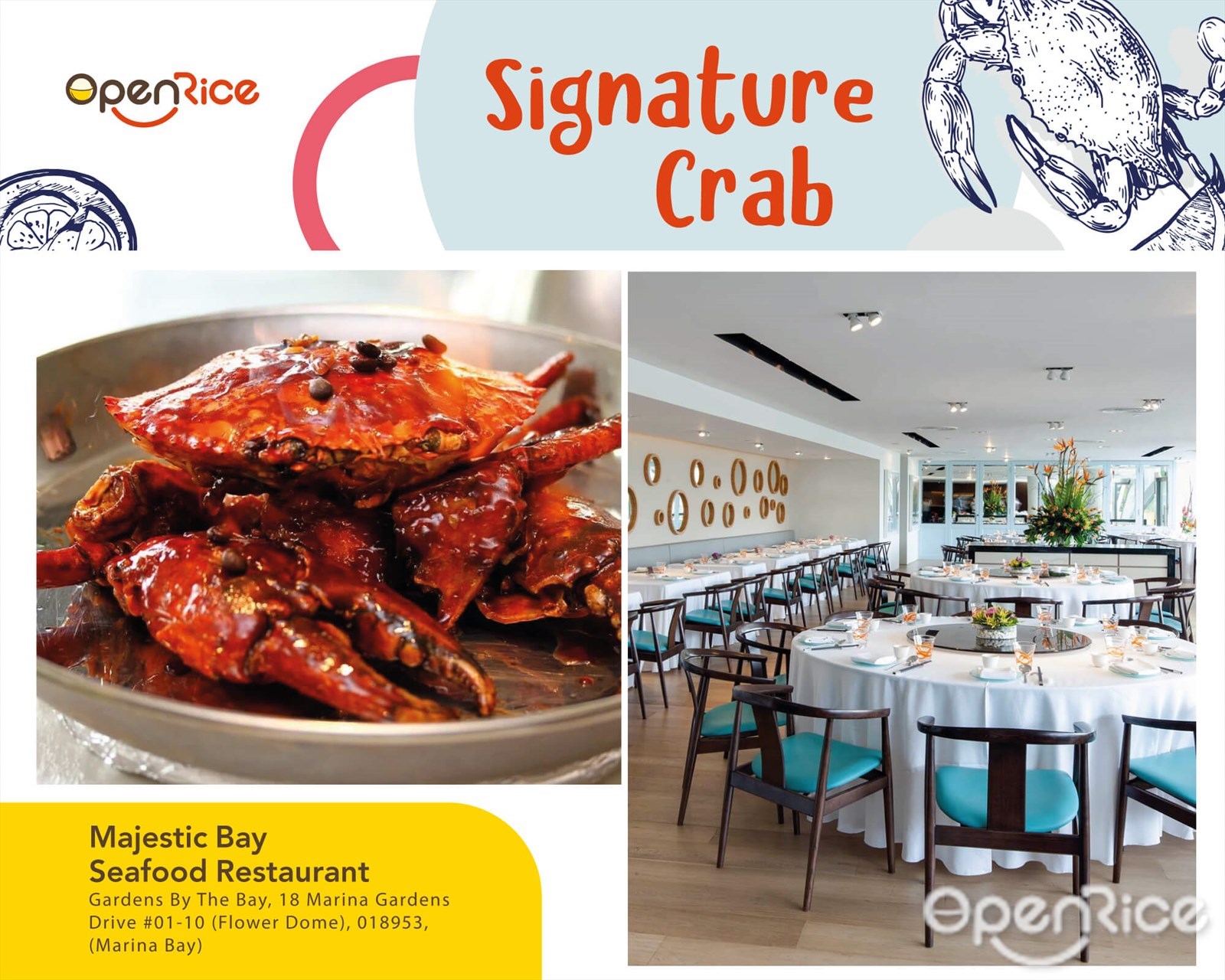 Majestic Bay offers the freshest sea treasures from around the world with Chinese Cuisine oriented.The menu showcases quintessential Singaporean favourite classics like the Chilli Crab, Black Pepper Crab, Steamed Fish, and other Chinese dishes like Roast Meats, along with innovative new creations by renowned Chef Yong Bing Ngen.
A must-try for all crustacean fans, the Bay's signature 'Kopi' Crab is an innovative dish cooked with a special sauce made from a blend of 3 different varieties of coffee beans. Another recommendation is the Baked Assorted Seafood Rice with Chef's Recipe Sauce, a delightful dish excellent for any occasion.You know the seafood are fresh when you see a live seafood tank at the entrance , allowing customers to select their catch of the day before it is freshly prepared for them.
Reservations are strongly recommended. Make your booking today: