Whether you're looking for a quick bite on the go or a relaxing place to catch up with friends, Cafes has always been the regular spot to go for. With a cozy ambiance & wide range of delicious food and drinks, no doubt that cafes offer a welcoming atmosphere that is hard to resist. Follow our footsteps as we've discovered 5 Unique Cafes in Town where you can enjoy fresh pastries by day & have a wonderful dinner over wine by evening.

1. Nassim Hill Bakery Bistro Bar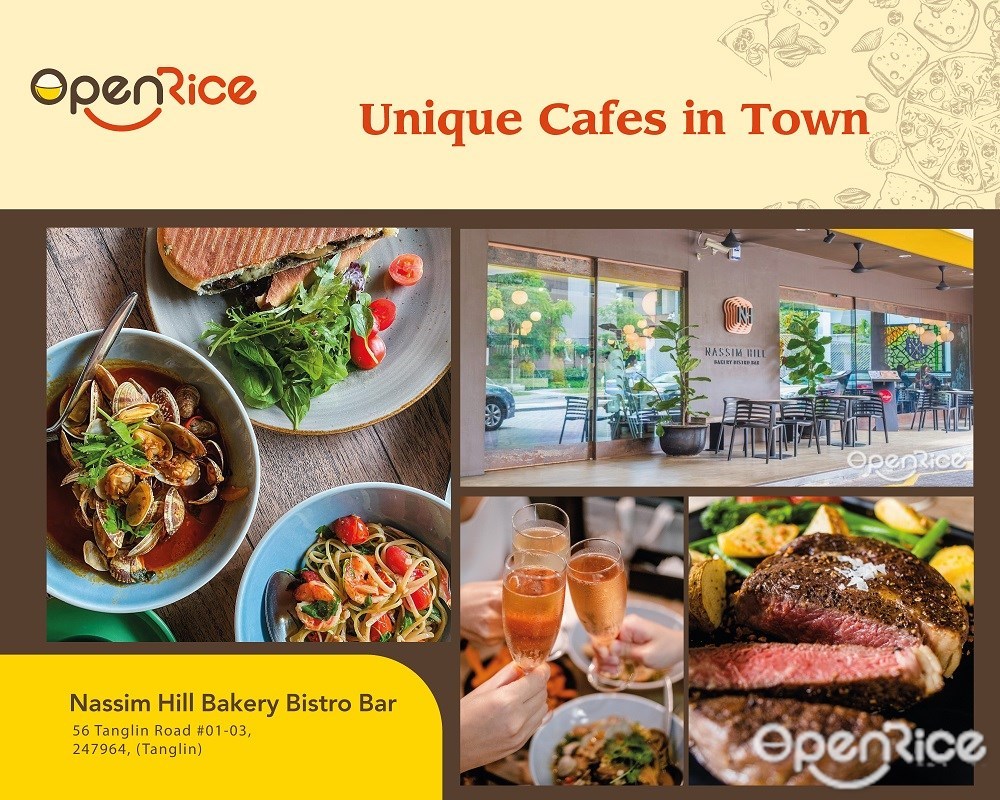 Nestle at Tanglin Road, Nassim Hill Bakery Bistro Bar transforms from a friendly brunch café in the day, to a comfortable, warm dining place in the evenings. Founded on the philosophy of creating a place for people to relax and gather with family and friends over good food and drinks, Nassim Hill Bakery Bistro Bar's menu was designed to offer something for everyone – something simple, comforting, and close to your heart. All the bread and pastries are freshly baked every day, with quality ingredients like French Elle et Vire butter. Sauces and fillings, like the Kaya in the popular Kaya Brioche Donuts, are made in-house from scratch too. For the dinner menu, be sure to try out their signature Duroc Pork Chop, "GG Poulet" Spatchcock Chicken and Chili Crab Pasta.
Reservations are strongly recommended. Book your table today:
https://s.openrice.com/eKKSB01Dh0000~dku58go12
2. Oriole Coffee + Bar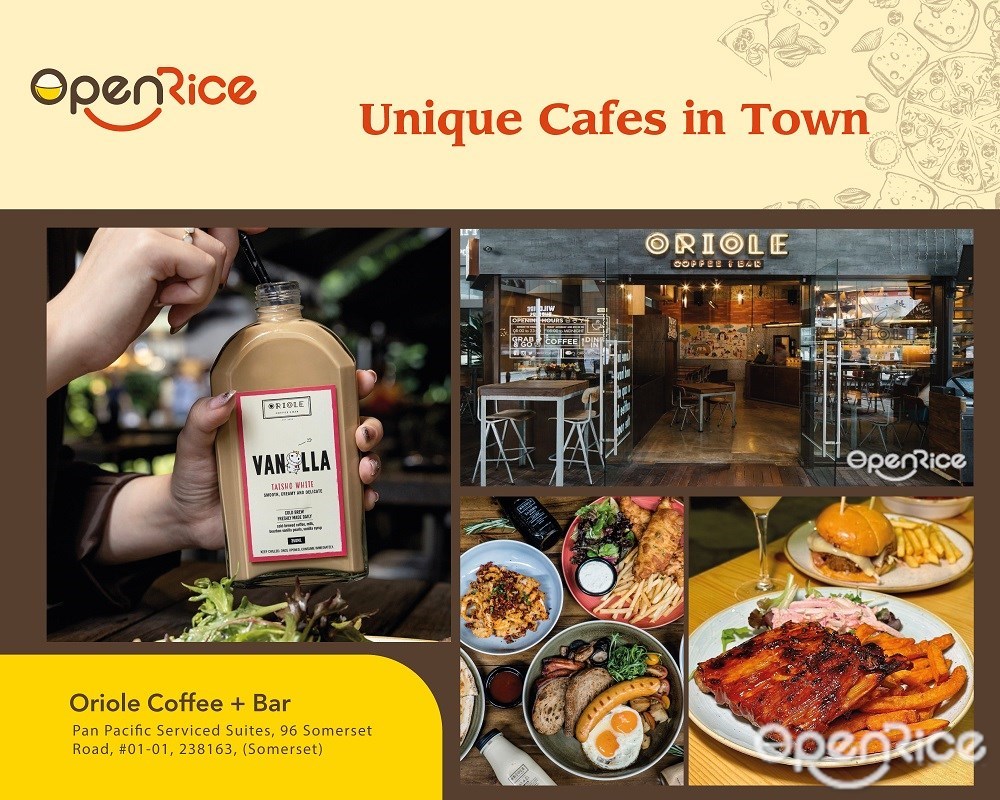 Located at Pan Pacific Serviced Suites, Oriole Coffee + Bar was built on three pillars - Coffee, Food and Community. By day, Oriole Coffee +Bar is a café serving specialty coffee - from sourcing of beans and specialized roasting to stringent cupping by the well-trained barista, Oriole Coffee stands by the highest standard from farm to cup. By dusk, it is a bar serving house-pour wines, beers, and a selection of refreshing cocktails. Diners can expect savory café classics and hearty global fare throughout the day, starting with delectable selections at breakfast, with all-time favorite dishes such as St. Louis Pork Ribs, Beef Cheek Tagliatelle & variety of house pasta selections for lunch and dinner.
Reservations are strongly recommended. Book your table today:
https://s.openrice.com/eKKSB01OnS000~dku58go12
3. Symmetry Cafe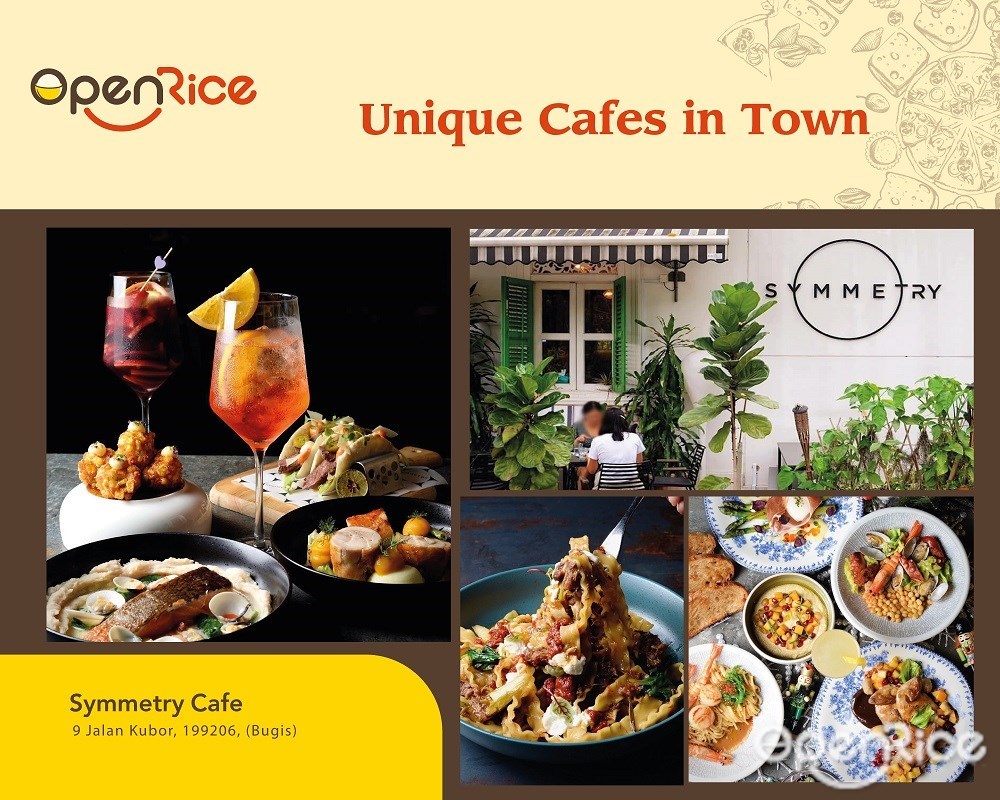 Located on the fringe of the historic Kampong Glam district, Symmetry Cafe is an all-day dining restaurant and bar with the laid-back sensibility of Aussie culture. Much has changed since they first opened their doors in 2012. Symmetry Cafe had grown, refined its menus, and revamped its overall space to feature a balance of rustic elements, but the philosophy at the core of all they do is as true as it ever was - to make honest, delicious food meant for sharing and bringing people together through warm service. Be it business lunches, romantic dinners, or after-work cocktails; Symmetry Cafe is a place where you and your friends can enjoy at any time of the day. Be sure to try out the Beef Flank, Beef Short Ribs & Mozzarella Beignet.
Reservations are strongly recommended. Book your table today: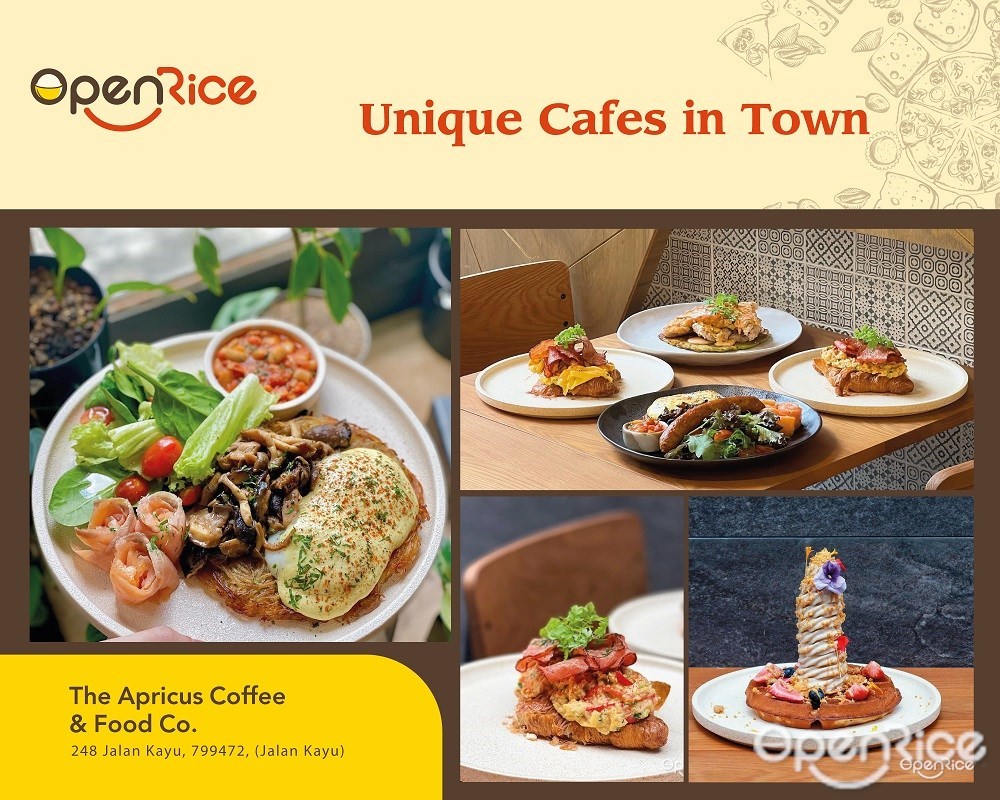 Located at Jalan Kayu, The Apricus Coffee & Food Co is a modern café where you can enjoy all-day dining under a modern hipster-alike ambiance. As per the name "apricus" which resembles sunny & brighten surrounding, it is indeed a one-of-a-kind warm experience enjoying a cup of aromatic coffee & scrumptious meal under the natural daylight atmosphere. If eating branch is your preference, don't miss out on some of the delicacies from their all-day brunch menu such as Spring Pancake & Fried Chicken, Tuscan Lamb Harissa Baked Egg and The Populus Scramble. If you have a sweet tooth craving, their best-selling Apricus French Toast is a must-try: baked vanilla brioche drizzled with homemade maple granola & butterscotch, then topped with seasonal fruits and edible flowers to give it a vibrant Instagram-able appearance. What's more satisfying than ending your meal with such a wonderful dessert?
Be sure to make your table booking in advance. Click on the link for table booking now:
https://s.openrice.com/eKKSB01QiC200~dku58go12


5. Daizu Cafe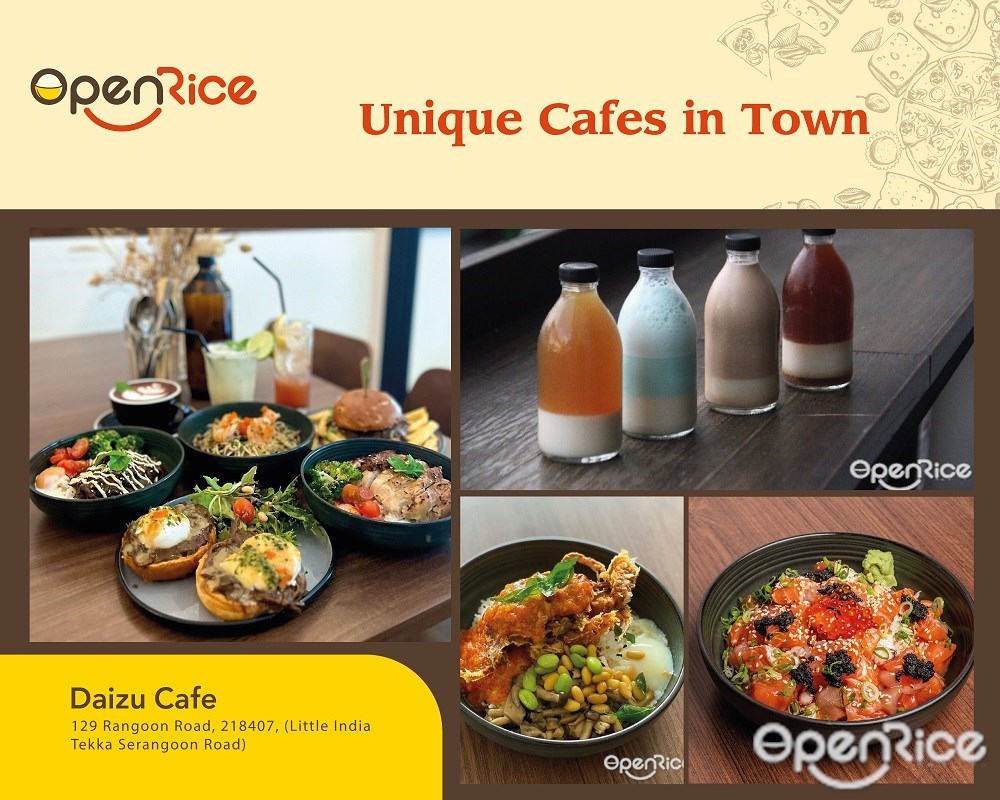 Located at Rangoon Road, Daizu Cafe are the hidden gem within the Little India Tekka Serangoon Road. Daizu Cafe is a Japanese-Western fusion minimalist lifestyle concept centered around the holistic usage of soy, nutrition, and sustainability in daily living. Daizu Cafe embodies the unassuming yet impressive resilience of Soy, which has since become a household staple and one of the most widely utilized crops today. The minimalist aesthetics and creative conceptualization aim to reduce the stressors of daily living and enhance mindfulness to deliver timeless enjoyment with every experience that diners have when visiting the cafe. One of the must-try we recommended will be the Chilli Soft Shell Crab Rice Bowl. If you are looking for the authentic Japanese Fresh Cut Bowl, do try out their Salmon Belly Ikura Bowl & Daizu's Bara Chirashi Bowl.
Booking is strongly recommended. Book your table today: