With the season of love and romance coming up soon, many are planning a nice meal over love and romance spot. To help you out with your planning, we've come up with a list of restaurants & café with romantic ambiance and delicious dishes. Click on the link below to find out more:

1. Blu Kouzina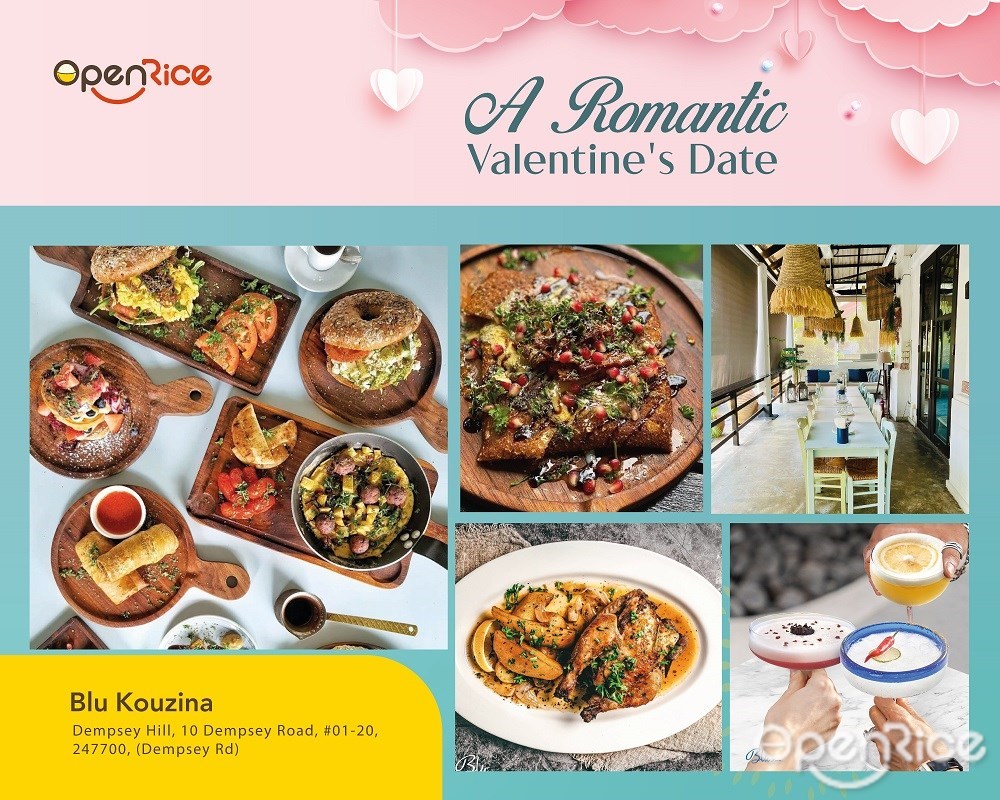 A quick gateway to Greece in either the lush greenery of Dempsey Hill or along the vibrant streets of Siglap. Blu Kouzina, A restaurant born out of the love of sharing a hearty meal with friends, spiced with quality olive oil and good wine. Since 2010, Blu Kouzina is recognized as one of the oldest ( & Best ) Greek restaurants in Singapore, offering authentic Greek cuisine like no other. A step into the restaurant took u on a trip to Indulge in the comforts of Greek food, wine, and hospitality while enjoying the company of loved ones. The quality of our food lies in the composition of the best ingredients, allowing you to discover a distinct Mediterranean flavour. Be sure to try out the Garides, which is the famous Grilled jumbo prawn, lemon & EVOO. For fish lovers, do try out the Signature Lavraki – Sea bass cooked in your choice of baked or grilled, and order up a fruity cocktails or wine to celebrate the togetherness. For an after-meal dessert, be sure to try out the Baklava - Phyllo pastry filled with walnuts, and topped with homemade syrup.
Reservations are strongly recommended. Book your table today:
https://s.openrice.com/eKKSB010zI0W0~d0j22-uHW
2. Masons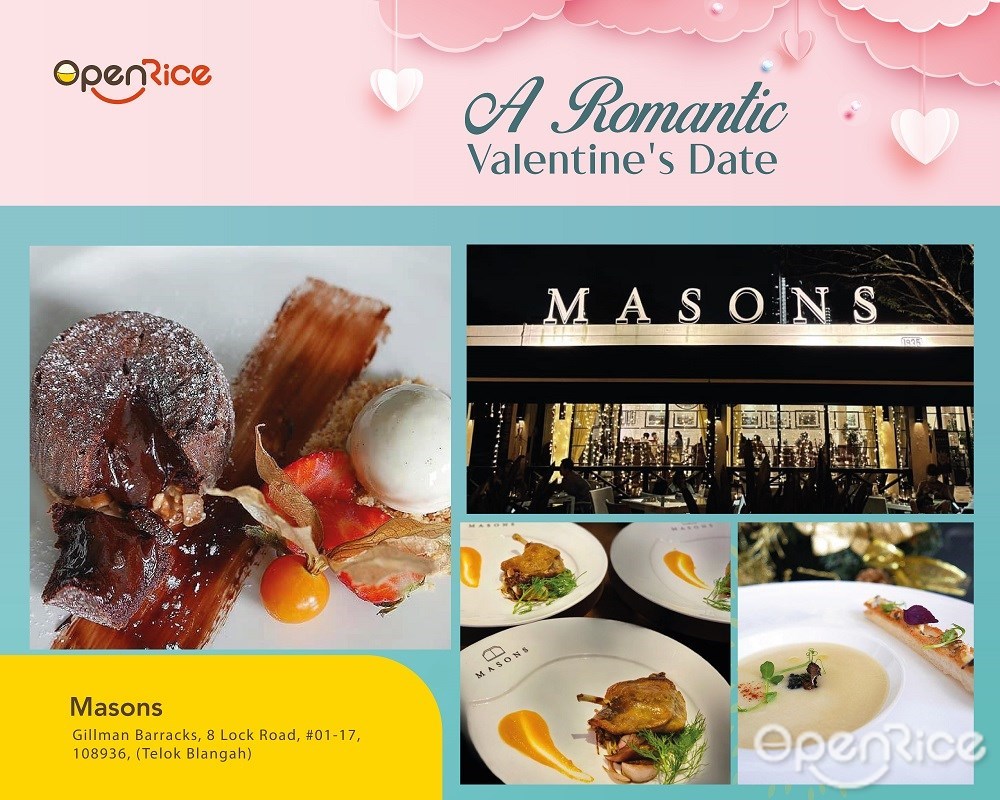 Well-known for our range of freshly made thin crust pizzas and pasta dishes using only the finest ingredients, Masons at Gillman Barracks provides the perfect place to enjoy a delicious meal and refreshments in its tranquil setting.
The British colonial Interior style are a small tribute to the building's heroic past tenants, designed a bar front that depicts the English Rose, as used on The Loyal Regiment's military crest. you will also find a delicious mix of Asian and Western favourites to tempt your tastebuds. This Valentine, come on a date with your love one and enjoy a sumptuous 4 course dinner with main course such as Confit De Canard, Ocean Seasonal Catch or Tortellini and complete your meal with Sinfully rich chocolate Molten Lava Cake.
Booking is strongly recommended, Click the link for booking:
3. PS.Cafe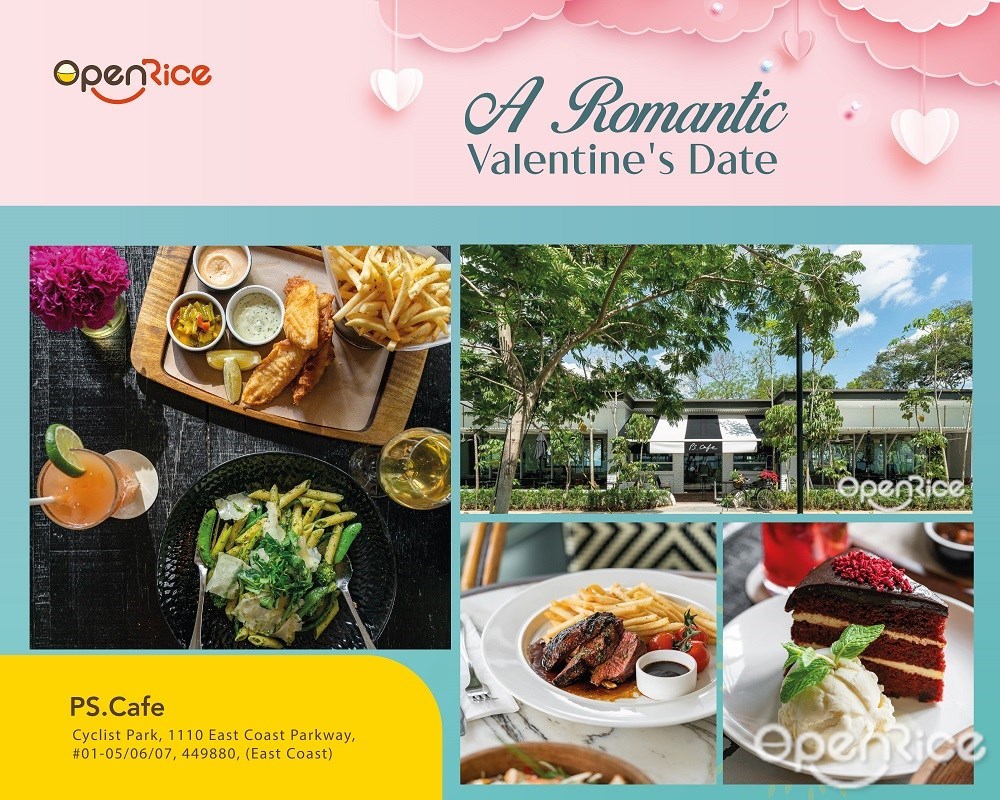 PS.Cafe opened in 1999 as a cozy cafe hidden within the Projectshop clothing store. This charming and understated spot quickly gained a following for its hearty takes on savory cafe classics, famous truffle shoestring fries and indulgent cakes, puddings and tarts. Thoughtfully detailed interiors, lush surroundings, friendly relaxed service and generous portions have made this homegrown Singapore brand an internationally recognized local favourite. PS.Cafe is the place for legendary brunches and lazy afternoon teas, romantic dates and friendly celebrations in beautiful surroundings. A Must try dish recommended is the Tiger Beer-Battered Fish & Chips.
Booking is strongly recommended, Click the link for booking:
4. Ruth's Chris Steak House
Founded in In 1965, Ruth's Chris was the world leader in upscale steak houses and its founder had become something of an icon, keeping the original recipe for success: perfect steak, warm hospitality, and good times that never stop rolling. Where this Legendary Steak house then venture into the land of Singapore and had become famous among steak lovers. Offering the finest custom-aged USDA prime beef at Ruth's Chris Steak House, no doubt that the restaurant had been regarded as one of the best steakhouses in Singapore, where each signature steak is served on a sizzling 260°C plate to ensure the utmost quality and consistency. This year, elevate your Valentine's Day celebration and treat your date to a romantic dinner here while enjoying USDA Prime Rib Eye, USDA Prime T-Bone and other various selections of delicacies to choose from.
Reservations are strongly recommended. Book your table today:
5. SKAI Restaurant
SKAI is a lively contemporary grill, situated on the 70th floor of Singapore's acclaimed Swissotel The Stamford. Iconic city views, seamless service and bespoke beverages create the perfect ambience from which to savour Executive Chef Paul Hallett's finely crafted menu of sharing dishes, all of which feature a truly personal and progressive touch. During this valentine season, A collaboration between SKAI Bar and Minuty, Ruinart, Whispering Angel, Veuve Clicquot and Moët & Chandon, Rosé in the SKAI allows you to explore the versatility and beauty of rosés through special pairing menus set against the captivating backdrop of Singapore's skyline. Be sure to try out the Uni Saffron Risotto, Miso Black Cod and Caramelised Soy Bean Cheesecake. Valentine's Day 5-course set menu and high tea are available if you're looking for a unique celebration in this season of love.