With the diverse food culture in Singapore, Dim sum is one of the culinary traditions loved by many of us. This bite-sized Cantonese cuisine is a social affair, bringing friends and different generations of family members together to savour a variety of steamed, fried, and baked dumplings. These are 5 of our recommendations for the Best Dim Sum Restaurants in Town to fix your craving.

1. The Dim Sum Place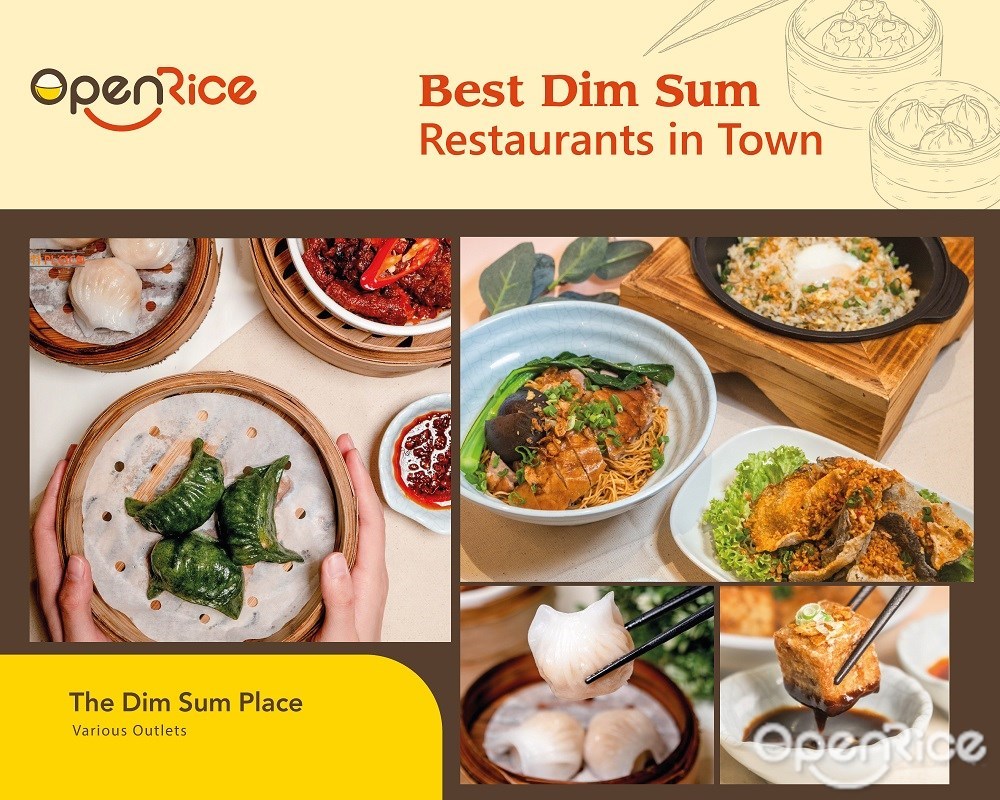 Planning on a Dim Sum treat and other Hong Kong delicacies with your Muslim friends? The Dim Sum Place is definitely the best place to go for. Serving the widest selection of pork-free Dim Sum and other appealing menus, The Dim Sum Place serves up authentic Cantonese cuisine & Dim Sum with a local twist & prepared daily using fresh meat and ingredients. Guidance from renowned international chefs has also given a creative new idea in crafting new dishes that cater to a wide range of taste buds. They are also one of the Halal-certified Dim Sum Place in town. For Dim Sum lovers, Crystal Shrimp Dumpling, Steamed Chicken Siew Mai with Shrimp & Duck Char Siew Bun is a Must-try. For Fried Dim Sum selections, don't miss out on the chance to try on the Deep-Fried Chicken Siew Mai with Shrimp. Beef Brisket Noodle is a Must-try too if you are looking for noodle dishes.

Reservations are strongly recommended. Book your table Today:
https://sg.openrice.com/en/singapore/restaurants?chainId=10001278

2. Peony Jade


Peony Jade Nestle at Amara Singapore, Peony Jade Restaurant first opened its doors in 2004 and since then they are famous for serving classic traditional Sichuan and Cantonese cuisines including Dim Sum. Peony Jade chose to do a few things right: The freshest ingredients; masterful culinary techniques by people truly passionate about gastronomical service; tireless innovation to suit the taste buds of the local people; beautiful interior design worthy of the grandest weddings; it is no doubt that Peony Jade growth from a humble homegrown brand to a club-level MICHELIN restaurant. Be sure to try out the Peony Jade's Signature Kurobuta BBQ Brown Sugar Coated Pork Buns, Double-boiled Shark's Fin Seafood Dumpling in Superior Broth, and the Signature Artistry Litchi Bonsai- the Prawn Paste Fritter filled with Lychee coated with Dragon Fruits Crunch.

Reservations are strongly recommended. Book your table Today:
https://s.openrice.com/eKKSB01PTS200~dku58go12

3. Red House Seafood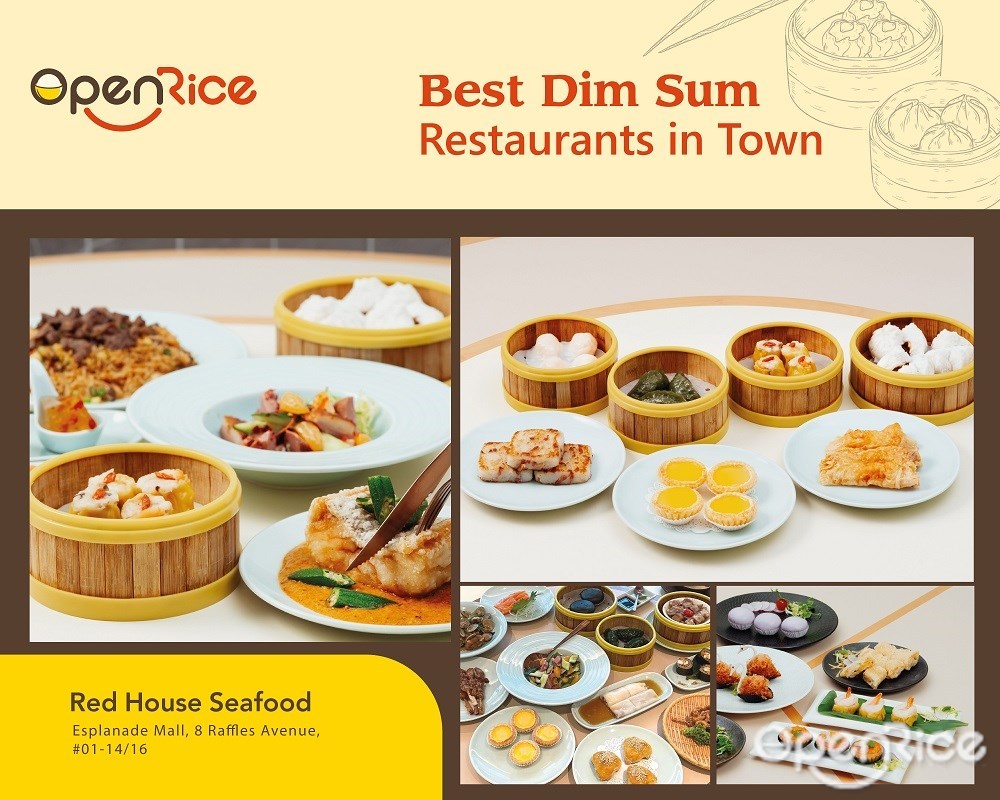 For 46 years, Red House Seafood has delighted diners with its exquisite Singapore Nanyang-style seafood, woven through with influences from the Malay, Indian, and Peranakan traditions among others. Key cherished ideals such as honesty, provenance and cooking from the heart have served the brand well over the years. The chefs at Red House Seafood present these myriad flavours with `Kung Fu' finesse and skills in dishes such as Braised Fish Meat Noodles, and the Crab Meat Pao Fan. Apart from such showpieces, familiar favourites on the menu include some of the well-known Dim Sum dishes freshly made daily. Pan-fried XO Carrot Cake, Truffle Wild Mushroom Dumpling and Chilli Seafood Tart is among their signature Dim Sum selections that you wouldn't want to miss out.

Reservations are strongly recommended. Book your table Today:
https://s.openrice.com/eKKSB01Eyk100~dku58go12

4. Majestic Bay Seafood Restaurant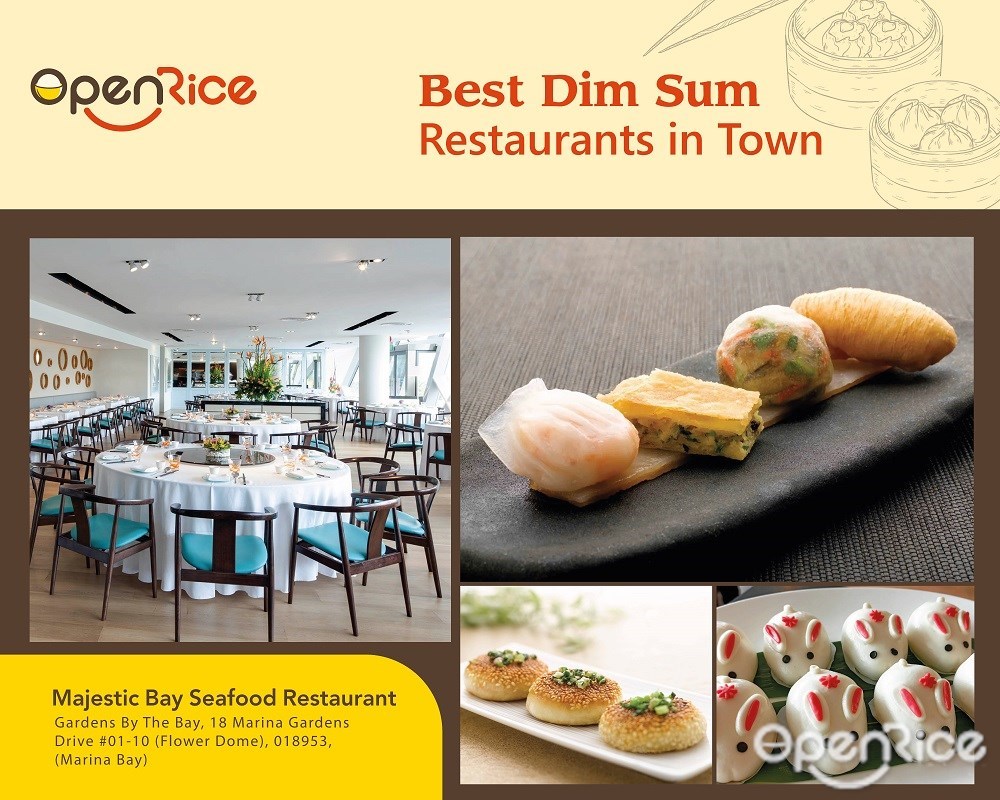 Located at Gardens By The Bay, Majestic Bay Seafood Restaurants is a seafood-focused Chinese restaurant that offers the freshest sea treasures from around the world. The menu showcases quintessential Singaporean favourite classics & selections of unique Dim Sum. The restaurant taps into the waterfront view by incorporating nautical elements in its interior design along with the corporate color of aquamarine further accentuating the marine theme. Be sure to try out their signature Chilli Crab Meat Buns, Prawn Chee Cheong Fan and Pan-Fried Seafood Beancurd Rolls. For some sweet tooth selections, do try out the signature Rabbit Buns with Purple Sweet Potatoes & Duckling Buns with Lava Chocolate.


Reservations are strongly recommended. Book your table Today:
https://s.openrice.com/eKKSB019SO000~dku58go12
5. Si Chuan Sou Hua Restaurant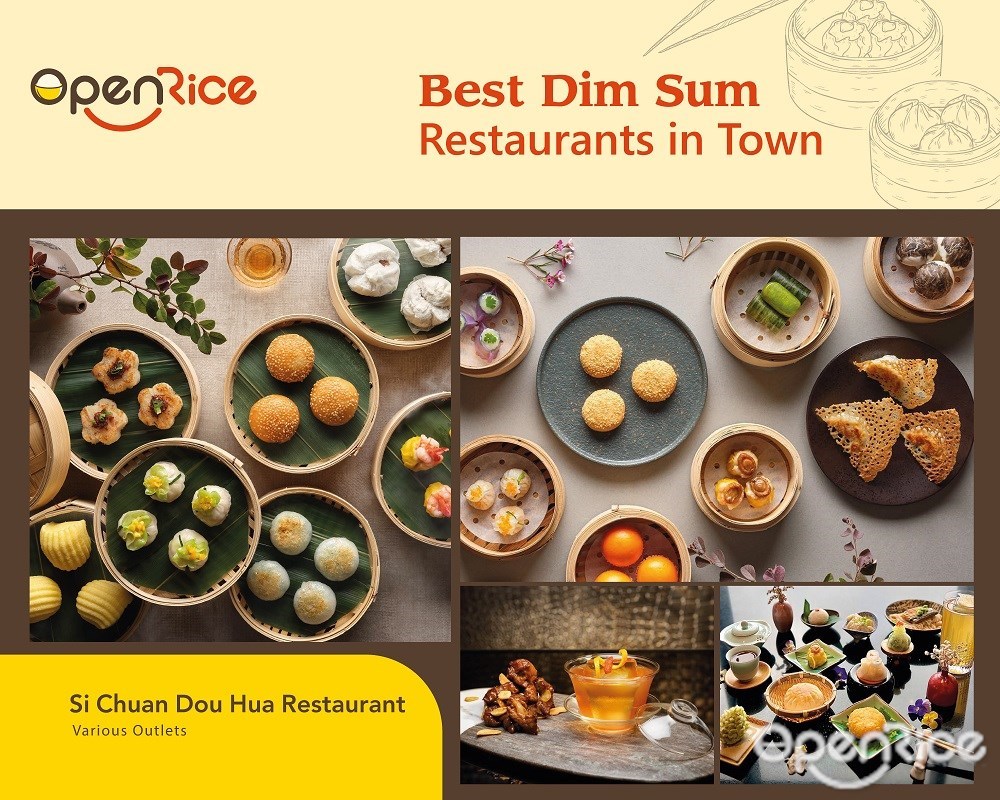 Established in Singapore since 1996, Si Chuan Dou Hua is renowned for serving the true flavours of Sichuan with experienced native chefs hailing from the city. Being the pioneer of Sichuan cuisine in Singapore, Si Chuan Sou Hua Restaurant is renowned for the quality and authenticity of its Sichuan and Cantonese cuisines & list of finely crafted Dim Sum. Dining at Si Chuan Dou Hua Restaurant is complemented by skilled Tea Masters who combine martial arts, dance and showmanship in the traditional art of tea pouring while you enjoy the Dim Sum delicacies. The signature Shanginese Minced Meat Dumplings in Superior Stock, Steamed Glutinous Rice Roll with Minced Meat wrapped in Banana Leaf and Steamed Black Charcoal Custard Buns are the recommended must-try on the list.