The allure of succulent meat, the rich flavours & variety of cuts, coupled with a desire for culinary exploration and affluence - this is what makes steak one of the favoured choices among food enthusiasts when comes to Western Cuisine. Follow our footsteps as we bring you to discover Best Steak Restaurants in Singapore.

1.Opus Bar & Grill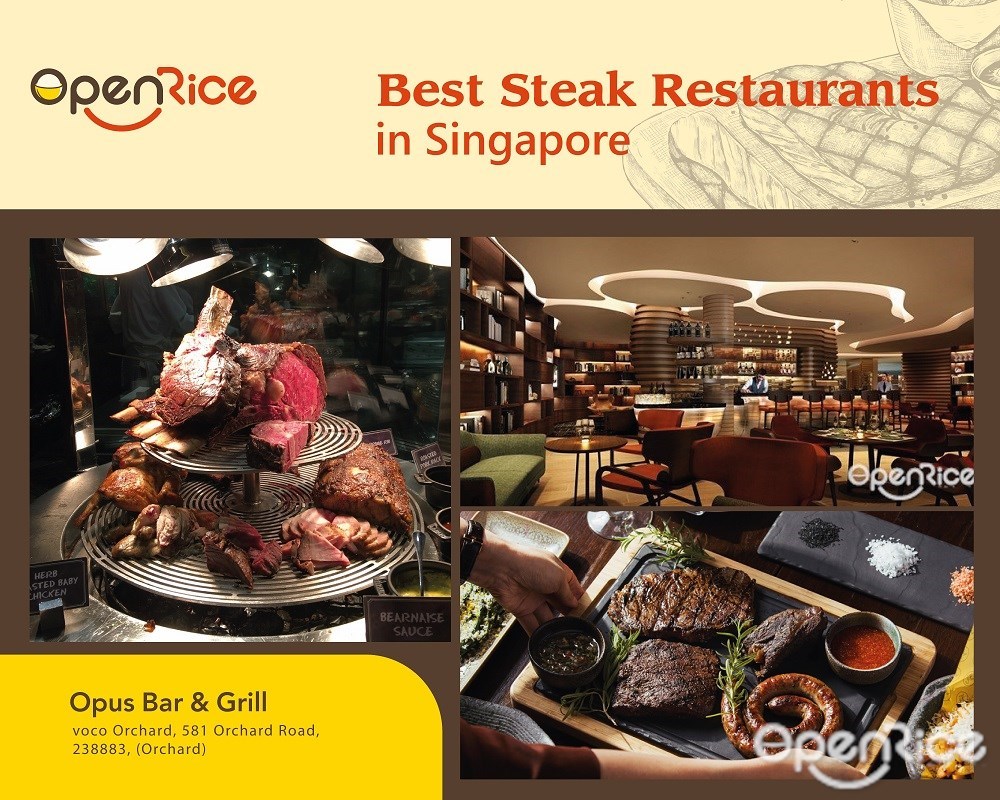 Opus Bar & Grill stands as a prominent steakhouse in Singapore, captivating all senses with its exceptional dining experience. By delighting guests with the symphony of sounds emanating from the sizzling prime steaks and sustainably-sourced seafood expertly grilled over white-hot coals, the culinary team takes pride in their innovative approach to enhancing flavour profiles. Their custom-designed Himalayan salt-tiled dry-aging cabinet takes centre stage, expertly cooked by Australian Chef Nick Philip over imported charcoals for an intense depth of aroma and flavour. Each bite is a revelation, offering a culinary journey like no other. Be sure to try out the Premium Butcher's Platter, which consists of 200g Wagyu flat iron steak, 200g hanger steak, braised Wagyu beef cheek & gourmet beef sausages. For seafood lovers, try on the Grilled Seafood Sharing Platter, which includes MSC whole Boston lobster, MSC Atlantic scallops, king prawns, and 200g Chilean salmon. You can even come on every weekday for their lunch buffet where various selections of mouth-watering dishes are served.

Reservations are strongly recommended. Table Booking is available here:

https://s.openrice.com/eKKSB014R8100~dku58go12
2. Officers' Mess Polo Bar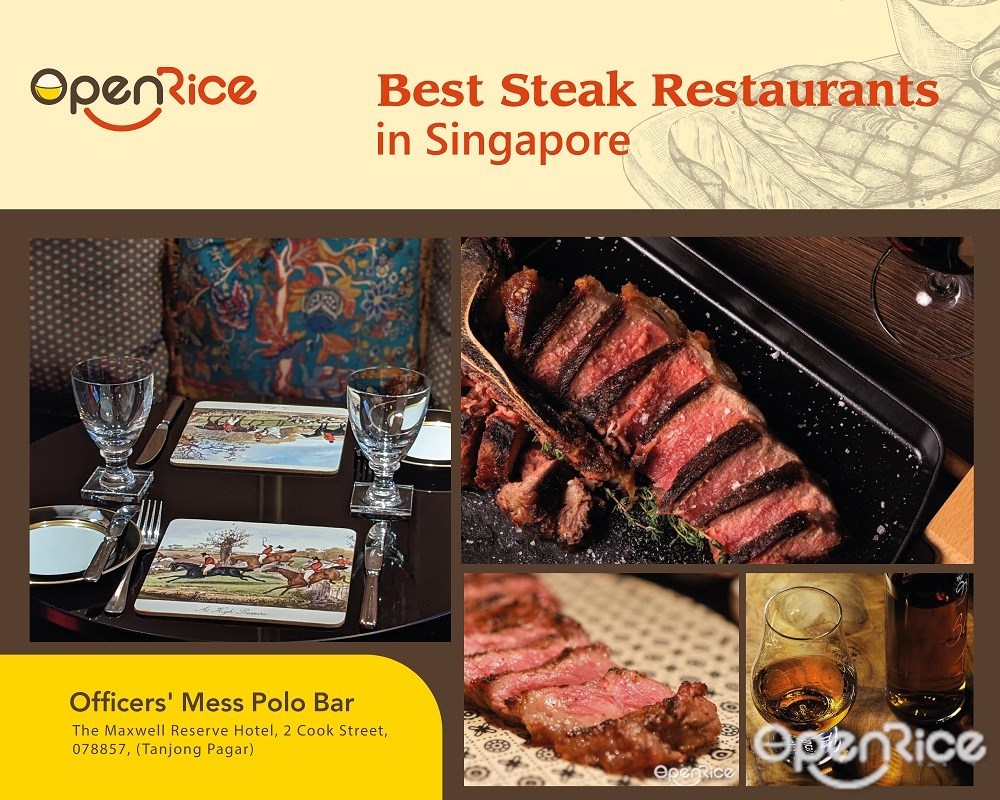 Step foot into The Officer's Mess Polo Bar brings you on a journey to another world where the grandeur and sophistication of Polo transcends into conversation flowing over crystal stemware and deep armchairs clad in military uniforms. Oak-panelled walls and African ebony floors are complemented majestically with a saddle leather bar and a hand-painted polo scene from the 1930's. At its heart, the dining venue is a steak restaurant featuring some of the world's finest prime-grade cuts of meats and seafood. From lobster, crab cakes, and the signature Polo burger to a succulent selection of grass-fed beef and delectable sides, the menu delivers variety and the incredible authenticity of a classic fine dining experience. Be sure to try out the Australian Grain-fed Cattle & the Signature Polo Bar Burger. The bar has its own world-class wine cellar with a collection curated by an expert team of sommeliers that craft an outstanding selection of cocktails and the classics too.
Reservations are strongly recommended. Table Booking is available here:
https://s.openrice.com/eKKSB01cz6100~dku58go12
3. 665°F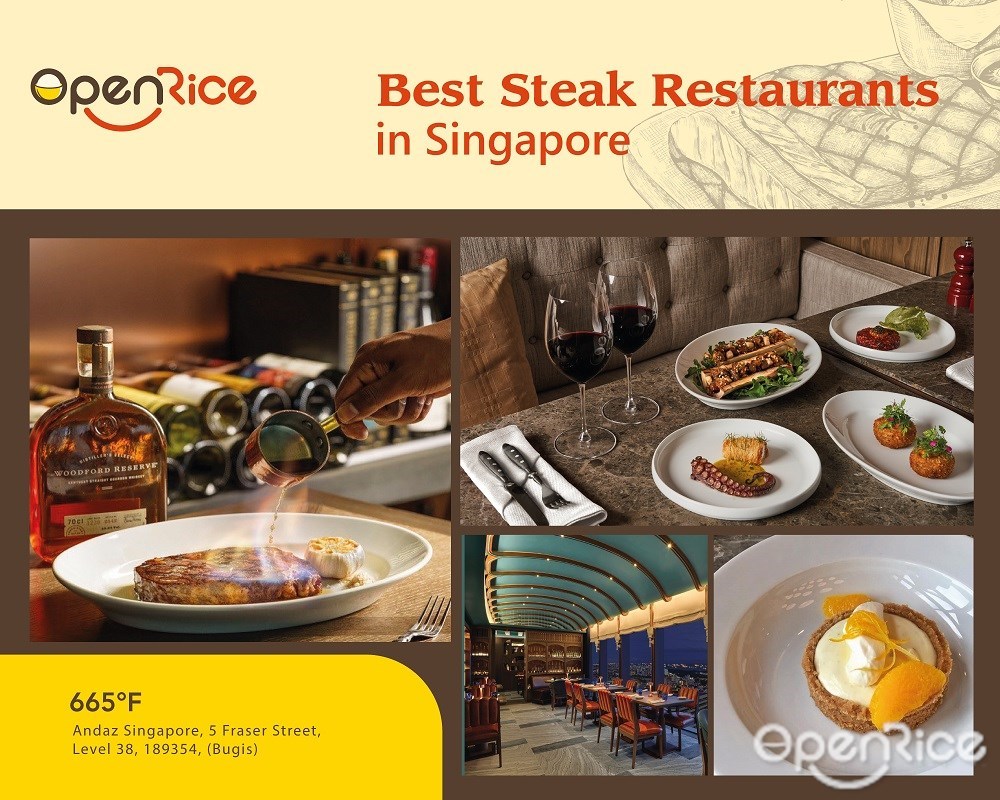 Located on level 38 at Andaz Singapore, 665°F is renowned as one of the top premium steakhouse restaurants specializing in prime meats, including beef aged in-house, halal-certified premium cuts, and sustainable seafood grilled in a signature Pira oven. The Cellar, a new dining extension within the restaurant, offers stunning bay views & a breath-taking city skyline. There are over 400 bottles of Old and New World wine selections to pair with the steaks. For Beef lovers, you can enjoy a range of cuts, from lean to indulgently fatty. A Must-try signature will be the Grass Fed Rib Eye, Beef Short Rib, Hay Smoked Bone Marrow, Beef Wellington and Iberico Pork Chop. There are three private dining rooms that cater to 6, 8, and 12 guests if you are planning on a family dinner or a gathering over a great steak feast.
Reservations are strongly recommended. Make your Table Booking Today:
https://s.openrice.com/eKKSB01N1G200~dku58go12
4. Les Bouchons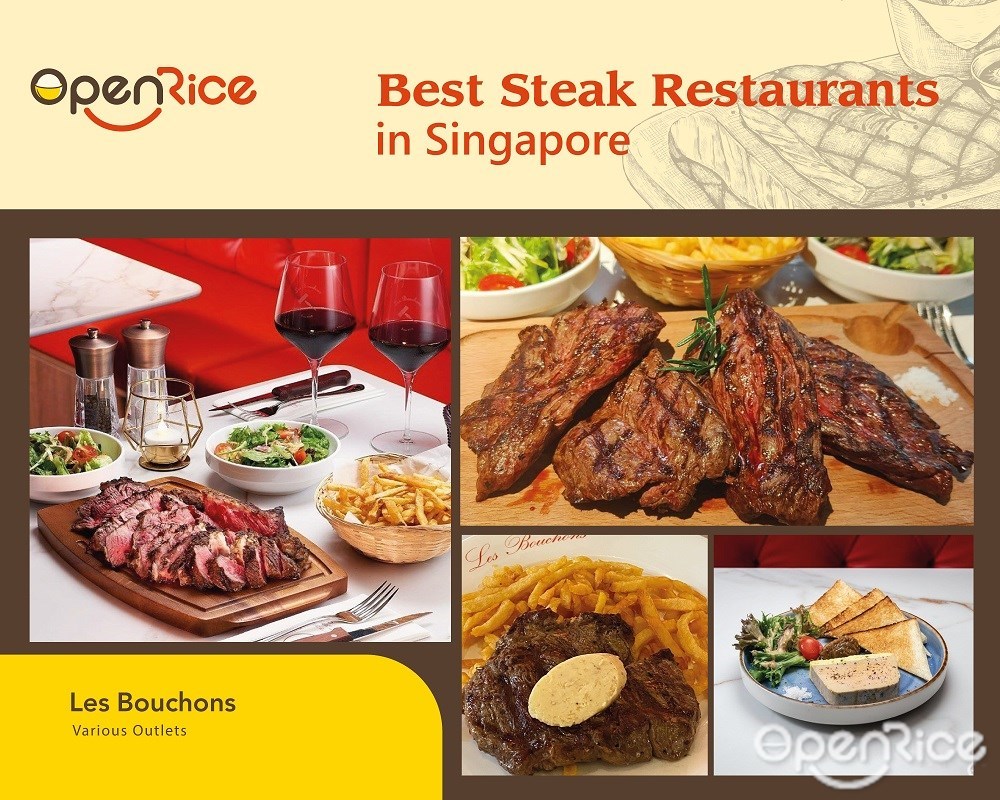 Currently expended at Rochester Commons, Ann Siang Road & Robertson Quay, Les Bouchons reputation as one of Singapore's best steakhouses, built on consistency, quality fresh produce used, and good-grade beef sourced directly from the producers, taking the guests on a gastronomic journey through the by lanes of Paris by paying homage to the grand tradition of French bistros. Showcasing classic French cuisine and quality steak frites, Les Bouchons is the destination for a memorable experience of robust flavours and textures. Steaks are prepared as per request and are served with a portion of salad and free-flow homemade French Fries cut to perfection. Be sure to try out the Black Angus Prime Rib, Australian Beef Wagyu Flap Steak & Royal Couscous which available only on Friday & Saturday. An extensive list of value-for-money quality wines which are predominantly French are also available for enjoying with family and friends over food.
Reservations are strongly recommended. Make your Table Booking Today:
https://sg.openrice.com/en/singapore/restaurants?chainId=10001366
5. Lawry's The Prime Rib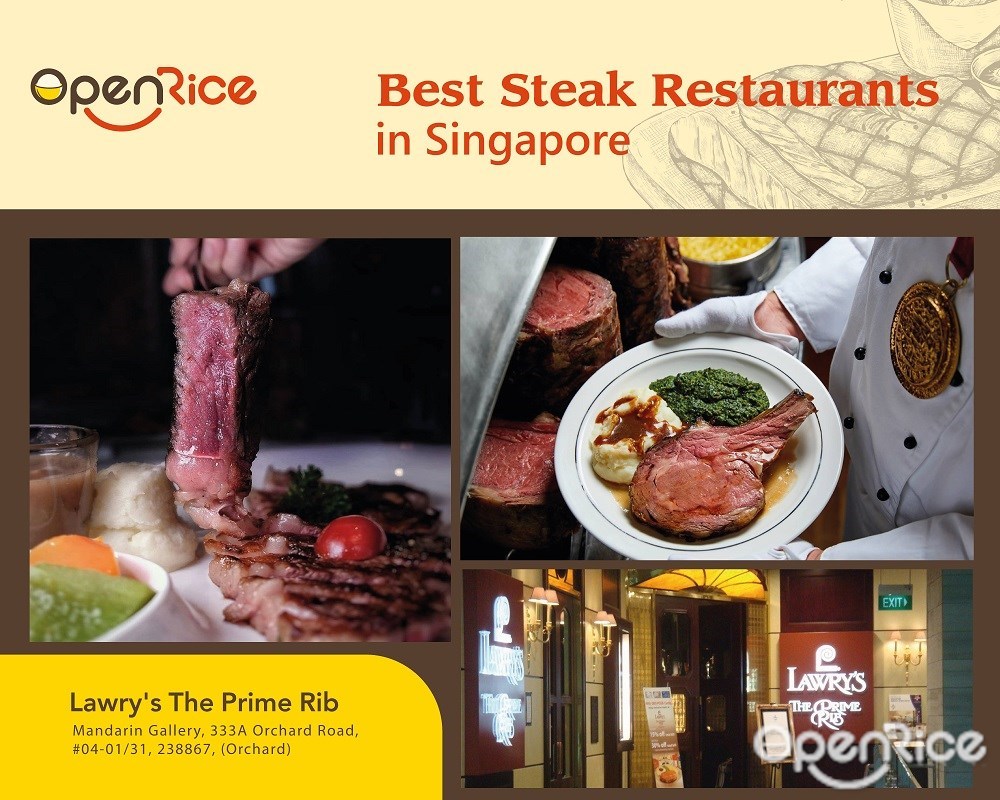 Nestle at Mandarin Gallery, Lawry's The Prime Ribs is a renowned Steakhouse Restaurant originally from California & over 8 decades still stands as a family-led business with an international presence. The brand specializes in serving USDA-certified roasted prime rib aged for at least 21 days, hand-carved tableside from the gleaming silver carts and slowly roasted for natural tenderness. Be sure to try out the US Prime Black Angus Steak, Truffle Rosemary Crusted Lamb & Costa Brava Baby Back Pork Ribs. For some greens to balance up the meal, be sure to try out the Famous Original Spinning Bowl Salad. The warm hospitality and exceptional service make the restaurant the place to celebrate any special occasion from birthdays and anniversaries to private and business events.
Reservations are strongly recommended. Make your Table Booking Today: