The New Year's Eve dinner is the most important meal for Chinese families, where every family and relatives from far gathered together and had a reunion dinner. For a Hassle-free reunion dinner, many restaurants offered a variety of Chinese new year dining sets and promotions throughout this festive season. Here are 5 restaurant suggestions for your Lunar New Year Prosperous Dining. Click the links below to find out more:

1. Hai Tien Lo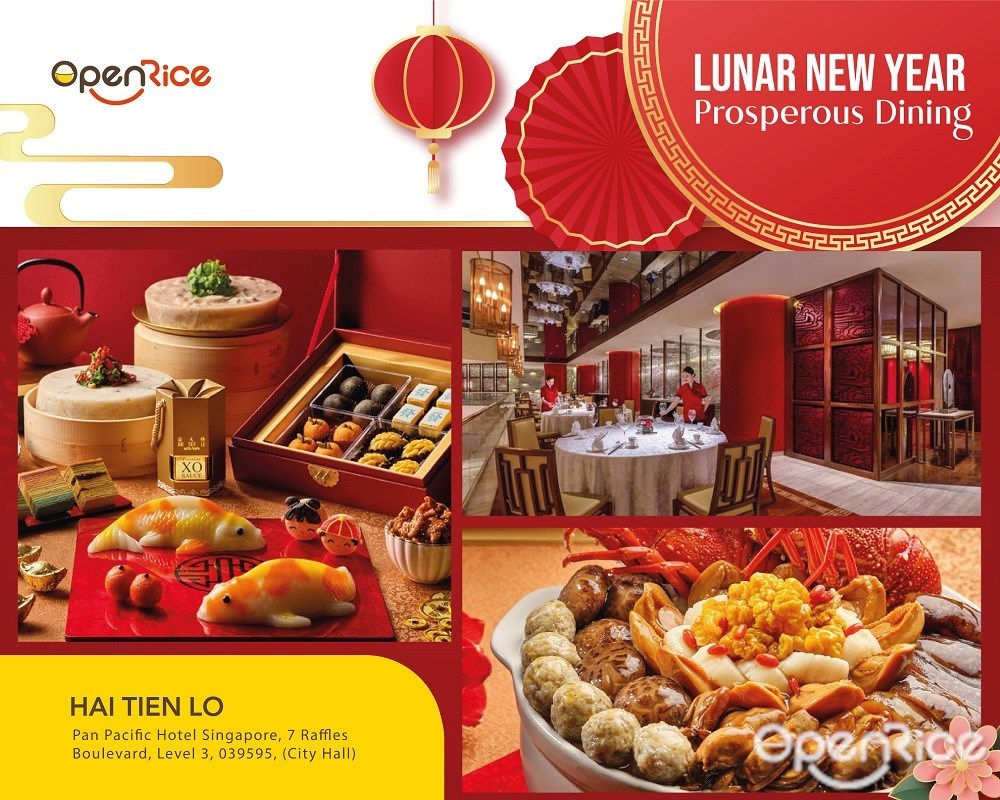 Featuring traditional Cantonese dining with a contemporary twist, Hai Tien Lo is an award-winning restaurant offering a wide variety of classic dishes using age-old recipes, as well as a 'new Cantonese' menu curated by experienced chefs.In conjunction with these Lunar New Year, celebrate the dawn of new beginnings and revel in vibrant traditions. Indulge in thoughtfully-curated set menus, featuring an elevated rendition of Chef Ricky's signature Chicken Wing stuffed with Bird's Nest, Fresh Crab Meat, Dried Scallops, and Truffle as well as Double-boiled Fish Maw with Bamboo Pith and Dried Scallops in Fish Bone Broth.
Booking is strongly recommended, Click the link for booking:
Embodying the concept of "Xiang Le Zhu Yi," or the principle of enjoyment and happiness, the award-winning Jiang-Nan Chun in Four Season Singapore is not only evocative of the pastoral lifestyle of the Jiang Nan region's traditional river villages through its rustic décor, but also through its authentic Cantonese cuisine. In the year of rabbit, bring your family along to celebrate an auspicious year with handcrafted classics such as the Kumquat Oolong Mousse Cake, signature Four Seasons Pineapple Tarts, Coconut Nian Gao and Pen Cai. Toast to abundance with Jiang-Nan Chun's signature Yu Sheng, and gift generously with our Four Seasons Luxury Hamper and Jiang-Nan Chun Abundance Hamper.
Booking is strongly recommended, Click the link for booking: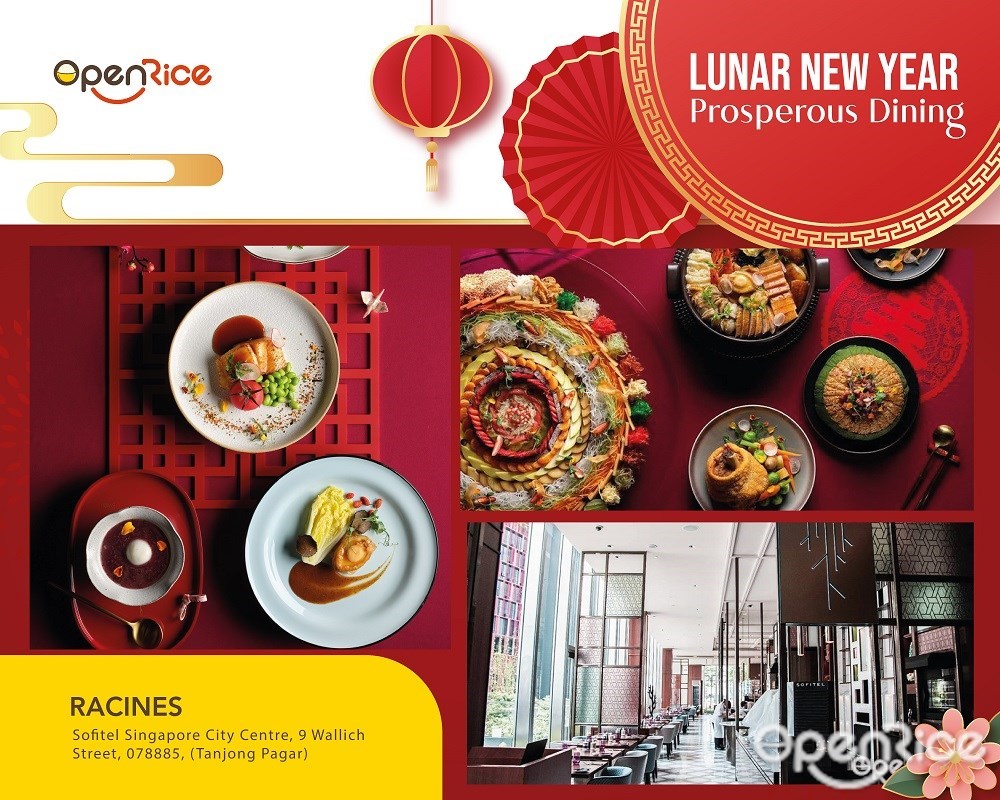 A taste of authentic French cuisine and refined Local Chinese delights await diners at Racines. Connoisseurs of gourmet experiences will enjoy a menu of traditional French classics and timeless Chinese dishes all prepared by two distinct culinary brigade at four live cooking stations. French for roots, Racines uses seasonal local produce and organically grown ingredients.Revel in the festive bustle and tuck into two springtime set menus presenting enticing dishes such as Smoked Salmon Yu Sheng, Double-boiled Chicken Soup with Fish Maw and Dried Scallops, Steamed Rice with Waxed Meat and Chinese Sausage and more.
Booking is strongly recommended, Click the link for booking:
4. Ya Ge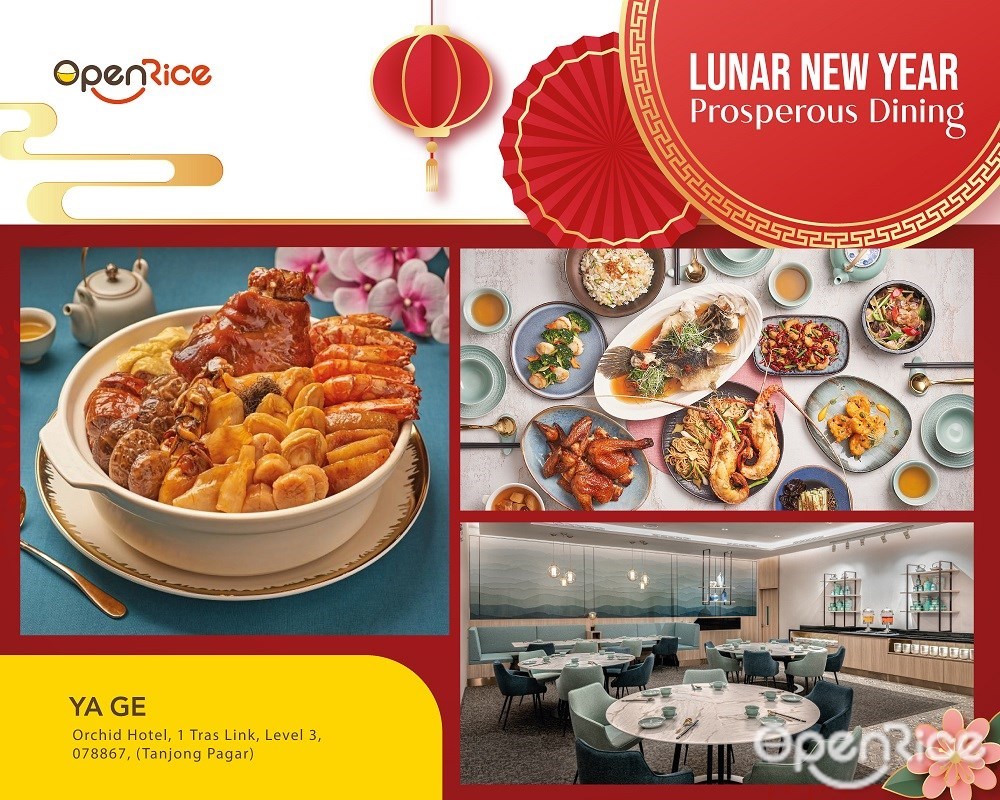 Housed within Orchid Hotel in Singapore's Central Business District, Ya Ge is a Modern Chinese restaurant that serves fine traditional Chinese cuisine with a modern taste. This Chinese New Year, you can spring into new beginnings with loved one over Ya Ge's specially-curated set menus, each replete with auspicious delicacies such as Braised 8-head Abalone with Chinese Mushroom, Oyster Fortune Bag, Black Moss accompanied with Broccoli, Steamed Fragrant Lotus Leaves Chicken with Pork Belly, Assorted Mushroom, Chestnut, Red Dates and Wolfberries, and not to forget Ya Ge's Prosperity Smoked Salmon Yu Sheng which comes with either Abalone or Crispy Fish Skin for a toss of prosperity and abundance.
Booking is strongly recommended, Click the link for booking: