Thai cuisine is well-known for a wide variety of dishes ranging from hearty curries, Tom Yum to light salads and stir-fries, catered with a blend of unique herbs & flavours incorporating spicy, sweet, sour, and salty tastes. Here are 5 Recommendations for the Best Thai Restaurants in Town to fix your craving for a scrumptious Thai food feast.
1. Little Elephant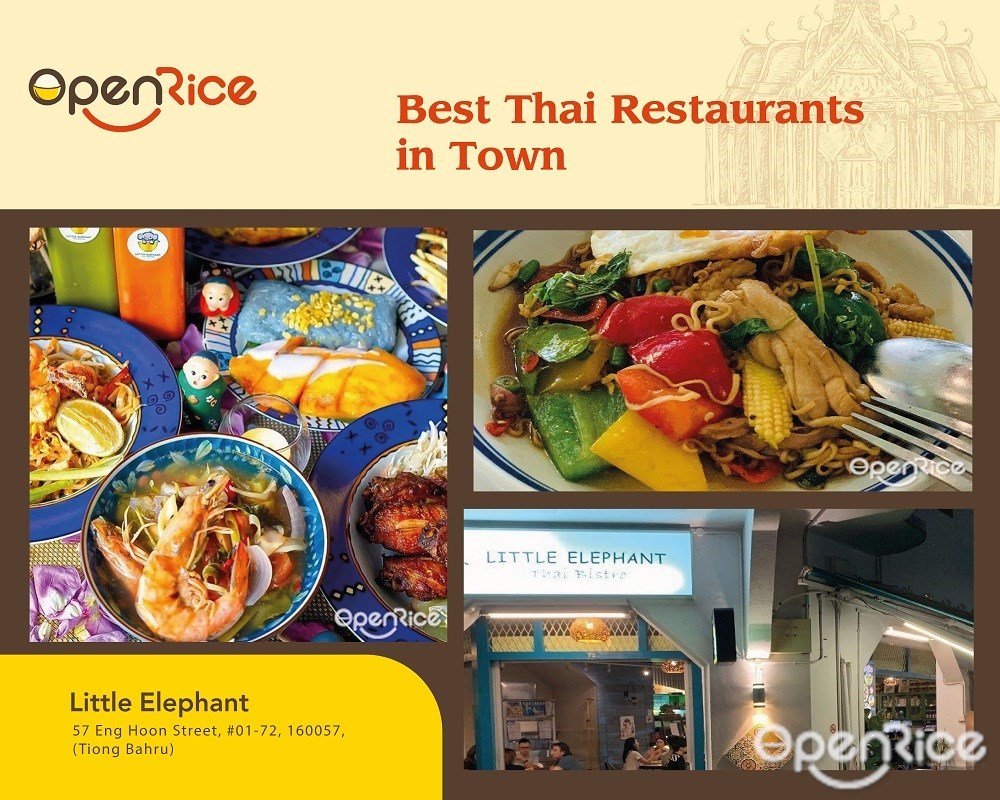 Stepping into Little Elephant Thai Bistro brings you the illusion as if you are dining in a restaurant located in Thailand. Nestle at Eng Hoon Street, Little Elephant Thai Bistro offers various selections of authentic Thai dishes while you dine under an interior themed with nostalgic Thai decor, giving it a touch of traditional Thai eatery. It is always a good idea to start your meal with some cold & hot appetizers such as Papaya Salad, Homemade Prawn Cake, and Grilled Pork Neck. The feast continues with a selection of Thai soups, curries, mains, and rice and noodle dishes such as their all-time favourites Tom Yum Kung, Pineapple Rice, and Pad Thai, as well as lesser-known gems like Stir-Fried Morning Glory and Prawns in Lemongrass and Honey Sauce.
Need something to cool down after indulging in spicy goodness? a refreshing Thai Milk Tea or Chang Beer is always the best choice. Overall, It's a promising communal Thai cuisine dining experience with friends and family.
Reservations are strongly recommended. Book your table today:
https://s.openrice.com/eKKSB01pMK200~dku58go12
2. Sawadee Thai Cuisine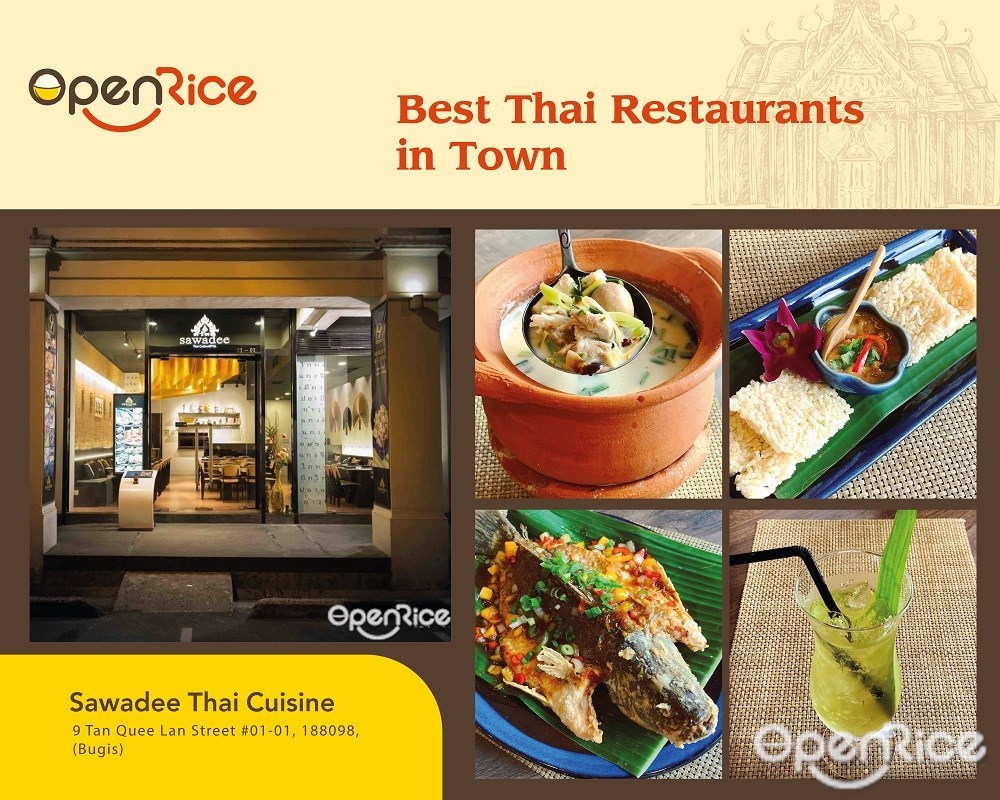 Pioneering Thai cuisine locally in 2001, Sawadee Thai Cuisine has been consistently renowned as top 5 Thai restaurants in Singapore. Nestle at 9 Tan Quee Lan Street, Sawadee Thai Cuisine is a Thai restaurant that offers guests a chance to escape the hustle and bustle of city life, immersing themselves in the Land of Smiles with a great atmosphere and authentic Thai food served. The restaurant features a warm and welcoming atmosphere uplifted by the Thai jazz music playing in the background. The chefs use only the freshest ingredients from Thailand and cook everything the authentic ways. They aim to balance the flavors of sweet, spicy, salty, and sour in their dishes. The decor is inspired by the traditional Sabai and is the epitome of Asian elegance with a woody interior adorned with unique Thai reed wall decorations. We recommend the signature Crab Meat Spring Rolls & Pomelo Salad as the Starter. For main dishes, Tom Yum Soup, Thai Red Curry Roasted Duck, and 3 Flavour Seabass are a must. Be sure to try their signature Grilled Kurobuta Pork Collar too.
Reservations are strongly recommended. Book your table today:
Thanying Restaurant has devotedly created culinary history by offering the most exquisite Royal Thai cuisine fit for the royalties since 1988. Meticulous effort is put into the preparation and presentation of each dish by the Thai Chef. Served in the tradition of Thai Court Cooking, everything is in bite-size portions, and all seeds, bones and pith had been removed for the convenience of the pampered diners.
As you step into the flagship restaurant located on Level 2 of Amara Singapore, the quiet elegance of the place reminds you of an aristocratic Thai home. The dominant use of wood in the chairs, floor, partition and window frames, harmonizes well with the soft lighting, giving it a warm and cozy atmosphere that lulls one into a contented mood. Be sure to try out the Deep-fried Crab Meat mixed with Minced Chicken topped with Salted Egg Yolk (Poo Ja), Deep-fried Boneless Grouper topped with Thai Spicy and Sour Sauce (Pla Kao Sam Ros), and Baked Prawn or Crab with Clear Noodle (Goong/Poo Talay Ohb Woonsen)
Reservations are strongly recommended. Book your table today: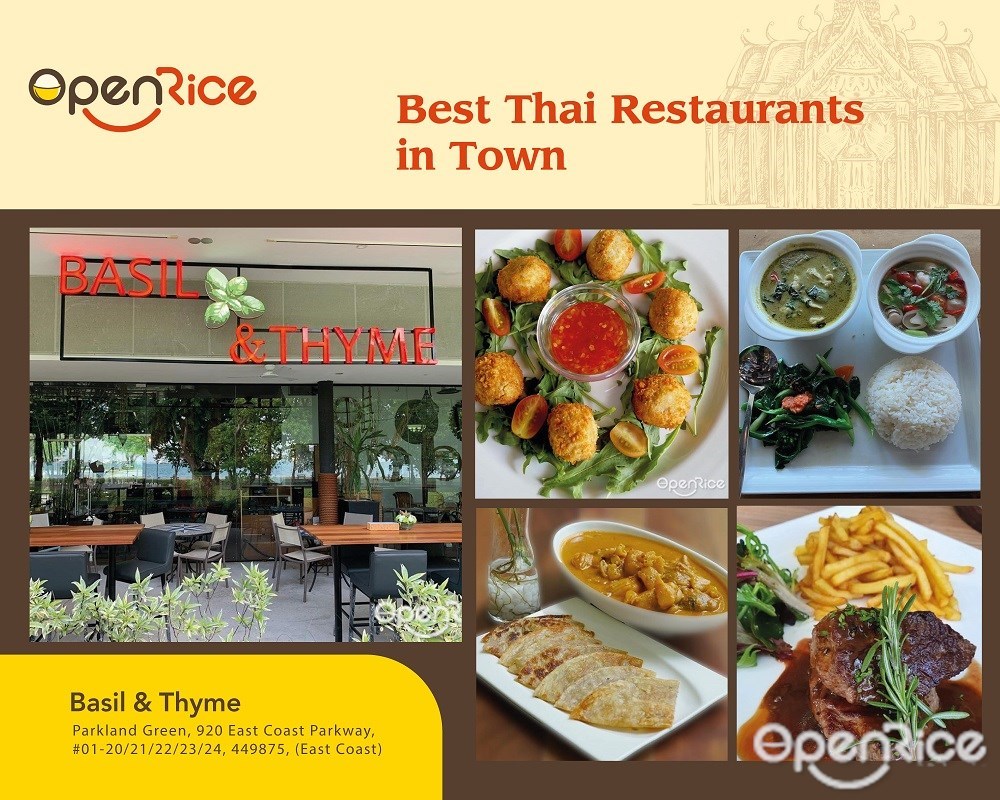 If you are looking for a unique Thai dining experience where you can enjoy your dinner with friends, facing a beautiful view of the beach, while there's live band singing and hyping up the place, Basil and Thyme at Parkland Green are where you should go to. The dishes served in Basil & Thyme are towards the spicy side of Thai cuisine while crossing over the plate of western serving the classic pizza & pasta, steaks & burgers, catering both the taste of Asian and Western in one place. Be sure to try out some of their menu highlights such as Kaeng Daeng, a creamy and spicy red curry packed with your choice of chicken, beef, or seafood, Massaman Chicken served with Crispy Roti. The Signature Pad Thai is a must-try as well. For Western selections, Fries with Tom Yum Dip will definitely bring different taste buds with the Chef's Special dipping sauce. For sharing dishes, Margherita Pizza and Ravioli in Cream Sauce will never go wrong. There are also varieties of Vegetarian dishes served in Basil & Thyme. Be sure to also save some space for their signature Mango Sticky Rice drizzle with Fresh Coconut Milk.
Reservations are strongly recommended. Book your table today: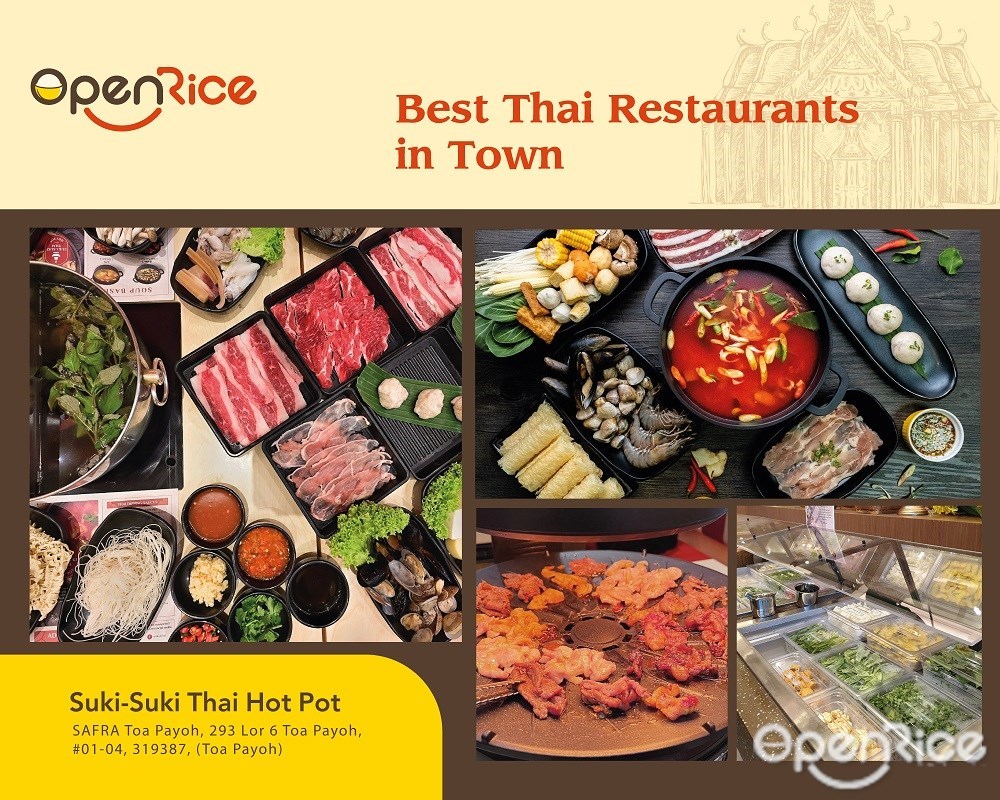 Can't decide between steamboat or Thai food for dinner? This place will solve your problem as Suki-Suki Thai Hot Pot serve you an ensemble of sweet, sour, salty and spicy through six authentic Thai Soup bases to enjoy with over 40 different choices of fresh ingredients prepared daily such as freshly sliced beef, chicken, home-made fish paste, vegetables, mushrooms, tofu, pot dishes and other staples. If you are looking for some authentic taste on the spicy side, try out the soup base such as Clear Tom Yum, Red Tom Yum and Khao Soi, a rich and creamy Northern Thai coconut curry soup. For non-spicy selections, there's Chicken broth and Sweet Basil Chicken soup base to choose from. There is an extensive selection of premium ingredients offered too with an additional top-up option, ranging from Wagyu Beef, Dory Fish, Tiger Prawns, Black Mussels and more. They have recently added Thai Yakiniku set to the menu as well. Suki-Suki Thai Hot Pot is definitely a great option for a big group dining with families and friends.
Reservations are strongly recommended. Book your table today: